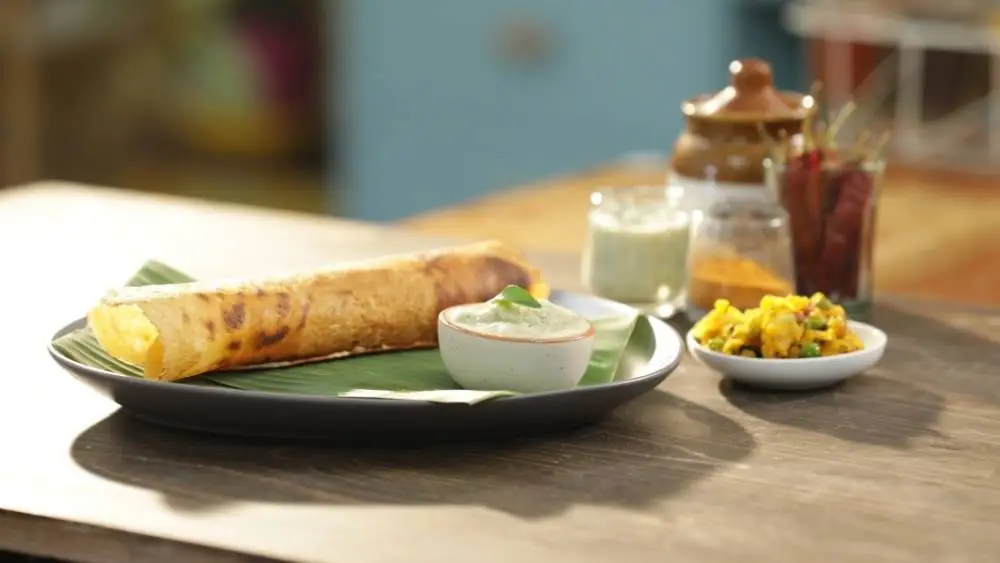 Crispy Masala Dosa Recipe

25 min

4-5 people

Over night
Crispy Masala Dosa by Chef Ajay Chopra
---
#MasalaDosa, the most simple and innocent dish that can turn your regular breakfast routine into a new level altogether. Though basically, its native place is the southern part of India, because of its simplicity and easy yet yummy flavours it has won the heart of the entire nation. It is considered one of the healthiest options for breakfast and eaten by a large number of people throughout the country.
Let's check out the easiest and delicious recipe of Crispy Masala Dosa with me, #ChefAjayChopra only on #BigDaddyChef.
Ingredients:
Masala Mix:
1 bowl boiled Mashed Potatoes
½ cup Green peas
1 tbsp Ghee / Clarified Butter
1 tsp Black Mustard Seeds
2 dried Red Chillies
Few fresh Curry Leaves
1 tbsp raw Urad Daal
1 tbsp raw Channa Daal
1 cup Chopped Onions
1 tsp Turmeric Powder
1 tsp Red Chilli Powder
Water – As required
Salt to taste
Oil as required
A pinch of Malgapodi Powder
Dosa Batter Mix:
1 cup Soaked Urad Daal
3 cup soaked Dosa rice / parboiled rice
1 tbsp soaked Channa Daal
1 tsp soaked Fenugreek Seeds
Salt to taste
Coconut Chutney:
1 cup Grated Coconut
1 tbsp roasted Urad Daal
1 tbsp Lemon Juice
2 Green Chillies
1 piece Ginger
Salt to taste
2 tbsp Tadka of the masala
Method:
For Masala:
Take a pan, add ghee. Put mustard seeds, Red chillies, raw urad daal, raw channa daal, curry leaves and toss for a while to make a nice tadka. Take 2 tbsp of this tadka for the chutney and keep aside. Now add the onions, salt, turmeric powder and red chilli powder and toss it for a while. Put some water mix it well. Now add the mashed potatoes and green peas and then mix the entire thing thoroughly and let it cook for few minutes. Your masala mix for dosa is ready.
For Chutney:
Take grated coconut, urad daal, green chillies, and ginger and grind everything well to a fine paste. Finally add salt, lemon juice and 2 tbsp of tadka which you prepared at the time of masala preparation in this paste and mix thoroughly. Your yummy chutney is ready.
For Dosa Batter:
Take a bowl, add Channa Daal, Urad Daal, Dosa Rice, Fenugreek Seeds, and Water. Mix everything together and soak overnight. In the morning, grind the mixture to a nice fine paste, keep it aside and let it ferment for a while. Now take the dosa batter, add some salt and mix it well. Take a wok, sprinkle few drops of water and rub it with the help of tissue paper. Now take a full spoon of Dosa batter and put it on the wok and spread it in a circular motion to make a thin pancake. Put few drops of oil on top of the dosa and around it and let it splatter for a while. Then add a generous portion of the masala and spread it onto the dosa and add few drops of ghee and a pinch of malgapodi powder. Finally, fold the dosa keeping the masala intact and serve hot along with coconut chutney.