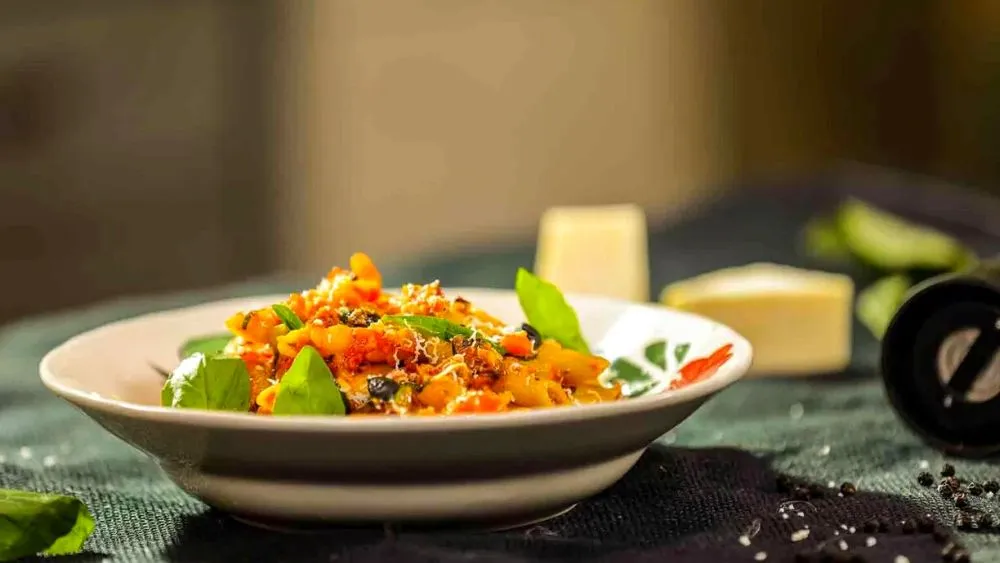 Red Sauce Pasta Recipe

20 min

2-3 People

15 min
RED SAUCE PASTA
---
This tomato sauce-based pasta is quick and easy to make with fresh tomato, garlic, and the right amount of dried herbs makes it ultimately flavourful. There are myriad of variations you can make, you can add chicken or veggies or any seafood that would make a complete whole meal. 
This recipe's flavor will be almost entirely dependent upon the tomatoes you use, so pick some good ones. You want ripe, almost over-ripe tomatoes.
I have used fresh basil leaves as the main herb in the sauce, for the pasta, you can use semolina or whole wheat pasta. Also, you can use spaghetti, penne, fusilli, farfalle, or shell pasta. I prefer parmesan, cheddar, or mozzarella to sprinkle on my red sauce pasta. For a vegan pasta dish, skip dairy-based cheese and use nutritional or vegan cheese instead.
The red tomato sauce pasta is best enjoyed with warm bread such as focaccia or garlic bread.
Red Sauce Pasta
Ingredients
For the Pasta Sauce:
4 nos. blanched and chopped Tomatoes.
1 tsp Normal Oil.
1 bowl chopped Onion.
1.5 tsp chopped Garlic.
2-3 tsp Tomato puree.
Salt to taste.
1 tsp crushed Pepper.
For Pasta:
1-2 tsp Extra Virgin Olive Oil.
1-2 tsp chopped Garlic.
1-2 tsp Chilli Flakes.
1-2 tsp Oregano.
1 tsp crushed Pepper.
Handful of chopped Olives.
1 bowl chopped and boiled Broccoli.
1 bowl chopped and boiled Zucchini.
Salt to taste.
Handful Basil.
1 dollop Butter.
1 bowl Parmesan Cheese.
For Garnish
Few fresh Basil leaves.
Some Broken Olives.
1 tsp Extra Virgin Olive Oil.
1 pinch of Pepper.
Method
In a saucepan boil water add salt, tomato, broccoli, zucchini after 30 sec removes the tomato, and put it into ice water.
Then add some broccoli and zucchini and cook for some more time. And then put it into a bowl of ice-cold water. And then remove it in a bowl.
Remove the skin and chop the blanched tomato.
Now heat a pan and add some oil, chopped onion chopped garlic and saute
Then add blanched chopped tomato and cook it well, then add some tomato puree, salt and pepper for flavour and taste.
Your red sauce is ready.
In a saucepan boil some water and then add some oil and pasta so that the pasta doesn't stick and cook for 7 to 9 min 
Then strain the pasta and put in some olive oil and toss it well.
In a pan add some olive oil and make sure you do not overheat it, then add some garlic, chilli flakes, oregano, crushed pepper and stir it. 
Then add some chopped olives, and the blanched vegetables and tossed.
Then add salt, the red sauce prepared earlier and some basil leaves and pasta and toss all of this well.
Finish the pasta with butter and parmesan cheese.
Garnish with some basil leaves and olive oil.