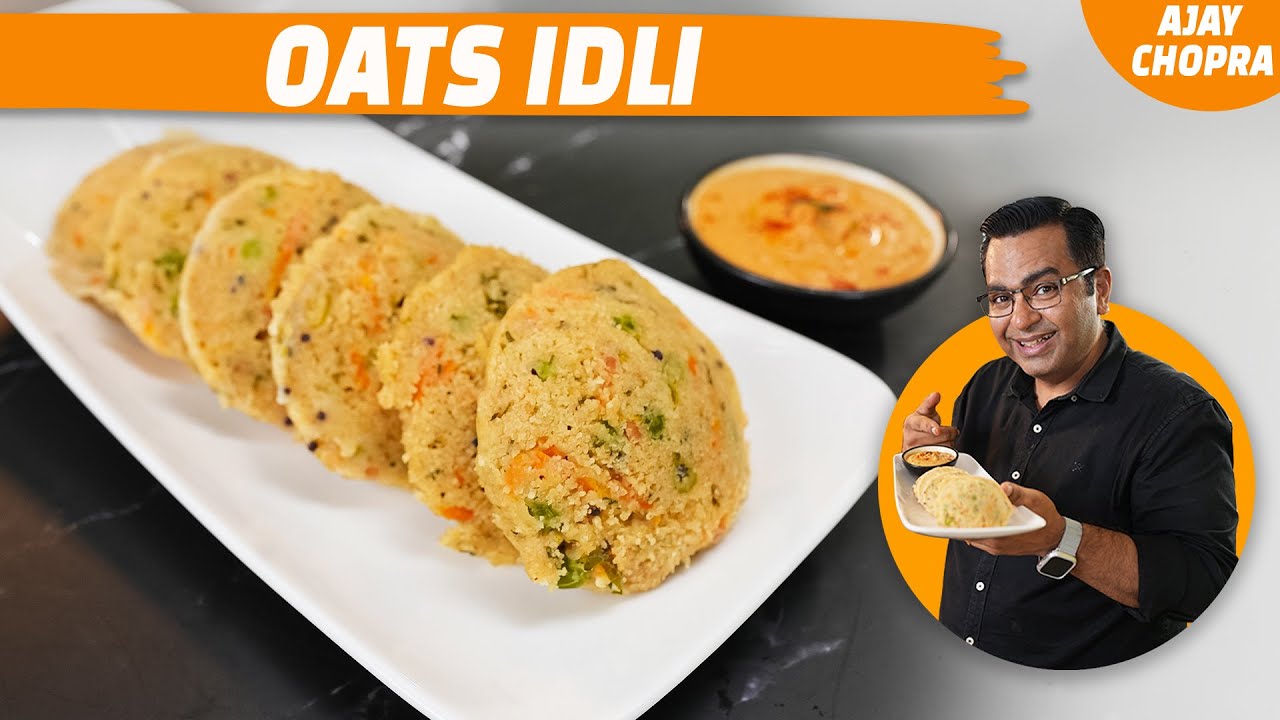 Oats Idli Recipe

40 Mins

4-5 People

10 Mins
Perfect your Oats Idli and Peanuts Chutney with Ajay Chopra's secret recipes 
Have you been missing your favorite South Indian recipes lately?
Chef Ajay Chopra brings his culinary expertise to the table with this delicious and nutritious Oats Idli With Peanuts Chutney recipe. Served hot, nothing satisfies like an idli made from healthy oats! The peanuts chutney is a refreshing accompaniment that adds flavor and crunch.
This dish has all the comfort and satisfaction of classic South Indian cuisine without the guilt - it's low in fat but high on nutrition so you can enjoy it guilt-free. Eating healthy can be both easy and enjoyable, as demonstrated by this recipe. It is the perfect tasty and healthy breakfast recipe.
Follow Chef Ajay Chopra's Oats Idli With Peanuts Chutney recipe now for a healthier meal today!
Ingredients:
Oats 1 bowl
Suji ½ cup
Curd ½ cup
Salt ½ tbsp
Water as required
Green peas ½ cup
Carrot grated ½ cup
Green chilli chopped 1 tbsp
Ginger chopped ½ tbsp
Coriander chopped 1 tbsp
Fruit salt 1 tbsp
Ghee 
Peanut chutney
Peanuts ½ cup
Oil 1 tbsp
Jeera 1 tsp
Urad dal 2 tbsp
Dry red chilli 2 pcs
Green chilli 2 pcs
Garlic 4-5 cloves
Onion sliced ¼ cup
Hing ½ tsp
Red chilli powder ½ tbsp
Salt 1 tsp
Curry leaves 6-7 pcs
Water as required
Imli/ Tamarind 1 tbsp
Tadka
Ghee 1 tbsp
Mustard seeds ½ tbsp
Curry leaves 9-10 pcs
Method:
To prepare the Peanut Chutney, start by heating a pan and adding a generous amount of oil. Once the oil is hot, add jeera (cumin seeds) and urad dal (split black gram) and sauté them until they turn a glorious shade of golden brown. This step infuses the chutney with a delightful nutty aroma.
Next, introduce dry red chilies, green chilies, garlic, thinly sliced onions, and a pinch of hing (asafoetida) into the pan. Continue sautéing for 2-3 minutes until the ingredients become fragrant and the onions turn translucent.
As the medley in the pan continues to sizzle, add red chilli powder, salt, and curry leaves to intensify the flavours. Now, it's time to add the star ingredient - peanuts without their skins. Let these peanuts dance in the mixture, absorbing the fiery spices and rich aromas.
To create a harmonious blend, pour in water and add tamarind. Allow the mixture to simmer and cook until the flavours meld together into a tantalising combination. Once it's done, let it cool before transferring it to a grinder to create a smooth, creamy paste.
The final touch to elevate the Peanut Chutney is a tadka (tempering). In a separate pan, heat some ghee until it sizzles. Add mustard seeds and curry leaves, allowing them to splutter and release their earthy fragrance. Pour this tadka over the peanut chutney and give it a gentle stir, enhancing its flavour profile and adding a touch of richness.
Now, let's shift our attention to the Oats Idli. Begin by dry roasting oats in a pan for a minute. Once they're toasted to perfection, transfer them to a mixer jar and crush them into a fine powder, unlocking their nutty goodness.
In a mixing bowl, combine the crushed oats with suji (semolina), curd, and a dash of salt. Adding water allows the suji to bloom, ensuring a soft and fluffy texture. After resting for 15-20 minutes, incorporate green peas, grated carrots, chopped green chilies, and ginger, enhancing the idli's nutritional value and taste.
For that perfect rise, add fruit salt to the batter and gently mix it in. To infuse even more flavour, prepare a tadka using ghee, mustard seeds, and curry leaves, and fold it into the batter.
Grease idli moulds with ghee, pour the batter, and steam for 8-10 minutes. The result? Wholesome and flavorful Oats Idli, ready to be savoured.
 
Chef Ajay Chopra's Oats Idli With Peanuts Chutney makes adopting healthier eating habits easier than ever and more deliciously satisfying your breakfast cravings. Crafted from nutritious oatmeal granules, each bite offers warm comfort while the spicy peanuts chutney adds zesty spice - not only will you delight your senses with each delectable bite but you are taking one step towards becoming a healthier you with every delicious bite taken!
Explore Chef Ajay Chopra's culinary masterpieces for more mouthwatering recipes like this. Don't miss his courses or books for additional culinary insight and guidance! 

 
Frequently Asked Questions (FAQ):
1. How many calories are in Oats Idli? Oats Idli is a low-calorie breakfast option, typically containing around 50-60 calories per idli, making it a great choice for those watching their calorie intake.
2. Can I make the Peanuts Chutney milder in flavor? Yes, you can adjust the spiciness of the Peanuts Chutney to your liking by controlling the amount of green chilies or red chili powder used.
3. Is this recipe suitable for vegetarians? Absolutely, the Oats Idli with Peanuts Chutney recipe is entirely vegetarian, catering to the preferences of those who follow a vegetarian diet.
4. Are there any gluten-free options in this recipe? Yes, the recipe is gluten-free as oats do not contain gluten, making it suitable for individuals with gluten sensitivity or celiac disease.
5. Can I make Oats Idli without specialized equipment? While a traditional steamer is ideal, you can use alternatives like an idli maker or microwave to prepare Oats Idli if you don't have a steamer.
6. How can I store leftover Peanuts Chutney?
To store the chutney, simply transfer it to an airtight container and refrigerate. It will remain fresh for a few days.
7. Can I use instant oats for this recipe?
Instant oats can be used, but for the best texture and flavor in Oats Idli, rolled oats are recommended.
8. Where can I find more recipes and tips from Chef Ajay Chopra?
Explore a wide array of delectable recipes and culinary insights from Chef Ajay Chopra on his website or through his active presence on social media platforms. Dive into the culinary world and expand your cooking skills.