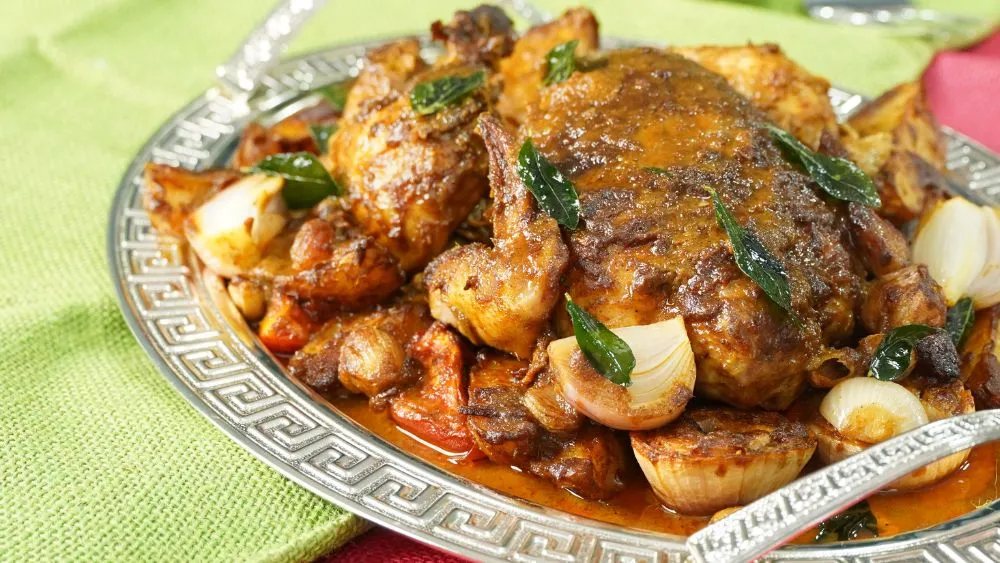 Indian Style Roast Chicken Recipe

45 mins

2-3 people

30 mins
Indian Style Roast Chicken
---

INGREDIENTS
1 NOS CHICKEN WITH SKIN
FOR BRINE
2 LITRE WATER
½ CUP SALT
1 TSP TURMERIC
½ CUP TODDY VINEGAR
DRY MASALA
2 TBSP FENNEL SEEDS
1 NOS CINNAMON STICK
3 NOS STAR ANISE
¼ NUTMEG
1 BLADE MACE
4 NOS GREEN CARDAMOM
6 NOS CLOVES
WET MASALA
2 INCH GINGER
15 CLOVES GARLIC PEELED
1 TBSP COCONUT OIL
1 NOS CHILI SLICES
1 BOWL SLICED SHALLOTS
1 SPRIG CURRY LEAVES
1 TSP TURMERIC POWDER
1 TSP CORIANDER POWDER
1 TSP RED CHILI POWDER
2 TSP BLACK PEPPER POWDER
¼ CUP TODDY VINEGAR
SALT TO TASTE
2 TSP PREPARED DRY MASALA
1 ST MARINATION
2 TSP GINGER GARLIC PASTE
½ TSP SALT
1 TSP PREPARED DRY MASALA
2 ND MARINATION
2 TBSP BUTTER
1 CUP GROUND WET MASALA
ACCOMPANIMENTS
2 NOS PARBOILED POTATO WEDGES
2 NOS TOMATO CUT INTO WEDGES
2 NOS PEELED ONIONS
1 CUP SHALLOTS PEELED
FOR BASTING
1 TBSP VEGETABLE OIL
METHOD
MIX WATER SALT, TURMERIC AND TODDY VINEGAR.
BRINE THE CHICKEN OVERNIGHT.
ROAST ALL THE INGREDIENTS OF DRY MASALA AND GRIND INTO POWDER
HEAT COCONUT OIL IN A PAN ADD SLICED GINGER, GARLIC, SLICED SHALLOTS, SLIT GREEN CHILLIES AND CURRY LEAVES
COOK IT OVER MEDIUM FLAME FOR 5 MIN
ADD TURMERIC POWDER, CORIANDER POWDER, CHILI POWDER, BLACK PEPPER POWDER AND SALT AND COOK ON SLOW FLAME TILL OIL OOZES OUT FROM MASALA
ADD TODDY VINEGAR AND WATER AND REDUCE IT FOR 5 MIN
ALLOW THE MIXTURE TO COOL AND GRIND IT INTO PASTE
REMOVE CHICKEN FROM THE BRINE AND PAT DRY THE CHICKEN ADD SALT, GINGER GARLIC  PASTE AND DRY MASALA POWDER AND MARINATE INSIDE THE SKIN FOR MINIMUM 1 HOUR
MIX SOFT BUTTER WITH PASTE AND MARINATE THE CHICKEN FOR MINIMUM 2 HOURS
CUT WEDGES OF TOMATO AND POTATO, CUT ONE ONION INTO TWO
STUFF ONE WHOLE PEELED ONION IN THE CHICKEN
MARINATE THE VEGETABLES, AND PEELED SHALLOTS WITH LEFTOVER MARINATION
PLACE THE VEGETABLES IN ROASTING TRAY
AND FINALLY PLACE THE CHICKEN IN THE CENTER
SECURE CHICKEN LEGS WITH THE HELP OF TOOTHPICK OR SATAY STICK.
BASTE THE CHICKEN WITH VEGETABLE OIL
PREHEAT THE OVEN AT 180 DEGREE C FOR 10 MIN.
REDUCE THE OVEN TEMPERATURE TO 130 DEGREE C.
ROAST THE CHICKEN FOR 20 -25 MIN, BASTE THE CHICKEN WITH PAN JUICES AND OIL
INCREASE THE TEMPERATURE TO 180 DEGREE C AGAIN AND COOK FURTHER FOR 10-15 MIN.
REMOVE CHICKEN FROM THE OVEN, REMOVE THE TOOTH PICK AND CHECK THE DONENESS OF THE CHICKEN
MAKE A BED OF ROAST VEGETABLES ON THE ROAST SERVING TRAY, PLACE CHICKEN IN THE CENTER.
DEGLAZE THE ROASTING PAN WITH WATER ON A GAS FLAME
AND POUR THE PAN JUICE OVER CHICKEN
---