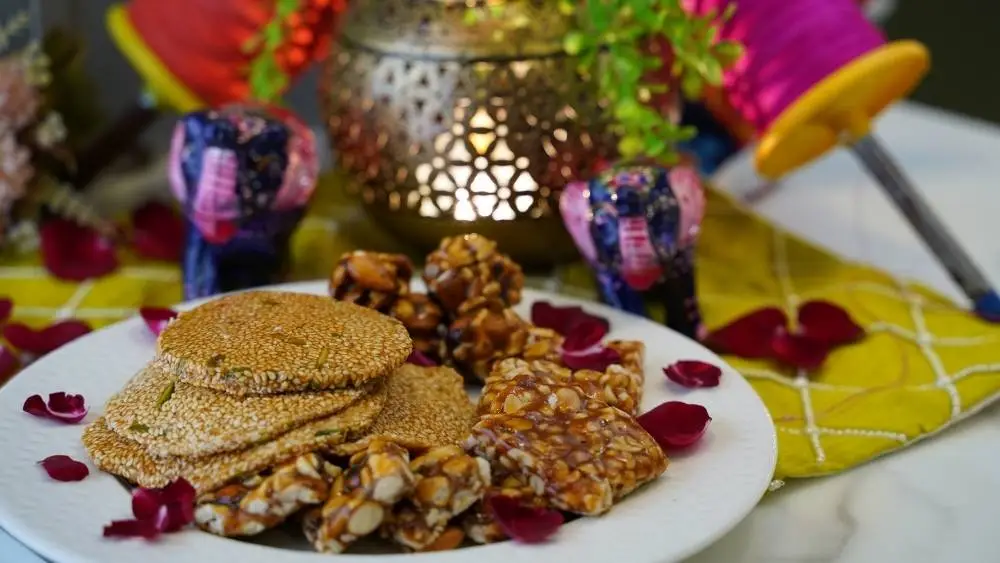 Chikki 3 way Recipe

30 min

2-3 People

15 min
3 Types Of Chikki
---
Ingredients:
Peanut – 1 bowl
Cashew nut – 1 cup
Almond – 1 cup
White sesame seeds – 1 bowl
Jaggery – 3 cups
Water – 2 tsp
Baking soda – 1 tsp
Ghee – 3 tsp
Chopped pistachio – 3-4 tsp
Rose petals – (optional)
Method:
For Peanuts Chikki:
Dry roast the peanuts on medium to low flame. Continue roasting the peanut till it becomes light golden brown and you get the nutty aroma.
Allow it to cool and remove the skin. Keep the peanuts aside.
For Til Gud Chikki:
Dry roast the sesame seeds on low flame. Remove it in a bowl and keep aside.
Add chopped pistachio while mixing the sesame seed and jaggery mixture.
For Dry Fruit Chikki:
Dry Roast all the dry fruits  separately.
Mix both roasted cashew and almond in a Bowl.
(Optional) Dry roast the rose petals and add when you are mixing dry fruits and dissolved jaggery.
For Jaggery mixture :
Heat the kadhai or pan on a low flame then Add Jaggery, Water and with a spatula or spoon, begin to stir, so that all the jaggery gets dissolved.
Tip -
Add baking soda when the jaggery is melting, this makes Chikki extra crispy.
Add baking soda and ghee and turn off the flame.
Quickly pour jaggery mixture in 3 bowls in equal proportion. (roasted peanuts, roasted dry fruits, roasted sesame seeds)
Then add some dried rose petals to the dry fruits chikki.
After mixing dissolved jaggery then we will give it the desired shape to the chikki.
Once all 3 three chikki mixtures are mixed and ready you will have to quickly work on it before it starts cooling down.
Quickly pour the chikki mixture on the greased plate or a board.
Place a foil or butter paper or parchment paper on the chikki or even a plastic wrap would work.
Then with a rolling pin, roll to even out the chikki layer.
Next remove the paper and then with a knife, cut horizontally and vertically. Let the peanut chikki cool at room temperature. (You can also roll balls and make ladoo)
---