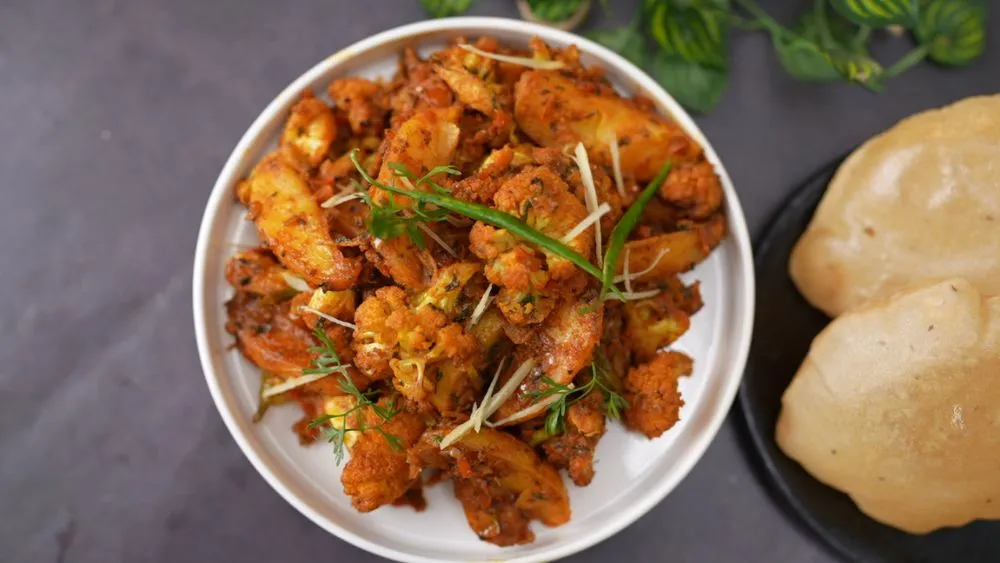 Aloo Gobi ki Sabzi Recipe

30 mins

4-5 people

20 mins
Spice Up Your Life with this Delicious Aloo Gobi Dish.
Are you ready to embark on a flavorful journey through the heart of Indian cuisine? Look no further, for we present to you a delectable Aloo Gobi dish that's sure to tantalize your taste buds. Bursting with authentic spices and rich in flavor, this classic Indian favorite is a celebration of cauliflower and potatoes.
Aloo Gobi is a mouthwatering symphony of texture and taste, where tender cauliflower florets and crisp potato wedges are brought to life in a fragrant blend of spices. The dish showcases the perfect balance of spicy and savory, offering a warm, comforting meal that's sure to satisfy your cravings for traditional Indian flavors. With a hint of ginger, a touch of garlic, and a medley of spices, this dish will transport your senses to the bustling streets of India, where each bite tells a story of culture and culinary expertise. If you're in search of a timeless Indian classic that's easy to make and impossible to resist, look no further than this Aloo Gobi recipe. It's a dish that'll have you coming back for seconds and dreaming of seconds more.
Ingredients
Cauliflower 1 pc
Potato peeled 3 pcs
Oil 2 tbsp
Jeera ½ tbsp
Bayleaf 2 pcs
Onion chopped 1 cup
Green chilli sliced 2-3 pcs
Ginger juliennes 1 tbsp
Green chilli paste 1 tbsp
Ginger & garlic paste 1 tbsp
Turmeric powder ½ tbsp
Coriander powder 1 tbsp
Red chilli powder 1 tbsp
Tomato chopped 1 cup
Salt ½ tbsp
Sabzi masala 1 tbsp
Kasoori methi soaked 1 tbsp
Coriander chopped 1 tbsp
Method
Cut the potatoes into wedges.
Heat oil in a pan, deep fry potato wedges and cauliflower florets until golden brown.
Once done, remove it on a plate and keep aside.
Heat a pan, add oil, whole spices and let them crackle.
Then add chopped onions, green chilli slit, ginger juliennes and saute them until they turn golden brown.
Add green chilli paste, ginger and garlic paste and saute them. 
Then add chopped tomatoes and saute them.
Then add red chilli powder, turmeric powder, coriander powder, sabzi masala, salt and cook them. Add some water to avoid burning of powder masalas.
Then add soaked kasuri methi and saute.
Later add fried potato and cauliflower. Add some water, cover it with a lid and cook them for 5-6 mins.
Lastly add chopped coriander and saute.
Aloo Gobi sabzi is ready to serve.
In conclusion, this Aloo Gobi dish encapsulates the essence of Indian cuisine, making it a delightful addition to your culinary repertoire. From the sizzle of whole spices to the comfort of potatoes and the earthy charm of cauliflower, it's a dish that will make your mealtime special. But this is just the beginning of your culinary adventure with us. Explore a world of flavors, learn from the best, and discover the secrets of Indian cooking by checking out our other recipes, courses, and books. Join us in celebrating the rich tapestry of Indian cuisine and elevate your cooking skills to new heights.
FAQs (Frequently Asked Questions)
Q1: What is Aloo Gobi?
A1: Aloo Gobi is a traditional North Indian dish made with cauliflower and potatoes, cooked with a blend of spices to create a flavorful and aromatic curry.
Q2: Is Aloo Gobi spicy?
A2: Aloo Gobi can be adjusted to your preferred level of spiciness. You can control the heat by adding more or less chili powder and green chilies.
Q3: Can I make Aloo Gobi without onion and garlic?
A3: Yes, you can prepare Aloo Gobi without onion and garlic, and it will still be delicious. You can replace them with alternative ingredients for flavor.
Q4: What are some variations of Aloo Gobi?
A4: There are several variations of Aloo Gobi, including Aloo Gobi Matar (with peas), Aloo Gobi with a tomato-based gravy, and dry Aloo Gobi with minimal sauce.
Q5: Is Aloo Gobi vegan?
A5: Aloo Gobi is naturally vegan as it does not contain any animal-derived ingredients. It's a plant-based dish suitable for vegans and vegetarians.
Q6: Can I make Aloo Gobi ahead of time?
A6: Yes, Aloo Gobi can be prepared in advance and reheated. It often tastes even better the next day as the flavors have had time to meld.
Q7: What should I serve with Aloo Gobi?
A7: Aloo Gobi pairs well with various Indian bread like roti or naan. It also complements rice dishes and can be enjoyed as a standalone meal.
Q8: Can I adjust the level of spiciness in Aloo Gobi?
A8: Yes, you can adjust the spiciness of Aloo Gobi by controlling the amount of chili powder and green chilies. If you prefer it milder, use less, and if you like it spicier, increase the amount of spices.
---