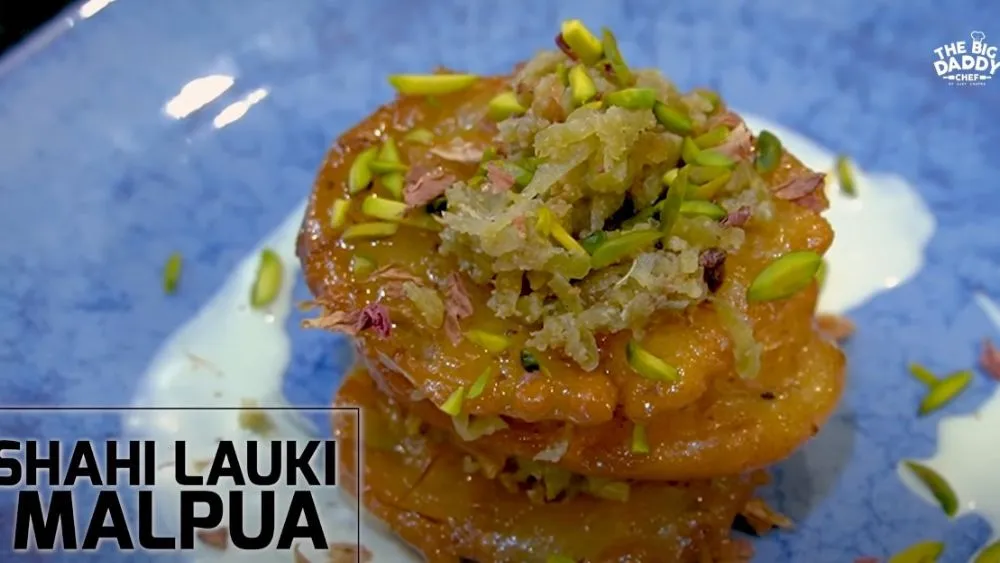 Malpua Recipe

20 mins

2-3 people

15 mins
Malpua
---
Ingredients:
For halwa :
2 tbsp ghee
11/2 cup lauki
1 cup milk
1/4 cup sugar
1 pinch Cardamom powder
1 pinch saffron
1 pinch Dried rose petal
For malpuabatter :
1/2 cup mawa
1 pinch elaichi powder
1 cup milk
1/2 cup maida
For sugar syrup:
Sugar – ¼ cup
Saffron – one pinch
For frying malpua :
Ghee for deep frying
Sugar syrup
Garnish
Rabri
Chopped pistachio
Method:
For halwa:
In a pan heat ghee, put lauki and cook the laukiand  then add milk to it, then continue cooking it till the milk evaporates.
Add sugar, a pinch of cardamom powder, and stir it again and cook at low flame.
Add saffron, and finish by adding dry rose petals.
For malpua batter:
In a bowl put mawa and mash it completely, add cardamom powder, and mash it nicely.
Pour milk in creamed mawa and add maida to make a pouring consistency batter.
For sugar syrup:
Make a sugar syrup with sugar, water and saffron
For frying malpua:
In a medium hot ghee deep fry the batter till golden brown
Soak the crispy malpua in sugar syrup
Garnish :
On a serving plate, make a circle of rabri.
Place malpua, add a spoon of lauki halwa, repeat the process to make a stack
Garnish it with pistachios.
---