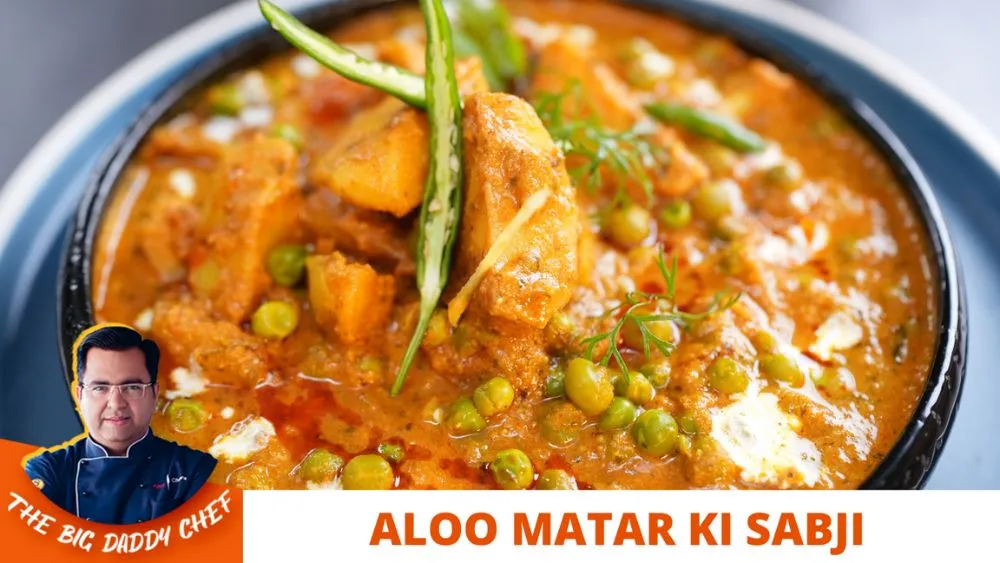 Aloo matar ki sabzi Recipe

30 Mins

2-3 people

20 Mins
Quick & Easy Aloo Matar Ki Sabzi Recipe For Busy Weeknights
Are you looking for a quick and easy way to satisfy your taste buds on busy weeknights? Look no further! Our Aloo Matar Ki Sabzi is here to rescue your dinner routine. This classic Indian dish combines the earthy goodness of potatoes with the sweetness of green peas, all simmered in a rich, aromatic blend of spices. Whether you're a seasoned cook or a beginner in the kitchen, this aloo matar recipe is a go-to choice. The delightful medley of flavors and the comforting warmth of this dish make it a favorite among families and food enthusiasts alike.
Indulge in the harmonious union of potatoes, peas, and a melange of spices that will transport your taste buds to the heart of India. The rich gravy laced with cashew paste and adorned with a touch of fresh cream, rogan, and ginger juliennes is a testament to the culinary excellence of Chef Ajay Chopra. So, if you're craving a hearty meal that's ready in a jiffy, whip up this delectable aloo matar sabzi for your loved ones. It's a surefire way to make weeknight dinners both delicious and convenient.
Ingredients
Potato peeled 2-3 pcs
Oil 3 tbsp
Ginger 1 inch 
Garlic 4-5 cloves 
Green chilli 2 pcs
Saunf 1 tsp
Water as required 
Bayleaf 2 pcs
Cloves 5-6 pcs
Green cardamom 3 pcs
Black pepper 8-10 pcs
Hing 1 tsp
Salt ½ tbsp
Red chilli powder 1 tbsp
Turmeric powder ½ tbsp
Coriander powder 1 tbsp
Tomato puree fresh ½ cup
Green peas ½ cup
Cashew paste ¼ cup
Kasuri methi ¼ cup
Fresh cream for garnish
Rogan for garnish
Ginger juliennes for garnish
Coriander sprig for garnish
Cut potatoes into wedges. 
Method
Heat a pan, add oil and shallow fry potatoes wedges until golden brown in colour.
Once done, remove it on a plate and keep aside.
In a mixer jar add ginger, garlic, green chilli, saunf and water. Blend it to a paste, and keep aside.
Heat a pan, add oil, all whole spices and let them crackle.
Then add the paste and sauté them.
Later add turmeric powder, red chilli powder, salt, coriander powder and cook. Add some water to avoid burning of Masala.
Then add green peas and sauté them.
Then add tomato purée and cook it for 5-8 mins.
Later add fried potatoes and mix it.
Then add cashew paste and cook it for 5-6 mins.
Lastly add kasoori methi and cook for a while.
Aloo matar ki Sabzi is ready to serve.
In conclusion, our Aloo Matar Ki Sabzi is the perfect solution to your weeknight dinner woes. This recipe, carefully crafted by Chef Ajay Chopra, offers a delightful burst of spices and a culinary adventure you won't want to miss. But the journey doesn't stop here! Explore more of Chef Ajay Chopra's culinary creations, discover his courses, and delve into his books to elevate your cooking skills. Your taste buds will thank you.
Check out our other recipes, courses, and books by Chef Ajay Chopra for more culinary inspiration!
Frequently Asked Questions (FAQ)
Question 1: What is the key ingredient in Aloo Matar Ki Sabzi?
Answer 1: The key ingredients are potatoes and green peas.
Question 2: Can I make this dish with less spice?
Answer 2: Certainly, adjust the spices to your taste preferences.
Question 3: How long does it take to prepare Aloo Matar Ki Sabzi?
Answer 3: It takes about 30-40 minutes to make this dish.
Question 4: Is this recipe suitable for vegetarians?
Answer 4: Yes, it's a vegetarian dish.
Question 5: Can I make this recipe without cashew paste?
Answer 5: While cashew paste adds creaminess, you can omit it or use an alternative.
Question 6: What type of potatoes work best for this dish?
Answer 6: You can use any waxy or all-purpose potatoes.
Question 7: Can I store leftovers?
Answer 7: Yes, you can refrigerate leftovers and reheat when needed.
Question 8: Is Aloo Matar Ki Sabzi suitable for special occasions?
Answer 8: Absolutely, it's a versatile dish suitable for everyday meals and special gatherings.
---