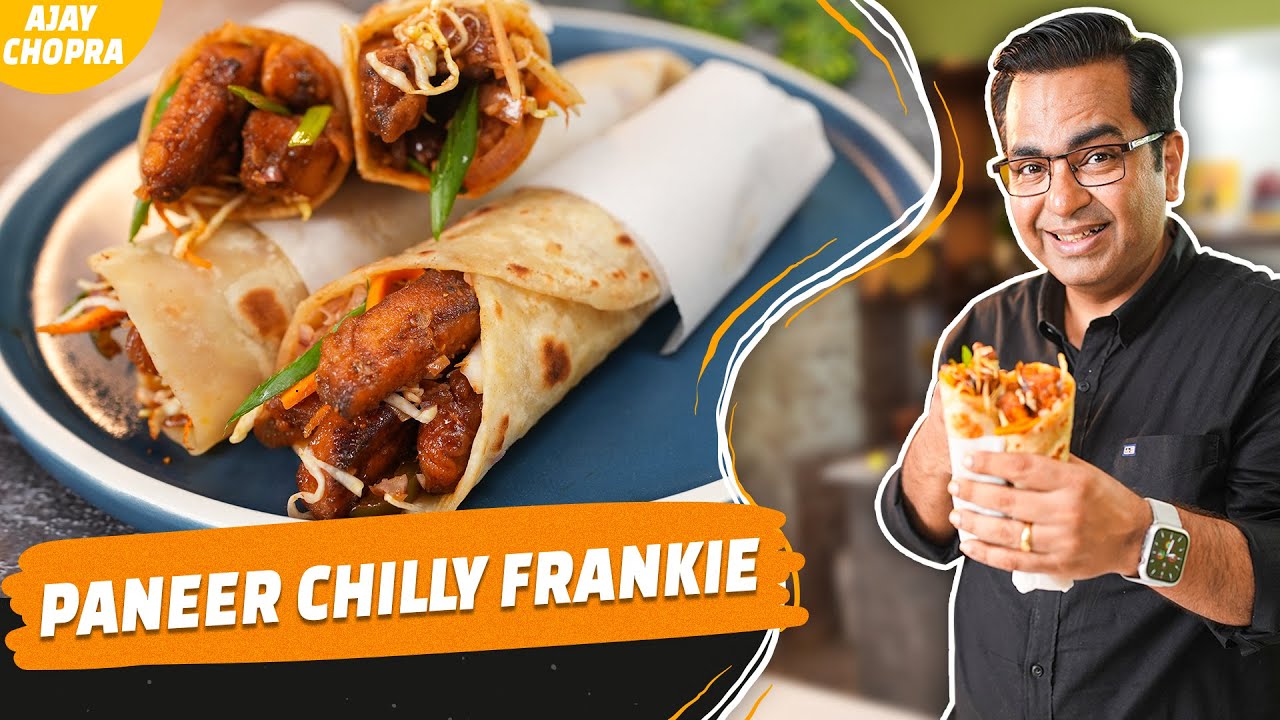 Paneer Chilli Frankie Recipe

50 Mins

4-5 People

10 Mins
Paneer Chilli frankie
Ingredients
Salad for frankie: 
Cabbage 1 small pc
Carrot peeled 1 pc
Ginger 2 inch
Salt 1/2 tsp
Vinegar 2 tbsp
Green chilli 2 pcs
Paneer chilli: 
Paneer 250 gms 
Salt a pinch
Red chilli powder a pinch
Vinegar 1 tsp
Soya sauce 1 tsp
Cornflour 2 tbsp
Oil for deep frying 
Oil 1 tbsp
Dry red chilli 1 pc
Garlic chopped 1 tbsp
Ginger chopped ½ tbsp
Capsicum sliced ½ cup
Onion sliced 1/22 cup
Green chilli 1 pc
Vinegar 1 tbsp
Soya sauce 1 tbsp
Tomato ketchup 2 tbsp
Red chilli sauce 2 tbsp
Salt a pinch
Spring onion bulb 3-4 pcs
Spring onion greens ½ cup
Frankie roti:
Refined flour 1½ cup
Sugar a pinch
Salt 2 pinch
Curd ½ cup
Water as required
Frankie masala:
Jeera 1 tbsp
Coriander seeds 1 ½ tbsp
Black pepper 1 tsp
Dry red chilli 1 pc
Dry pomegranate powder 1 tbsp
Black salt ½ tsp
Amchur powder 1 tsp
Salt ½ tsp
Red chilli powder ½ tbsp
Turmeric ½ tsp
For Paneer Chilli Frankie:
Frankie roti 
Butter 
Frankie masala
Frankie salad 
Paneer chilli
Onion chopped 
Frankie Salad:
1. Finely shred the cabbage and transfer it to a bowl.
2. Cut carrots, ginger, and green chilli into julienne strips and place them in the same bowl.
3. Add vinegar and salt, then mix well. Set it aside for later use.
Frankie Roti:
1. On a plate, combine refined flour, salt, sugar, and curd. Mix these ingredients together.
2. Gradually add water and knead the mixture into a soft dough.
3. Allow the dough to rest for 5-10 minutes, then divide it into small portions.
4. Take one portion, dust it with flour, and roll it out into a flat roti.
5. Heat a pan, place the rolled roti on it, and cook it until it's 80% done on both sides.
6. Remove the roti from the pan, cover it with a cloth, and set it aside.
Frankie Masala:
1. Heat a pan and roast cumin seeds, coriander seeds, dried red chilli, and black pepper.
2. Transfer the roasted spices to a mixer jar, adding dry pomegranate powder, amchur powder, black salt, salt, red chilli powder, and turmeric powder.
3. Grind them into a fine powder to make the Frankie masala.
Paneer Chilli:
1. Cut the paneer into thick batons and place them on a plate.
2. Sprinkle salt and red chilli powder over the paneer.
3. Add soy sauce and vinegar, lightly tossing to marinate for 5 minutes.
4. Sprinkle cornflour over the paneer and toss it to coat.
5. Heat oil in a pan, add the paneer batons, and deep fry them until they become crispy on the outside.
6. Remove the fried paneer and let excess oil drain on a plate.
7. In a separate pan on high heat, add oil, dried red chilli, chopped garlic, and chopped ginger. Sauté until they turn golden brown.
8. Add sliced capsicum, sliced onion, and green chilli, sautéing until they soften.
9. Then, add soy sauce, red chilli sauce, vinegar, and ketchup. Sauté these ingredients together.
10. Season with salt, spring onion bulbs, and continue to sauté.
11. Finally, add the fried paneer batons and toss them in the sauce.
12. Finish by adding spring onions. Your Paneer Chilli for Frankie is ready.
Paneer Chilli Frankie:
1. Heat a pan, add butter, and warm the roti on both sides.
2. Place the heated roti on a plate, sprinkle the Frankie masala over it.
3. Add the Frankie salad, followed by the paneer chilli.
4. Sprinkle some more Frankie masala, onion chopped and some salad.
5. Roll it up into a Frankie.
6. Wrap it with parchment or wrapping paper and serve.
Enjoy your Paneer Chilli Frankie!