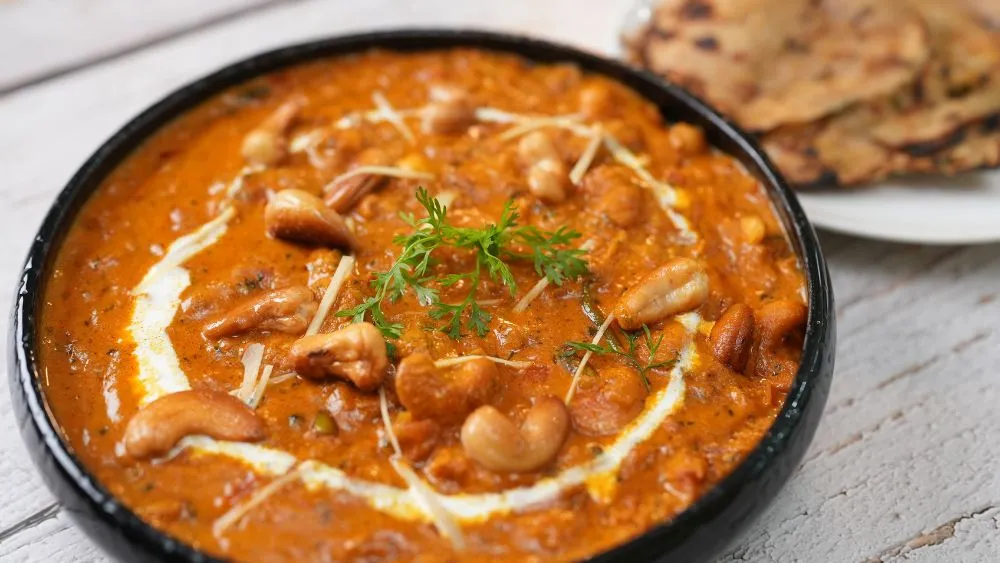 Kaju masala curry Recipe

40 mins

5

10 mins
How to Make Delicious Kaju Masala Curry at Home
Indulge in the rich and aromatic world of Indian cuisine with our delectable Kaju Masala Curry recipe. This sumptuous dish boasts a delightful blend of cashews, spices, and creamy goodness, making it a true treasure for your taste buds. The fragrant mix of whole spices like bay leaves, cloves, cinnamon, and cardamom infuses this dish with an irresistible flavor. This vegetarian cashew curry is a delightful treat for both your eyes and your palate, and it's a classic choice in North Indian culinary traditions.
Savor the creamy richness of this cashew-based curry, accentuated with the goodness of tomatoes, ginger, and garlic. The dish is elevated to perfection with a medley of aromatic spices like turmeric, coriander, and cumin powder, along with the unique touch of Kitchen King masala. Kaju Masala Curry is an authentic and flavorful Indian delight, perfect for your dining table.
Explore the step-by-step instructions below to prepare this marvelous Kaju Masala Curry, and you'll soon be enjoying a restaurant-style dish in the comfort of your own home. Now, let's dive into the recipe and unlock the secrets of this mouthwatering Indian classic.
Ingredients 
| | |
| --- | --- |
| Cashew whole | ½ cup |
| Cashew broken | ½ cup |
| Oil | 4 tbsp |
| Bayleaf | 2 pcs |
| Cloves | 5-6 pcs |
| Cinnamon | 1 inch |
| Green cardamom | 4-5 pcs |
| Black cardamom | 2 pcs |
| Black pepper | 10-12 pcs |
| Onion chopped | 1 cup |
| Ginger & garlic paste | 1 tbsp |
| Turmeric powder | ½ tbsp |
| Red chilli powder | ½ tbsp |
| Coriander powder | 1 tbsp |
| Salt | ½ tbsp |
| Jeera powder | ½ tbsp  |
| Water | as required  |
| Tomato chopped | ½ cup |
| Kitchen king masala | ½ tbsp |
| Butter | 2 tbsp |
| Fresh cream | 2 tbsp |
| Kasuri methi | ½ tbsp |
| Coriander chopped | 1 tbsp  |
Method 
Heat some oil in a pan, add whole cashew and shallow fry until they are golden brown.
Once done, remove them in a bowl and add some water to avoid extra cooking.
Do the same process with broken cashew. Add fried broken cashew in a mixer jar and make a paste of it. Until further use, keep it aside.
Heat some oil in a pan, add bayleaf, cloves, green cardamom, cinnamon, black cardamom, black pepper and let it crackle.   
Then add chopped onion and saute till golden brown.
Add ginger & garlic paste and saute them.
Then add salt, turmeric powder, red chilli powder, coriander powder, jeera powder, saute, add some water & cook them on low flame for a minute.
Now add curd, slit green chilli and cook them for 4-5 mins.
Later add chopped tomatoes and cook them until they get mashy. Add some water if needed.
Then add fried cashew paste and cook further.
Later add kitchen king masala, butter, cream and cook it.
Lastly add kasuri methi, fried whole cashew and mix it.
Kaju curry is ready, garnish it with cream, coriander chopped, ginger juliennes and serve hot.  
In conclusion, this Kaju Masala Curry is not just a recipe but a solution to your quest for a rich, creamy, and flavorful Indian dish. It combines the earthy goodness of cashews with the aromatic spices that define Indian cuisine. The result is a dish that's not just delicious but a celebration of flavors and textures.
For more culinary adventures, explore other recipes by Chef Ajay Chopra and take your taste buds on a journey through the diverse and delightful world of Indian cuisine. Don't forget to check out his courses and books for in-depth culinary knowledge. Experience the magic of Indian flavors in your own kitchen with this fantastic Kaju Masala Curry recipe!
FAQs (Frequently Asked Questions)
Question 1: What is the key ingredient in Kaju Masala Curry?
Answer 1: The star ingredient in Kaju Masala Curry is cashews, which give the dish its rich and creamy texture.
Question 2: How do I make cashew paste for the curry?
Answer 2: To make cashew paste, shallow fry broken cashews, grind them into a paste, and keep it aside for later use.
Question 3: What makes this curry so flavorful?
Answer 3: The flavor of this curry comes from a combination of aromatic spices like bay leaves, cloves, cinnamon, and cardamom, as well as Kitchen King masala.
Question 4: Can I make Kaju Masala Curry without using cream?
Answer 4: Yes, you can adjust the cream quantity or replace it with yogurt for a lighter version of the dish.
Question 5: Is this recipe suitable for vegetarians?
Answer 5: Yes, Kaju Masala Curry is a vegetarian dish, making it a great choice for those following a vegetarian diet.
Question 6: What is the best way to serve this curry?
Answer 6: Kaju Masala Curry pairs wonderfully with Indian bread like naan, roti, or rice, creating a complete and satisfying meal.
Question 7: Can I adjust the spice level to my preference?
Answer 7: Certainly, you can control the spice level by varying the quantity of red chili powder to suit your taste.
Question 8: Is this curry suitable for special occasions?
Answer 8: Absolutely, Kaju Masala Curry is a delightful choice for special occasions and celebrations, offering a taste of authentic Indian cuisine.
---