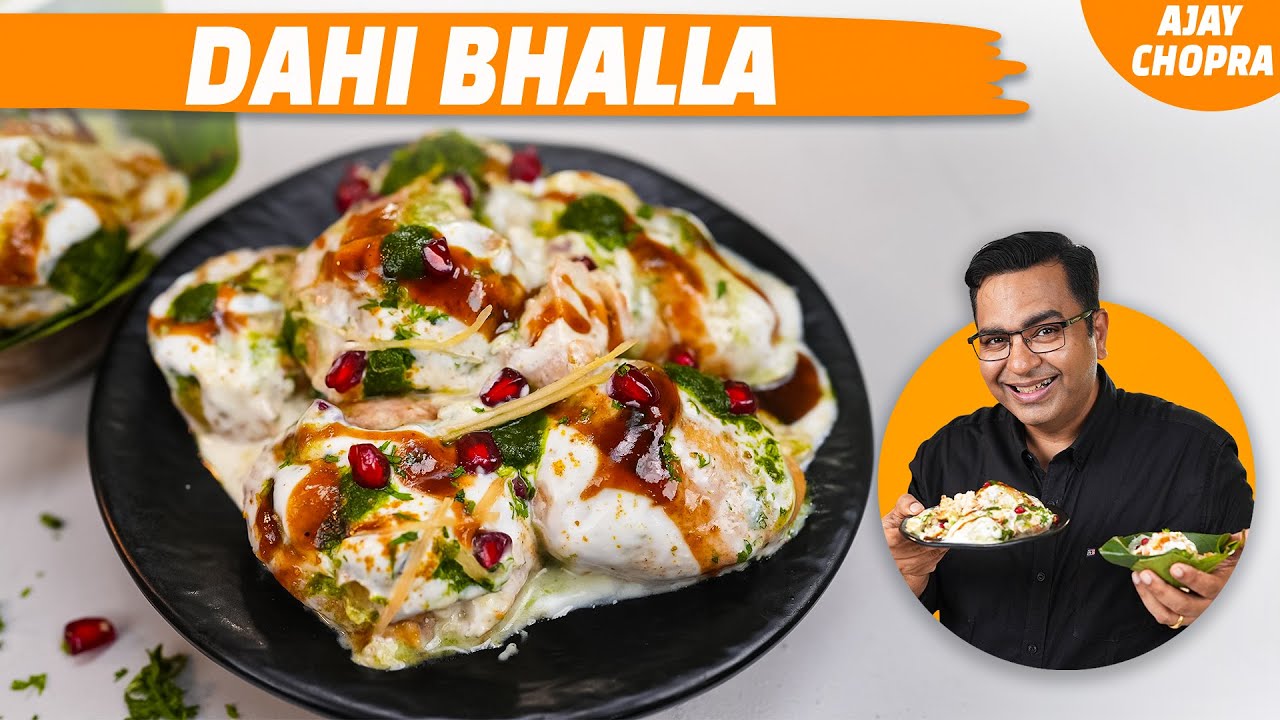 Dahi Bhalla Recipe

1.5 Hrs.

7-8 People

6 Hrs.
Dahi Bhalla Recipe
Indulge in the exquisite flavors of Indian cuisine with our savory and delightful Dahi Bhalla recipe. This iconic street food dish offers an explosion of taste, making it a perfect choice for festive occasions and gatherings. Dahi Bhalla, also known as dahi vada, is a popular chaat recipe that combines spiced lentil dumplings, creamy yogurt, and a medley of chutneys to create a festival treat that's beloved across India.
This festive snack, hailing from the heart of Rajasthan, is a delightful mixture of sweet and savory. It features deep-fried lentil dumplings soaked in spiced yogurt, garnished with tangy tamarind chutney, mint chutney, and an array of aromatic spices. The contrast of textures and flavors in Dahi Bhalla, from the crispy dumplings to the velvety yogurt, will leave your taste buds craving for more. Get ready to explore the world of chaat delights as we guide you through the preparation of this famous street food dish.
Ingredients: 
Whole urad dal (without skin) soaked 2 cups
Moong dal soaked ½ cup
Water as required
Bread slices 4 pcs
Milk ¼ cup
Ginger chopped ½ inch
Green chilli chopped ½ tbsp
Jeera 1 tsp
Salt ½ tbsp
Baking powder a pinch
Raisins 1 tbsp
Oil for frying 
Hing ½ tsp
Warm water as required
Curd 1½ cup
Papdi 
Green mint chutney
Sauth chutney
Dahi bhalla spice mix
Curd 
Pomegranate seeds 
Coriander chopped
Ginger juliennes
 
Dahi bhalla spice mix:
Jeera powder 1 tsp
Yellow chilli powder ½ tsp
Coriander powder 1 tsp
Black salt ½ tsp 
Amchur powder ½ tsp 
For green mint chutney:
Coriander a handful
Mint leaves ½ cup
Garlic 4-5 cloves
Salt 1 tsp
Lemon ½ pc
Water ad required 
For saunth chutney:
Seedless tamarind 1 cup
Jaggery 1 cup
Coriander seeds 2 tbsp
Cumin seeds 1 tbsp
Fennel seeds 1 tbsp
Whole red chillies 3 pcs
Black salt 1 tbsp
Asafoetida  pinch
dry ginger powder 1 tbsp
Method: 
Method for Making Dahi Bhalla:
Preparing the Dahi Bhalla Spice Mix:
In a bowl, combine jeera powder, yellow chilli powder, coriander powder, black salt, and amchur powder. Mix them well and set aside.
Making the Green Mint Chutney:
1. Take a jar and add fresh coriander leaves, mint leaves, garlic, jeera powder, salt, green chillies, and water.
2. Grind these ingredients into a smooth paste.
3. Add lemon juice to the paste, mix it well, and your green mint chutney is ready.
Preparing the Saunth Chutney:
1. In a saucepan, combine tamarind and jaggery with a small amount of water.
2. Boil this mixture until it forms a syrup. Set it aside.
3. In a separate pan, dry roast cumin seeds, coriander seeds, fennel seeds, and whole red chillies.
4. Add the roasted spices to the tamarind-jaggery mixture and simmer for 20 minutes.
5. Add sugar and stir until it dissolves.
6. Strain the chutney and grind it into a fine paste.
7. Strain it again to achieve a smooth texture.
8. Add black salt, hing, and ginger powder to the paste. Mix everything thoroughly, and your saunth chutney is ready.
Making the Dahi Bhalla:
1. Wash and soak the whole urad dal for at least 6 hours or overnight.
2. Soak moong dal for 2-3 hours.
3. Use a mixer jar to grind soaked urad dal with very little water until it becomes a smooth, thick paste.
4. Similarly, grind soaked moong dal into a smooth, thick paste.
5. Remove the edges of bread slices, cut them into small pieces, and soak them in milk.
6. Mash the soaked bread into a smooth paste.
7. Combine the urad dal paste, moong dal paste, grated ginger, chopped green chilli, jeera, salt, and raisins. Mix them thoroughly.
8. Whip the batter until it becomes light and fluffy. Set it aside.
9. In a bowl, mix warm water with hing and salt.
10. Heat oil in a pan and deep fry small portions of the batter until they turn golden brown.
11. Transfer the fried bhallas to the salt and hing water mixture and let them soak for 1 hour.
12. In another bowl, combine curd and hing water. Set it aside.
13. Squeeze out the water from the bhallas and place them on a plate.
14. Sprinkle the dahi bhalla spice mix over the bhallas and pour some curd and hing water mixture over them.
15. Allow the bhallas to rest in the fridge for 15-20 minutes.
Assembling the Dahi Bhalla:
1. Take a plate and add soaked dahi bhallas, crushed papdi, green chutney, saunth chutney, and a generous amount of thick curd.
2. Layer it with green chutney, saunth chutney, dahi bhalla masala, chopped coriander, pomegranate seeds, and ginger juliennes.
3. Serve and enjoy your delicious Dahi Bhalla!
FAQ (Frequently Asked Questions)
1. What is Dahi Bhalla? Dahi Bhalla, also known as dahi vada, is a popular Indian street food made from deep-fried lentil dumplings soaked in spiced yogurt and served with various chutneys.
2. Is Dahi Bhalla suitable for festive occasions? Absolutely! Dahi Bhalla is a classic choice for celebrating festive events and gatherings due to its rich and flavorful profile.
3. Can I make Dahi Bhalla at home? Yes, our recipe guide will help you create this delectable dish in the comfort of your kitchen.
4. Are there any variations of Dahi Bhalla? Yes, you can find regional variations of Dahi Bhalla across India, each with its unique ingredients and preparation methods.
5. What is the main ingredient in Dahi Bhalla? The primary ingredients in Dahi Bhalla are lentils, yogurt, and a combination of flavorful spices and chutneys.
6. Can I adjust the spiciness of Dahi Bhalla to my preference? Certainly! You can control the spiciness by adjusting the quantity of green chilies and other spices in the recipe.
7. Is Dahi Bhalla a vegetarian dish? Yes, Dahi Bhalla is a vegetarian dish and is enjoyed by vegetarians and non-vegetarians alike.
8. How can I garnish Dahi Bhalla for an authentic touch? Garnish your Dahi Bhalla with chopped coriander, pomegranate seeds, and ginger juliennes to enhance its visual appeal and taste.