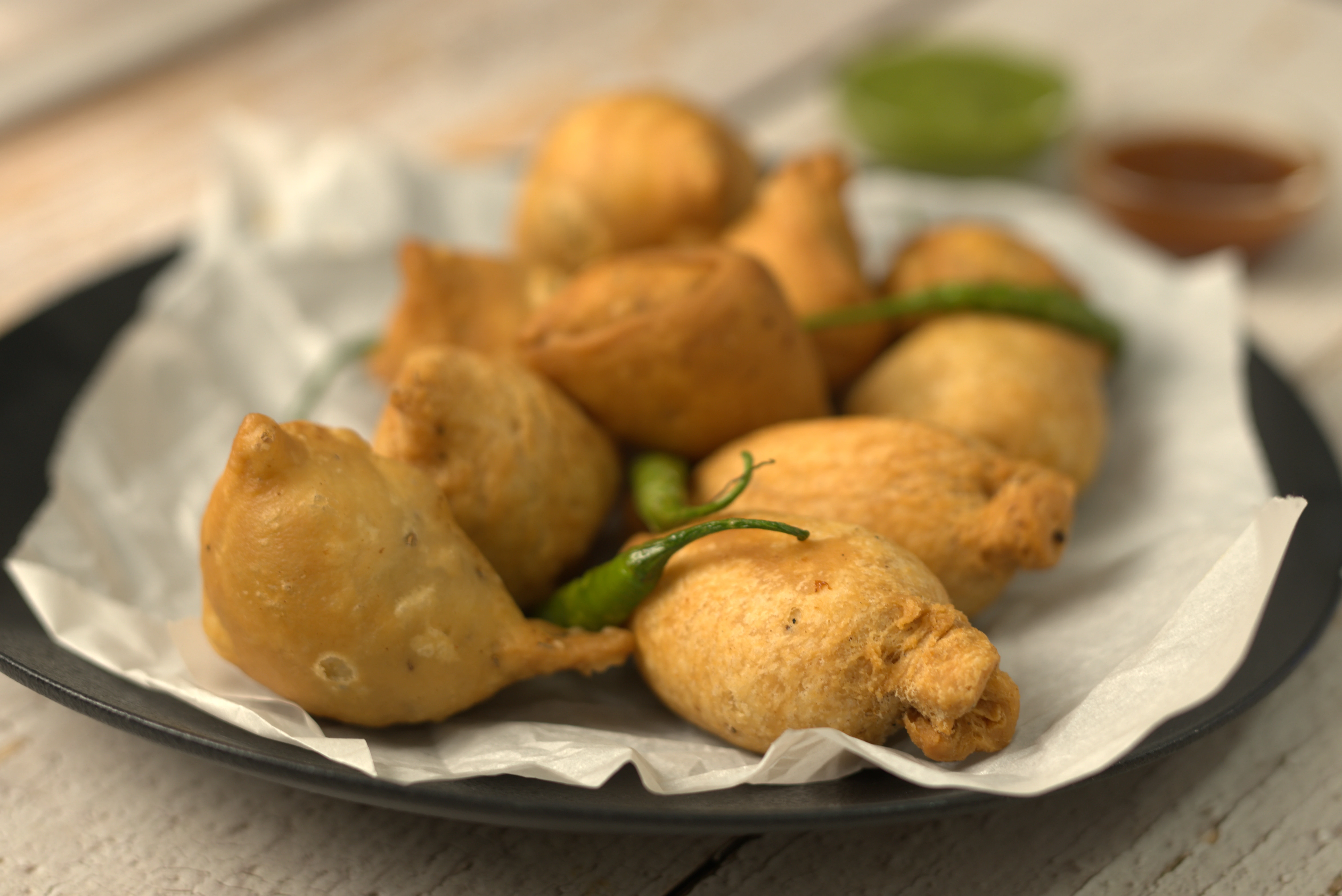 Samosa Recipe

20 mins

2-3 people

15 mins
Samosa 
---

Ingredients:-
For Samosa Stuffing;
Oil:- 3tbsp
Cumin:- 1tsp
Green Chili(chopped):- 2
Onion(chpped):- 2
Ginger-Garlic paste:-1 1/2 tsp
Salt:-1tsp
Red Chili Powder:-1tsp
Turmeric Powder:-1tsp
Coriander Powder:-1tsp
Roasted Cumin Powder:-1tsp
Garam Masala powder:-1tsp
Tomato(chopped):-1
Water:- 1/2 tbsp
Tomato Puree:- 1cup
Soyabean Kheema:-1cup
KasuriMethi:-1tsp
Coriander:-2tsp
Cheese(grated):- 4cubes
For Samosa Dough
Maida:- 1cups
Ajwain:- 1tsp
Salt:-2tsp
Oil:- 1tbsp
Water
For Frying;
Oil:- 2-3 cups
Method:
For stuffing:
Heat oil in a pan, add cumin and allow it to crackle, add choppped green chillies and chopped onion and cook it for a while
Add 1 1/2 tsp of ginger- garlic paste, 1tsp of salt, 1tsp of red chili powder, 1tsp of turmeric powder, 1tsp of coriander powder, 1tsp of roasted cumin powder, 1tsp of garam masala and cook for a while
 Add 1chopped tomato, 1cup tomato puree. Add 1cup of hydrated soyabean kheema and bhuno it on slow flame for 10 min.
 Add 1tsp of kasurimethi and 2tsp of chopped Coriander.
 Then keep on stirring the mixture and cook futher Once it is cooked, transfer it on a clean plate and allow it to cool
Add some grated cheese.
For the dough
Taking 1cup of maida, 1tsp of ajwain, 2tsp of salt and mix together
1tbsp of oil and rub in maida for moin.
Add water to knead the  dough.
allow the dough to rest for a while.
We will make 3types of Samosas:- Raju MishtanBhandar wale Samosa, Samosa Roll, and Patti Samosa.
For Raju Mishtan Bandar wale Samose,
 roll the dough balls.
 First apply the oil and cut from the center. And now take one piece, apply some water and roll it into a conical shape. Add the Stuffing and close the sides.
For Patti Samosa, roll the dough with rolling pin  and cut it into a Rectangular shape. Cut the borders. Stretch the  patti. Fill the Stuffing and roll it into a conical shape and  close the borders.
For Samosa Roll, roll the dough ball and cut into square. Fill the Stuffing in the center of the square and roll it into a cylinderical shape and close the  borders.
Deep fry samosa in medium hot oil till crisp.
Serve hot.
---