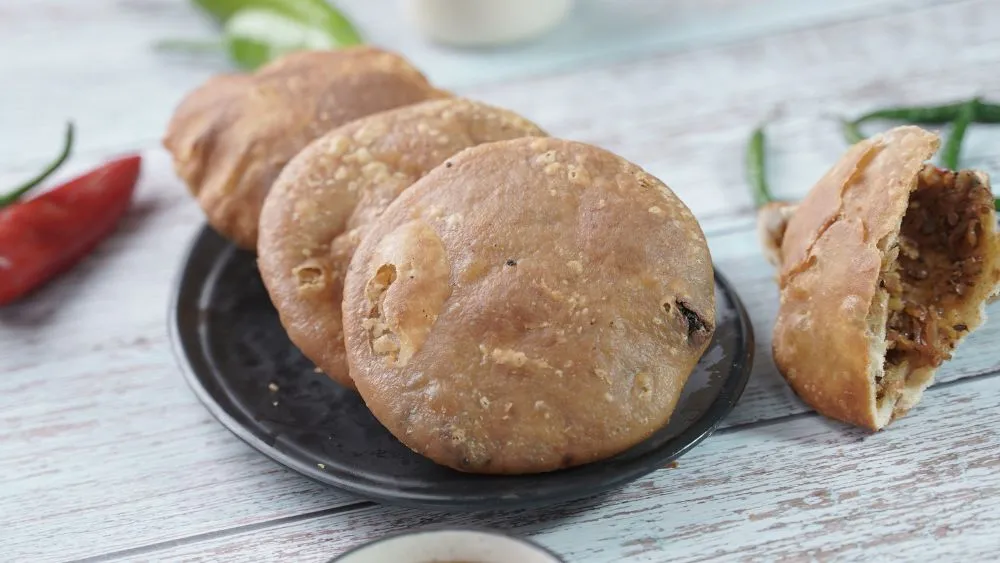 Pyaaz Ki Kachori Recipe

20 mins

3-4 servings

20 mins
Pyaaz Ki Kachori
---

For dough
Maida – 1 bowl
Ajwain – 1 tsp
Salt – 1 tsp
Oil – 1 tbsp
For crush masala
Cumin seeds – 1 tsp
Coriander seeds – 2 tsp
Saunf – 1 tsp
For pyaaz kachori
Oil – 1 tsp
Crush masala – 1 tsp
Chopped onion – 2 nos
Garlic chopped - 2 nos
Heeng - TSP
Salt – 1 tsp
Red chili powder – 1 tsp
Amchoor powder - 1 TSP
Tatri - 1 pinch
Sugar – 1 tsp
Garam masala – 1 tsp
Boiled crushed potato – 1 nos
Chopped coriander – 1 tbsp
Method
To make kachori
Mix in the flour, ajwain  and salt
Add the fat to the flour.
Make it into a crumbly mixture with the tips of your fingers.
Add enough water, to make it into a soft dough Cover and leave to rest for at least 15-20 minutes.
For stuffing
Heat oil in a pan, and Crush masala allow it to bloom
Add Chopped onion to the pan and saute, add chopped garlic and hing
Add salt all powdered masala and sugar and mix well on slow flame
Add boiled crushed potato and Chopped coriander
Switch off heat and leave to cool, and divide the masala into equal portions
Make smooth balls from the dough. Roll them out till 1/4 " thick,
Take one piece of rolled dough and pinch the edge all around, leaving the center thicker.
Dampen the pressed edges, place a ball of filling in the center and bring wet edges together, covering the filling completely. Press together to seal.
Place this piece in your palm and with the heel of the other palm, press gently in the center. Flatten a bit with palm first then roll it lightly in a round.
 Kachoris are now ready to be fried.
Heat the oil in a kadai.
Fry them till they all turn even golden in color; reducing the heat from medium to low.
. Remove from oil, drain and place on absorbent paper. Serve hot
---