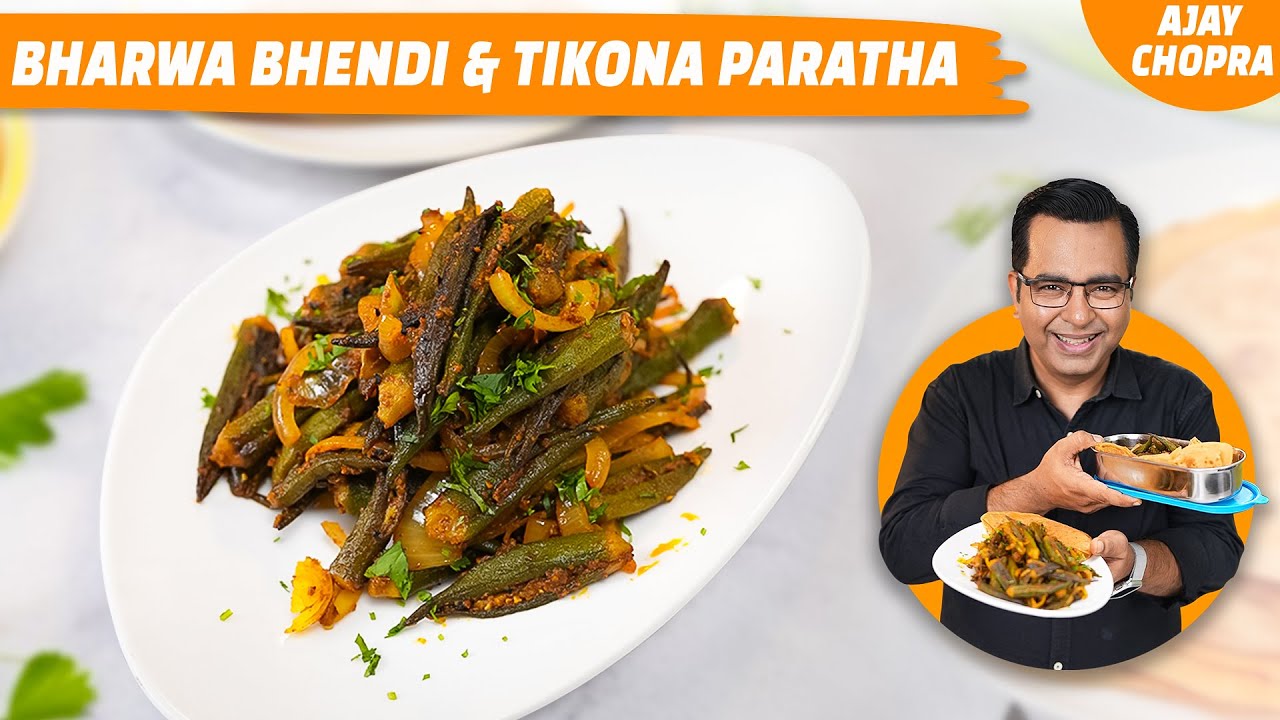 Bharwa Bhindi & Tikona Paratha Recipe

40 Mins

3-4 People

10 Mins
Bharwa Bhindi & Tikona Paratha Recipe: Learn to Cook like a Pro! 
Craving something tasty and delicious?
This is the perfect opportunity to tantalize your taste buds with celebrity chef Ajay Chopra's specialized dishes. Enjoy his mouthwatering Bharwa Bhindi and Tikona Paratha served with a unique twist that will make you come back for more! With his distinct flavors, Chef Ajay Chopra brings to you his secrets which he uses to cook Bharwa Bhindi and Tikona Paratha.
This recipe displays an exquisite balance of spices, making it both flavorful yet not overpoweringly spicy. All meals are made from fresh ingredients so you can savor the pure aroma of authentic Indian food in every bite. Get ready to embark on a truly memorable culinary journey as Chef Ajay Chopra serves up some delightfully indulgent dishes!
Come join us today in step-by-step guide and try out our exclusive menu items by Celebrity Chef Ajay Chopra! 
Ingredients:
Bharwa Bhindi:
Bhindi 500 gms
Saunf powder 2 tbsp
Salt ½ tbsp
Red chilli powder 1 tbsp
Turmeric powder ½ tbsp
Coriander powder 1 tbsp
Jeera powder ½ tbsp
Amchur powder 1 tbsp
Kalonji ½ tbsp
Mustard oil 2 tbsp
Onion slice 1 cup
Tikona Paratha:
Wheat flour 1 cup
Salt ½ tsp
Jeera 1 tsp
Water as required
Oil ½ tbsp
Ghee ½ tsp
Red chilli powder a pinch
Method:
Preparing Bharwa Bhindi:
Wash and Clean the Bhindi: Start by washing the fresh bhindi (okra) under running water. Ensure they are clean and free from any dirt or impurities.
Dry and Wipe: After washing, gently pat them dry with a clean kitchen towel or paper towels. Make sure they are completely dry. This step is crucial to prevent the bhindi from becoming slimy while cooking. Once dried, give them a final wipe with a clean cloth to remove any remaining moisture.
Trim and Slit: Using a sharp knife, trim the top part of each bhindi. Then, make a lengthwise slit along the centre of each bhindi, creating a pocket for the stuffing. Set the prepared bhindi aside for stuffing.
For the Bharwa Masala (Spice Mix):
Prepare the Masala: In a mixing bowl, combine saunf powder (fennel seed powder), salt, red chilli powder, turmeric powder, coriander powder, jeera powder (cumin seed powder), amchur powder (dried mango powder), kalonji (nigella seeds), and mustard oil. Mix these ingredients thoroughly to create a flavorful spice mix.
Stuff the Bhindi: Take the prepared bhindi with the slits and generously fill each one with the bharwa masala mixture. Make sure to evenly distribute the masala inside the bhindi's pockets.
Sauté the Stuffed Bhindi: Heat a pan and add mustard oil. Once the oil is hot, carefully place the stuffed bhindi in the pan. Sauté them on medium-high heat for about 5-7 minutes, or until they start to turn tender and slightly browned.
Cover and Cook: To ensure the bhindi cooks evenly, cover the pan with a lid and continue cooking until the bhindi is thoroughly cooked and tender. The aromatic spices will infuse into the bhindi, creating a delightful flavour.
For Tikona Paratha (Triangular Flatbread):
Prepare the Dough: In a separate bowl, take wheat flour, add jeera (cumin seeds), and a pinch of salt. Gradually add water and knead the mixture into a soft, smooth dough. Once kneaded, drizzle a bit of oil over the dough, knead it again, and let it rest for 5-6 minutes.
Divide and Roll: Divide the dough into small, equal-sized portions. Take one portion, dust it with some flour, and roll it into a flat, thick circle.
Spice and Fold: Apply some ghee, red chilli powder, and a pinch of salt over the rolled-out roti. Then, fold it in half to create a semi-circle and fold it once more, forming a triangular shape.
Roll into Paratha: Roll out the triangular paratha gently with a rolling pin to flatten it. Ensure it retains its triangular shape.
Cook the Tikona Paratha: Heat a flat pan or griddle and place the prepared tikona paratha on it. Cook it from both sides until it turns golden brown, applying ghee as needed for a delicious, crispy finish.
Bharwa bhindi & tikona paratha is ready to serve.

 
In conclusion, Bharwa Bhindi and Tikona Paratha are a testament to the artistry of Indian cuisine, combining flavors that linger in your memory long after the meal is over. Chef Ajay Chopra's culinary expertise brings this classic dish to life with a modern twist, offering a mouthwatering experience for all.
Don't miss out on more incredible recipes by Chef Ajay Chopra. Explore his courses and books for an in-depth culinary journey. Experience the world of flavors he has to offer, and let your taste buds rejoice in the richness of Indian cuisine. Start your culinary adventure today!
FAQs (Frequently Asked Questions)
1. What is Bharwa Bhindi, and why is it popular?
Bharwa Bhindi is a stuffed okra dish popular in Indian cuisine. It's loved for its flavorful spice mix and unique taste.
2. What makes Tikona Paratha triangular in shape?
Tikona Paratha gets its name from its triangular shape, achieved by folding the flatbread during the cooking process.
3. Can I adjust the spice level of Bharwa Bhindi to my preference?
Absolutely! You can customize the spice level by adjusting the amount of red chili powder and other spices.
4. How do I prevent Bhindi from becoming slimy while cooking?
Thoroughly drying the bhindi after washing is essential to prevent it from becoming slimy.
5. What's the secret behind Chef Ajay Chopra's unique twist on these classic dishes?
Chef Ajay Chopra combines traditional flavors with a modern touch, resulting in a delightful culinary experience.
6. What's the key to making a perfect Tikona Paratha?
The key lies in folding the paratha correctly and ensuring it retains its triangular shape while cooking.
7. Where can I find Chef Ajay Chopra's courses and books?
You can explore Chef Ajay Chopra's culinary courses and books on his official website or at select retailers.
8. Are there any variations to this recipe?
You can experiment with different spices and ingredients to create your own variations of Bharwa Bhindi and Tikona Paratha.