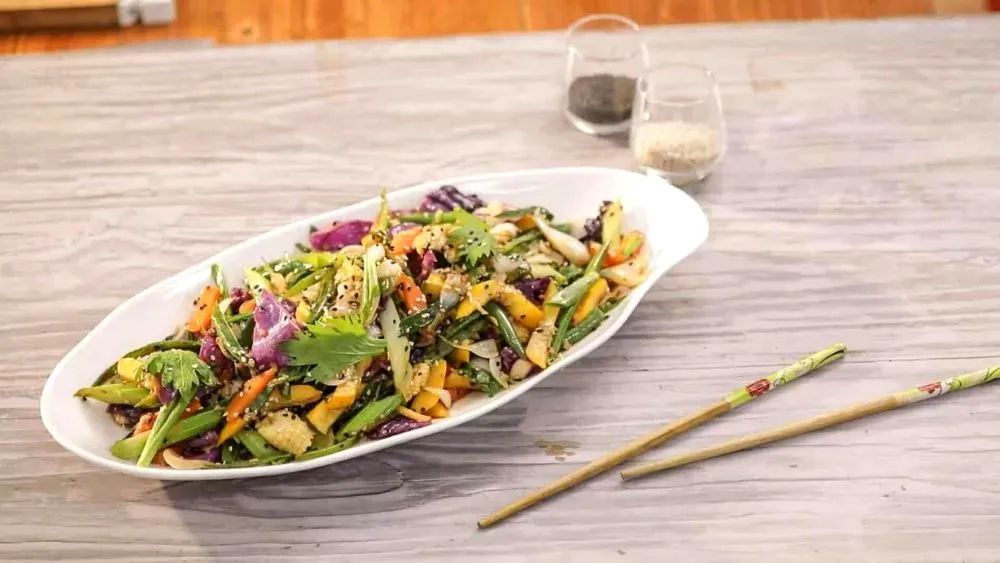 Stir Fry Vegetable Recipe

10 min

2-3 People

10 min
Stir Fry Vegetable
---
Ingredients:
1 cup Celery
1 cup baby Corn
1 cup Celery Leaves
1 cup Spring Onions Green portion
1 cup Purple Cabbage
1 cup Yellow Zucchini
1 Cup Carrots
1 cup Beans
Water – as required
Salt to taste
1 tbsp refined Oil
1 tbsp chopped Garlic
1 tbsp chopped Green Chillies
1/2 cup chopped Spring Onions White Portion
Some Juliennes of Ginger
1 tbsp Chilli Sauce
1 tbsp Light Soya Sauce
1 tsp Dark Soya Sauce
1 tsp Dark Sesame Seeds
1 tsp Aromat Powder
1 tspn cracked Black Pepper Powder
1 tsp Sugar
Method:
For boiling:
Take a pan, put some water and then add carrots, zucchini,
beans, baby corn etc. one by one. Add salt and cover lid.
Once the vegetables are boiled gently turn off the flame,
strain the water and put all the veggies in ice cold water and
keep it aside.
Stir Fry Process:
Take a wok. Put some refined oil. Add garlic, Green chillies,
white portion of Spring Onions, celery, Ginger and all the
boiled and blanched vegetables one after another. Toss the
veggies and mix everything well. Now add all the sauces,
spices, sugar salt etc. end rest of the vegetables. A quick
toss so that everything mixes together. Once the stir fry
vegetables is done, take it out in a serving plate, garnish with
some dark and white sesame seeds, some spring onions 
---