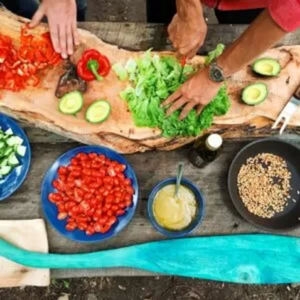 5 Vegetable choppers you need to cook in a jiffy.
From being super busy to lazy, these are the types of products in chopping and kneading dough or slicing that will help and overcome your energy.
Vegetables and fruits are essential in the daily diet and you simply cannot compromise them. But you can't expect to sit and chop up everything you need to make lunches, dinners, snacks, and salads. To make sure you can still do this job while sparing some time, it's time to look for the best vegetable chopper for your kitchen. And we're here to help.
1) Pigeon Mini Handy Compact Chopper
A wonder tool for the kitchen. Ever since we bought this, we use it in the kitchen all the time at least 2-3 times a day, Veg salad has become my favourite snack or meal, with the chopped veggies toss in a spoon each of Flaxseed powder, peanuts, pine nuts, cucumber seeds, pumpkin seeds. You are good to go. No stress for cutting boards and knives.
2) Butterfly Premium Vegetable Chopper
I personally think this is a cute little kitchen tool. The concept is good and developed well using good materials. It chops so well in sizes as you desire. If you like raw onions, salads, go for it. Overall it does its job pretty well for which I bought it.
3) Wonderchef Turbo Dual Speed Food Processor
It is an excellent product. Chopping happens just in seconds, once the pieces are in. The correct amount of water gives you perfectly kneaded flour. Whipping is also perfectly done with this. It makes your work easy and fast.
4) Ganesh Multipurpose Vegetable and Fruit Chopper
The blades are firm, The green plastic holding blades are also very good, Definitely at this price it saves you hours of prep work, Good innovative design, and easy to use. Overall, if you really want to avoid all kitchen gadgets and want to buy one only, this is your Prep Tool. It saves me literally hours of work and cuts veggies like a pro. The biggest test for a veggie cutter is to cut Tomatoes which is what this one does beautifully.
5) RYLAN Portable USB Rechargeable Electric Mini Slicer
This product is an absolute must buy ever since I bought this product, my kitchen has become hassle-free. This product minimizes the need to spend long hours in the kitchen only chopping fruits and vegetables. It is a very innovative product and It is also priced very affordably and is completely safe to use.