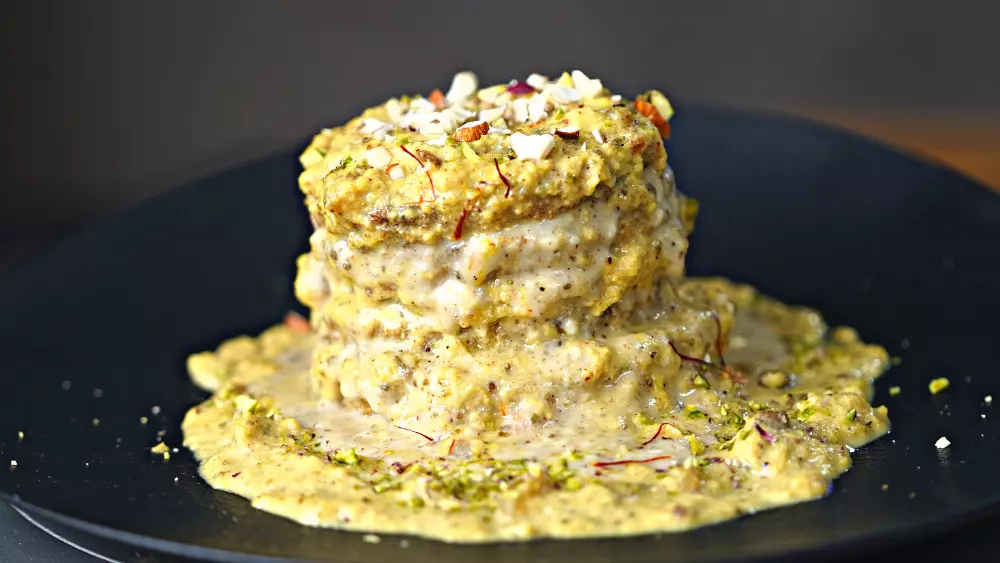 Thandai Shahi Tukda Recipe

20 mins

2-3 people

10 mins
Thandai Shahi Tukda
---
Ingredients
2 Cup Milk
2 Tbsp Khoya
1 Pinch Saffron
1 Tsp Kishmish
1 Tsp Kewra
2 Tbsp Sugar
6 Nos Bread Slices 
3 Tbsp Ghee
Stuffing
½ Cup Khoya 
1 Tsp Powdered Sugar
2 Tsp Thandai Masala
1 Tsp Chopped Nuts
4 Saffron Strands
1 Tbsp Cream
Nuts Garnish
2 Tsp Badam
2 Tsp Pista
2 Tsp Kaju
Thandai Masala
1 Tsp Saunf
6 Nos Black Pepper
10 Nos Cardamom
1 Tsp Dried Rose Petal
1 Tsp Almond
10 Nos Kaju
1 Tsp Khus Khus Powder
Method
For Thandai Masala
Grind Together All The Ingredients To A Fine Powder
For Rabri
Reduce Milk To Half By Simmering It On Slow Flame.
Add Saffron And Mawa And Mix Well.
Add Thandai Powder, Kishmish Kewra And Sugar Allow It To Cool.
For Bread
Cut Bread Slices Into Circle With Round Cutter
Heat Ghee In A Pan And Shallow Fry The Bread Slices On Slow Flame Till Golden Brown
Drain The Excess Ghee
Soak The Bread For A While In Rabri Till It Becomes Soft
For Stuffing
Crumble The Mawa, Add Powdered Sugar, 2 Spoons Of Rabri, Cream, Chopped Nuts, Thandai Masala And Saffron And Mix Well.
For Assembling
On A Serving Plate Spread A Spoonful Of Rabri
Place One Slice Of Bread
Add Soft Mawa Mixture And Repeat The Process To Make A Tower 
Garnish It With Leftover Chopped Nuts And Saffron Stands.
Serve Cold.
---