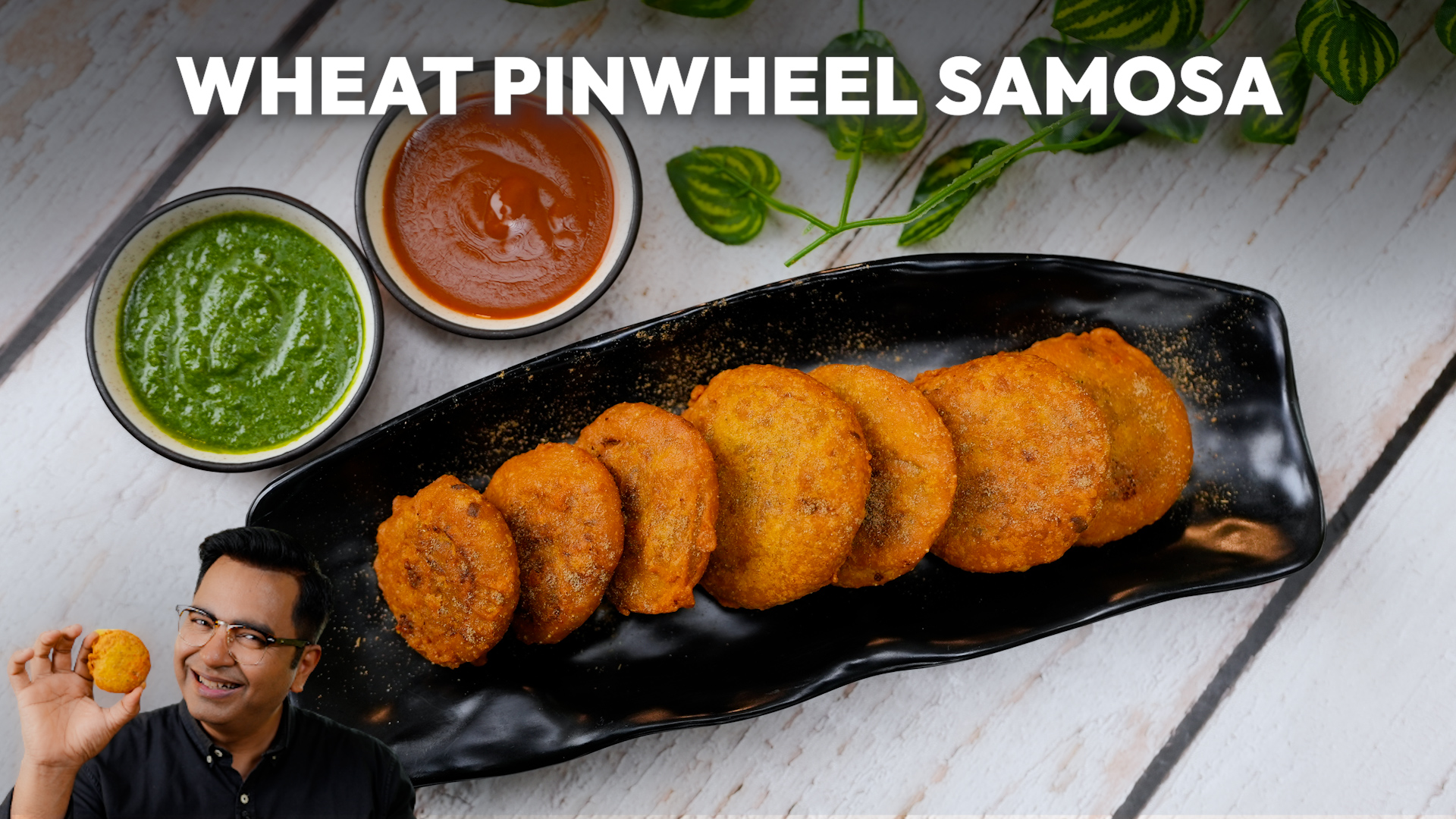 Wheat Pinwheel Samosa Recipe

30 Mins

6-7 Person

10 Mins
Wheat Pinwheel Samosa
Pinwheel samosa, made with wheat flour, is a delicious and crispy dish that can be enjoyed as a tea-time snack or as an appetiser. Made with a flavorful filling and a crispy wheat flour coating, this dish is sure to tantalise your taste buds. Here is a step-by-step guide on how to prepare this delightful treat:
Ingredients: 
For powdered masala:
Jeera 1 tsp 
Saunf 1 tsp 
Black pepper 9-10 pcs 
Oil 1 tbsp
Powdered masala 1 tbsp
Red chilli powder ½ tsp 
Salt 1 tsp 
Garam masala ½ tsp 
Green chilli chopped 1 tsp 
Coriander chopped 1 tsp
Tartri (citric acid) a pinch
Potato boiled 4 pcs 
Water 2 tbsp
Hing a pinch
Wheat  flour 1 cup
Rawa 2 tbsp
Chilli flakes 1 tsp 
Ajwain 1 tsp 
Salt 1 tsp 
Ghee 1 tbsp 
Oil 1 tsp 
Amchur powder ½ tsp 
Turmeric powder ½ tsp 
Water as required
Method 
To prepare the filling, start by heating a pan on medium heat. 
Add cumin seeds, fennel seeds, and black pepper to the pan and roast them until fragrant. Once roasted, transfer the spices to a mortar and pestle and pound them into a fine powder.
Next, take another pan and heat oil over medium to low heat. 
Add the powdered masala mixture to the pan, followed by red chilli powder, hing, salt, garam masala, chopped green chilli and chopped coriander. 
Saute the spices together for a minute or two to release their flavours.
Then add boiled mashed potatoes, some water and cook them.
Mix everything together, ensuring that the filling is well combined and smooth. 
Continue mashing the filling until you achieve the desired consistency.
Moving on to the dough preparation:
Take a plate and add wheat flour, rawa (semolina), chilli flakes, crushed ajwain (carom seeds), salt, and ghee. 
Mix all the dry ingredients together until well combined. 
Reserve a small portion of this mixture in a separate bowl for coating the pinwheel samosa later.
Gradually add water to the remaining dry mixture and knead it into a smooth and soft dough. 
Once the dough is ready, take a little oil and massage it into the dough to enhance its crispiness.
Keep the dough aside for 10-15 mins.
Roll out the dough to a medium thickness, using wheat flour to prevent sticking. 
Trim the corners of the rolled dough to give it a square shape. 
Spread the prepared filling on top of the rolled dough and spread it evenly using a spatula.
Carefully roll the dough along with the filling into a cylindrical shape. 
Trim the edges to neaten the roll, and then cut it into 1-inch pieces. 
Flatten each piece slightly with the palm of your hand.
In the reserved dry mixture, add amchur (dry mango powder), turmeric, and enough water to create a batter for coating the snacks. 
Dip each flattened piece into the batter, ensuring it is evenly coated.
Heat oil in a deep pan or kadhai over med-low flame. 
Gently slide the coated snacks into the hot oil and fry them until they turn golden brown and crispy.
Once done, remove the snacks from the oil and place them on tissue paper to remove any excess oil.
Wheat pinwheel samosa is now ready to be served! 
Arrange the crispy snacks on a platter and enjoy them with your favourite chutney or dip.
This delightful dish offers a combination of flavours and textures that are sure to be a hit among your family and friends.