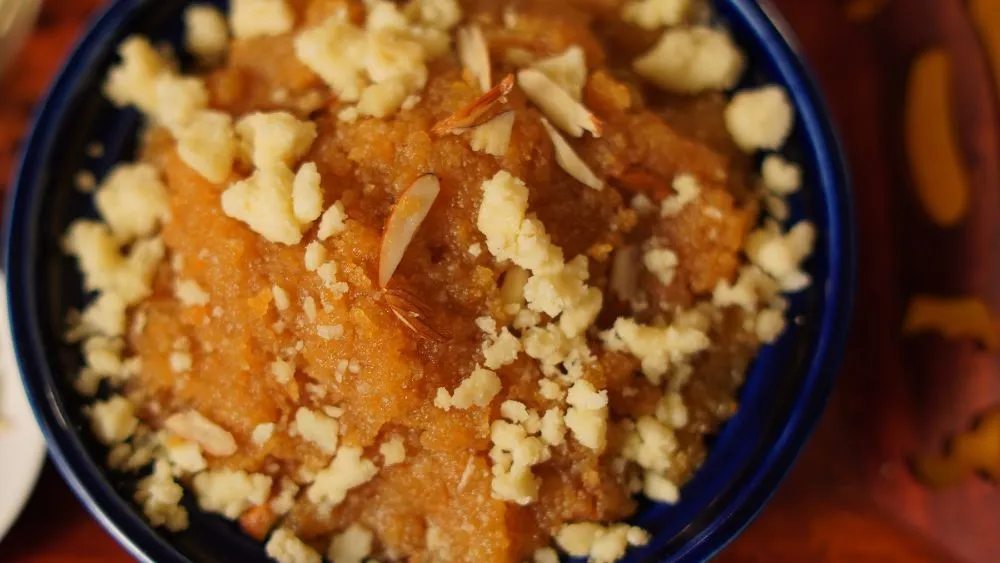 Moong dal halwa Recipe

20 mins

2-3 people

15 mins
Moong Dal Halwa
---
Moong Dal Halwa is a luxurious and delightful Indian dessert that tantalises taste buds with its rich, nutty, and aromatic flavours. The combination of moong dal, mawa, and aromatic cardamom powder creates a symphony of taste that will make you fall in love with this sweet delicacy. Made from soaked yellow moong dal, semolina (sooji), ghee (clarified butter), sugar, mawa (khoya), cardamom powder, and almonds, this dessert is a favourite during festive occasions, weddings, and celebrations. The process of making Moong Dal Halwa may seem intricate, but the end result is a heavenly treat that will leave you craving for more.
Portions serving: 5-6 pax
Preparation time: 15 mins
Cooking time: 30 mins
Calories: 231 kcal per portion 
Ingredients:
1 cup Yellow Moong Dal
1/4 cup Sooji (Semolina)
1 cup Mawa (Khoya)
1 cup Ghee (Clarified Butter)
1 cup Sugar
2 tbsp Cardamom Powder
2 tbsp Almonds (sliced)
Method:
Begin by soaking one cup of Yellow Moong Dal in sufficient water overnight. The dal should become soft and tender after soaking. Drain the water thoroughly, ensuring no moisture remains.
Grind the soaked moong dal in a mixer to create a coarse paste. Set the paste aside for later use in the halwa preparation.
In a deep non-stick kadhai (Indian wok), heat one cup of ghee and add a quarter cup of sooji. Roast the sooji in ghee until it releases a delightful aroma. Switch off the flame and let the mixture rest.
Now, add the ground Yellow Moong Dal paste to the kadhai, mixing it with the roasted sooji. Switch on the flame again and cook the mixture over medium flame for approximately 40 minutes. It is crucial to stir continuously during this step to avoid sticking and burning.
Meanwhile, prepare a sugar syrup by dissolving one cup of sugar in water. The sugar syrup should reach a one-string consistency, which means that when a drop of the syrup is pressed between your fingers, it should form a thin string.
Carefully pour the prepared sugar syrup into the cooked dal and sooji mixture, stirring well to combine the ingredients. Continue cooking the halwa over medium flame for an additional 5-7 minutes, allowing the flavours to meld.
While stirring continuously, add two tablespoons of cardamom powder and one cup of mawa to the halwa. Cook the mixture over medium flame for an additional 4 minutes or until the ghee starts to ooze out from the sides of the pan. This step imparts a velvety texture and a burst of flavours to the halwa.
The Moong Dal Halwa is now ready to be served. Garnish it with sliced almonds and an extra sprinkle of mawa for added indulgence.
Moong Dal Halwa is best enjoyed warm, either on its own or served with a scoop of vanilla ice cream for a delectable contrast of hot and cold. The rich, creamy, and nutty goodness of this dessert will transport you to a state of sheer bliss. Whether you're celebrating a special occasion or simply satisfying your sweet cravings, Moong Dal Halwa is sure to be a crowd-pleaser that leaves lasting impressions.
---