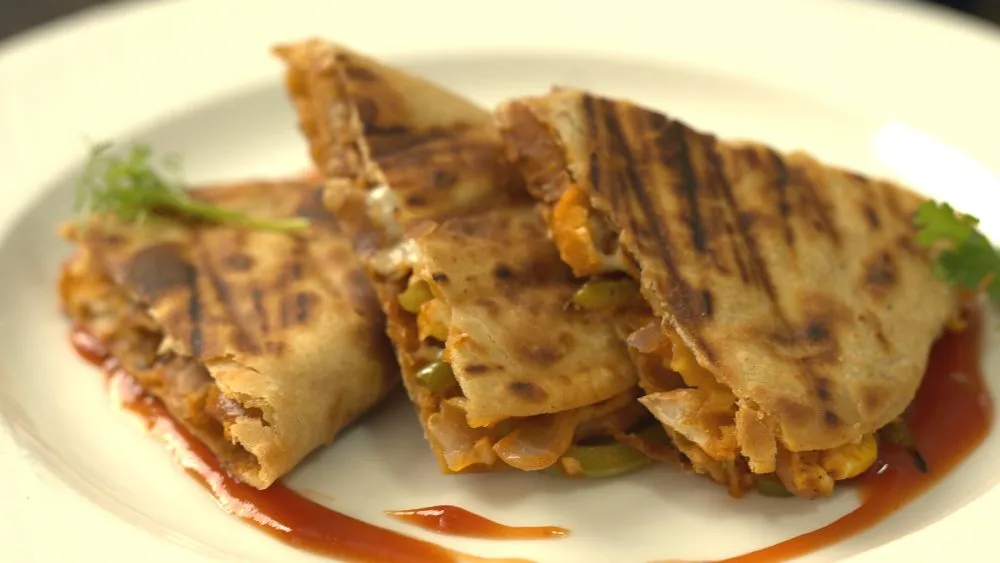 ROTI QUESADILLA Recipe

20min

1-2 people

15 mins
ROTI QUESADILLA
---

Ingredients
Oil 1 tsp
Chopped garlic 1tsp
Capsicum julienne 1 cup
Onion julienne 1 cup
Salt 1 tsp
Pepper ½ tsp
Peri peri spice ½ tsp
Corn 1 cup
Rajma boiled 1 cup
tomato puree 1 tbsp
Chapati 2 nos
Processed cheese 100 GMS
Method
Heat oil in a pan and swear chopped garlic
Add caspcium julienne, onion, julienne salt and pepper.
Add peri peri spice and toss well.
Add corn and rajma.and mix well
Add tomato puree to bring together everything
Lay the stuffing into bread, add cheese
Pan fry the quesadilla on both the sides till crisp
Serve hot with salsa
Masala Macaroni
Ingredients
1 Nos Garlic
1 Tsp Oil
1 Cup (120 Gms) Boiled Macaroni
1 Nos Chopped Onion
1 Tsp Oregano
½ Cup Carrot Diced
½ Cup Capsicum Diced
2 Nos Tomato Into Puree
4 Tsp Tinned Tomato Puree
1 Tsp Prepared Masala
½ Cup Corn
1 Tsp Sugar
1 Tbsp Chopped Coriander
1 Cube  Cheese Grated
Masala
½ Tsp Black Pepper
1 Tsp Jeera
1 Tsp Kasoori Methi
1 Tsp Salt
1 Tsp Red Chilli Powder
1 Tsp Garam Masala Powder
1 Tsp Chaat Masala
Method
To Prepare Masala Roast Jeera And Black Pepper.
Switch Off The Flame And Add Kasoori Methi
Add Salt, Red Chilly Powder, Garam Masala Powder And Chaat Masala.
Grind Together Till Smooth.
For Macaroni
Heat Oil In A Pan
Add Chopped Garlic Till Nutty Brown
Add Chopped Onion And Cook Till It Becomes Pink
Add Oregano And Cook It Briefly
Add Diced Carrot And Capsicum, Cook Till It Is Tender.
Add Fresh Tomato Puree And Canned Tomato Puree, Cook It For A While
Add Prepared Masala
Add Boiled Corn And Sugar.
Toss In The Macaroni And Mix Everything Together
Add Chopped Coriander And Cheese
Adjust The Seasoning If Required By Adding Salt.
Serve Hot
---