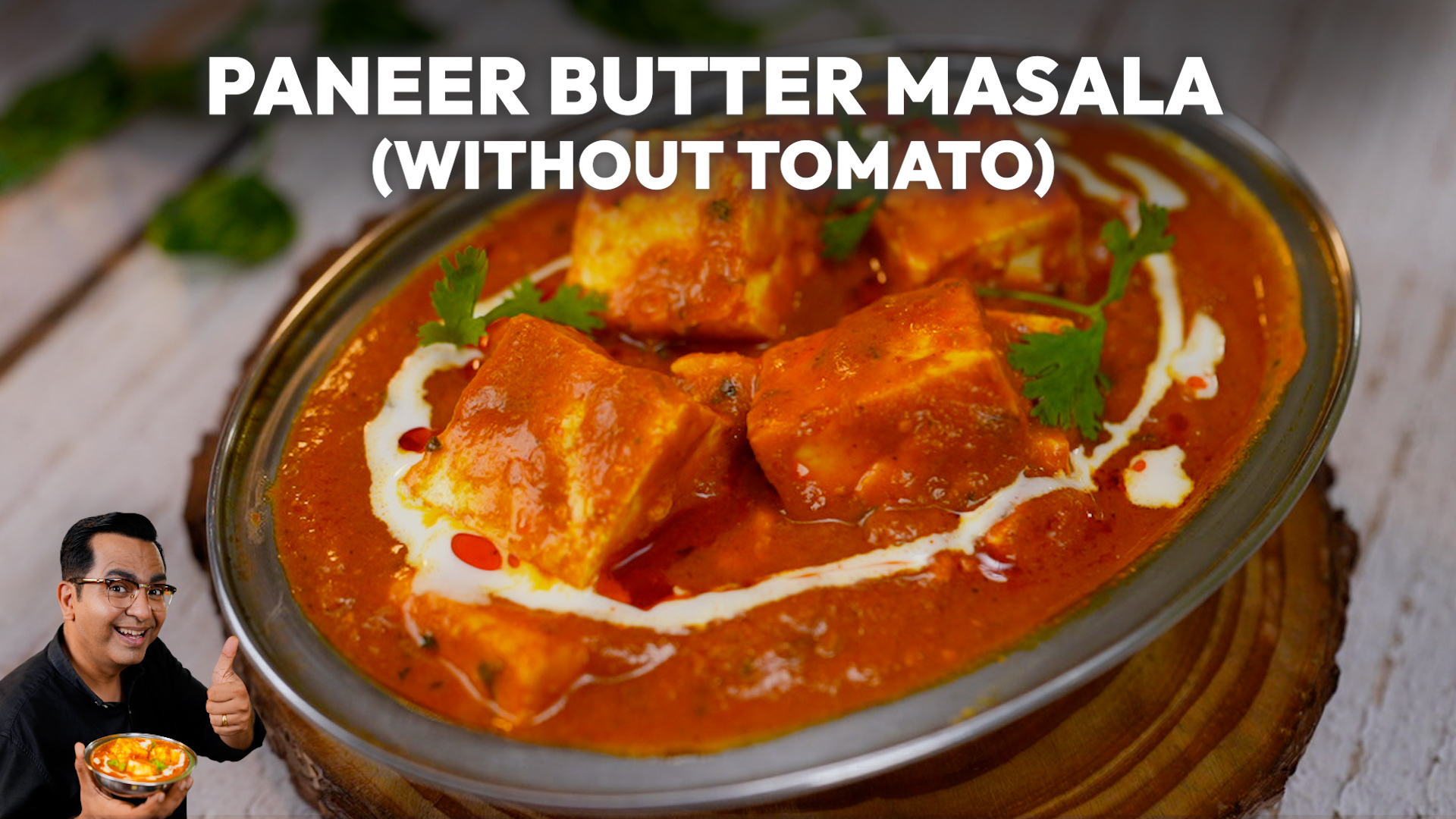 Paneer Butter Masala without Tomato Recipe

30 Mins

6-7 People

15 Mins
Paneer butter masala without Tomato
Ingredients:
Kaddu (pumpkin) dice 1 cup
Lauki dice 1 cup
Carrot dice ½ cup
Onion dice ½ cup
Dry red chilli 2 pcs
Cinnamon 1 inch
Black pepper 10-12 pcs
Black cardamom 1 pc
Green cardamom 4-5 pcs
Cloves 4-5 pcs
Bayleaf 3 pcs
Water as required 
Oil 1 tbsp
Butter 1 tbsp
Onion chopped 1 ½ cup
Paneer 300 gms
Ginger & garlic paste 1 tbsp
Turmeric powder 1 tsp
Red chilli powder 1 tbsp
Coriander powder 1 tbsp
Salt ½ tbsp
Water as required 
Curd ½ cup
Cashew paste 2 tbsp
Fresh cream 2 tbsp
Kasoori methi 1 tbsp
Butter ½ tbsp
Coriander chopped 1 tbsp
Method
Butter paneer masala without tomato is a mouthwatering recipe that is sure to please the taste buds of everyone at the dining table. Let's dive into the step-by-step preparation of this delectable dish.
To begin, gather the following ingredients: water, diced pumpkin, diced carrot, diced lauki (bottle gourd), diced onion, dry red chilli, cinnamon stick, black pepper, black cardamom, green cardamom, clove, and bay leaf. 
Place them in a pressure cooker and add some water, allowing the vegetables to cook together to perfection. 
Cooking them for 2-3 whistles will ensure that the vegetables are tender and infused with flavours.
Once the vegetables are cooked, carefully remove the whole spices, such as cinnamon, cardamoms, black pepper, clove, and bay leaf. Allow the cooked vegetables to cool down before transferring them to a mixer jar. 
Blend the mixture into a fine puree, creating a smooth and creamy base for the dish.
Now, heat a pan and add a combination of oil and butter, which will enrich the dish with its delightful taste.
Add chopped onions to the pan and sauté them until they turn golden brown, releasing their sweetness and adding depth to the dish.
Once the onions are caramelised, introduce the aromatic ginger and garlic paste, filling the kitchen with a tantalising aroma. 
Continue sautéing until the raw smell disappears, ensuring that the spices blend harmoniously with the onions.
Next, add turmeric powder, red chilli powder, coriander powder, and salt to the mixture. 
Stir well to coat the onions and spices evenly. 
To prevent burning, add a splash of water, creating a smooth paste of powdered masalas.
As the flavours meld, it's time to incorporate whisked curd (yoghurt) into the mixture. 
The tangy curd will balance the richness of the dish while creating a luscious sauce. 
Cook the mixture until it releases oil, indicating that the spices have melded beautifully.
Now, add the earlier prepared vegetable puree to the pan and let it cook for 5-6 minutes. This step allows the flavours to intensify and come together, forming a heavenly blend of spices and vegetables.
To enhance the creaminess of the dish, introduce boiled cashew paste and fresh cream. 
The combination will add a luxurious texture and make the butter paneer masala more indulgent.
Cover the pan with a lid and let the dish cook for an additional 5 minutes. This step allows the flavours to marry, creating a harmonious symphony on the palate.
To elevate the dish's taste, sprinkle kasoori methi (dried fenugreek leaves) and chopped coriander. 
These herbs add a delightful earthy aroma and a burst of freshness to the final preparation.
Finally, add paneer cubes to the simmering gravy and cook them for a minute. 
The paneer will absorb the rich flavours of the sauce, becoming soft, succulent, and utterly irresistible.
Butter paneer masala without tomato is now ready to serve. 
Garnish it with a swirl of fresh cream and a sprinkle of chopped coriander for an appealing presentation. 
Pair this creamy and aromatic delight with hot butter naan or fragrant basmati rice, and watch as your guests relish every mouthful of this gastronomic wonder.