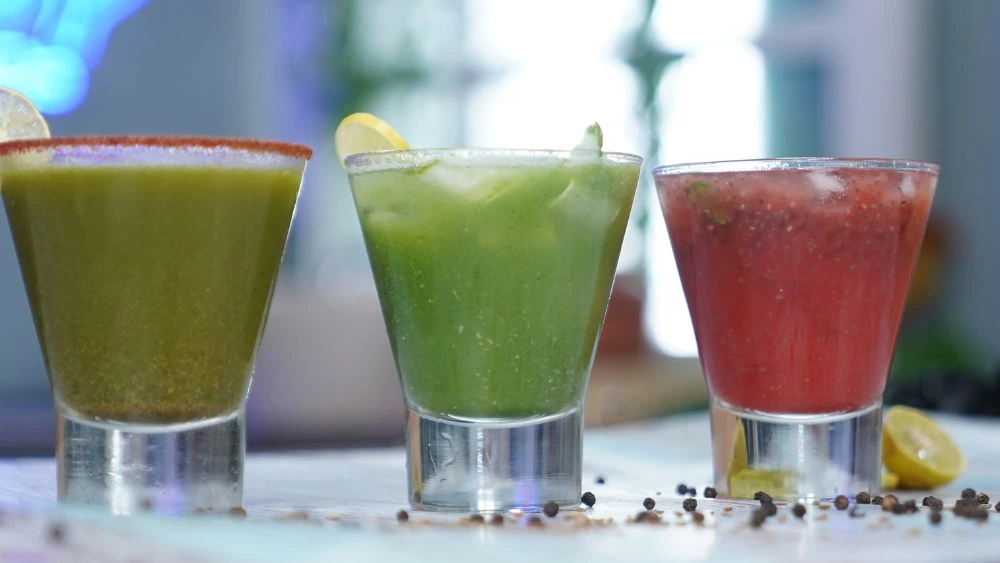 Easy Jaljeera, Nimbu paani, watermelon cooler Recipe

00 mins

3-4 servings

15 mins
---

Masala
1 TSP jeera
½ TSP black pepper
¼ TSP ajwain
1 pinch hing
Other ingredients
1 CUP Mint leaves only
1 TSP chopped ginger
¼ CUP coriander stem
1 Nos lemon
1 TSP kala namak
1 TSP amchoor powder
2 TBSP thin sugar syrup
TOP UP
200 ml water /soda
Masala rim
1 PINCH Jeera powder
1 TSP Salt
½ TSP Red chilli powder
Roast all the ingredients of masala on a pan till aromatic
In a blender, blend together mint, ginger, coriander stem, lemon juice, kala namak, amchoor powder.
Transfer this in a bowl, add sugar syrup
Mix all the ingredients of rim on a plate
Line the glass rim with lemon wedge.
Coat the rim with masala.
For presentation add ice cubes in a glass put few spoons of blended puree top up with soda or water.
Watermelon cooler
1 BOWL Watermelon juice
½ CUP mint leaves
1 NOS lemon
1 TBSP rose syrup
GARNISH
½ TSP CHIA SEEDS/ SABZA
Mint leaves
In a bowl of water melon juice add mint leaves, lemon and rose syrup.
Soak chia seeds in a small cup of water
For presentation add ice cubes in a glass add mint leaves and chia seeds.
Top up with
Curry leaves nimbu paani
½ CUP curry leaves
1 TSP chopped ginger
1 NOS cucumber
1 NOS lemon
2 TBSP thin sugar syrup
½ TSP kala namak
½ TSP salt
Ice cubes
Garnish
Cucumber strips
Sliced lemon
Mint leaves
Peel cucumber, and reserve few peels with cucumber flesh for garnish.
In a blender, blend together curry leaves, ginger, cucumber slices, lemon, thin sugar syrup, kala namak and salt
Strain the cucumber seeds
For presentation
Add lots of ice in a glass, add cucumber strips, slices of lemon and mint leaves.
Pour the puree in the glass serve chilled.