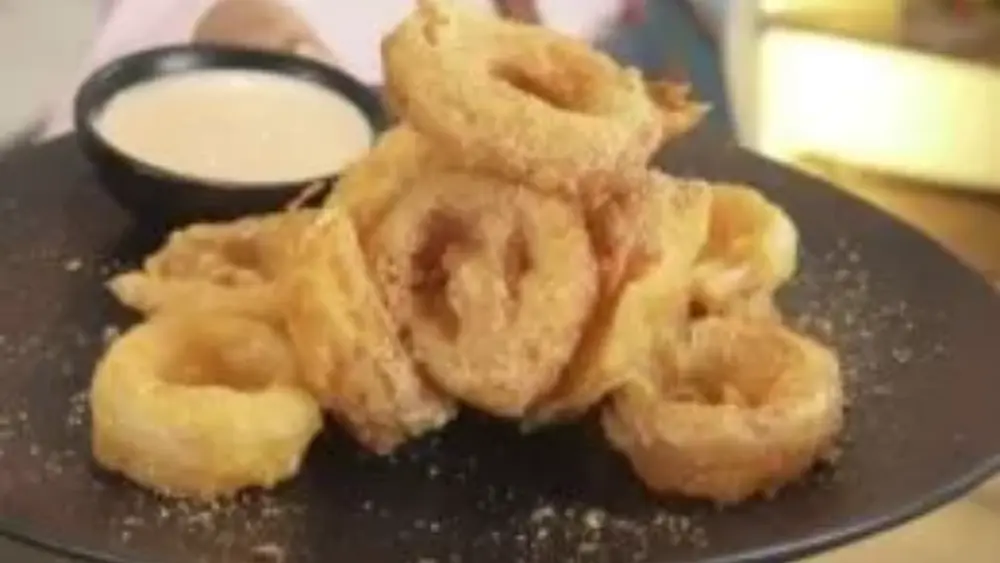 Onion Rings Recipe

15 min

2-3 People

10 min
Onion Rings
---
Ingredients
• 4 big onion
• For stuffing
• 2-3 cheese slice
• For peri-peri masala coating
• 1 cup maida
• 1 tsp onion powder
• 1 tsp garlic powder
• 1 tsp red chili powder
• 1 tsp sugar
• Salt to taste
• A pinch of citric acid
• ½ tsp thyme
• ½ tsp oregano
• For tempura batter
• 1/2 cup maida
• 1/2 cup rice flour
• 1/2 cup cornflour
• 1 tsp suji
• ½ liter soda
• Salt to taste
• 1 tsp red chili powder
• Oil for deep frying
Method
• Cut big onion in ring size make sure to use a big and round onion to make onion rings.
• Cheese slices cut into stripes.
• In a cutting onion ring stuffed cheese slice and keep it side
• For coating peri-peri
• On a plate add 1 cup flour and peri-peri masala mix together
• For the tempura batter
• In a big bowl add maida, rice flour, chilled soda, cornflour, suji, salt, red chili powder mixes everything and makes a smooth batter.
• For onion cheese rings
• Then first deep into tempura batter coat with peri-peri coating this process repeat
• Then heat oil one side and deep fry onion rings
• In Crispy onion, cheese sprinkles peri peri masala and serve with cocktail sauce.
---