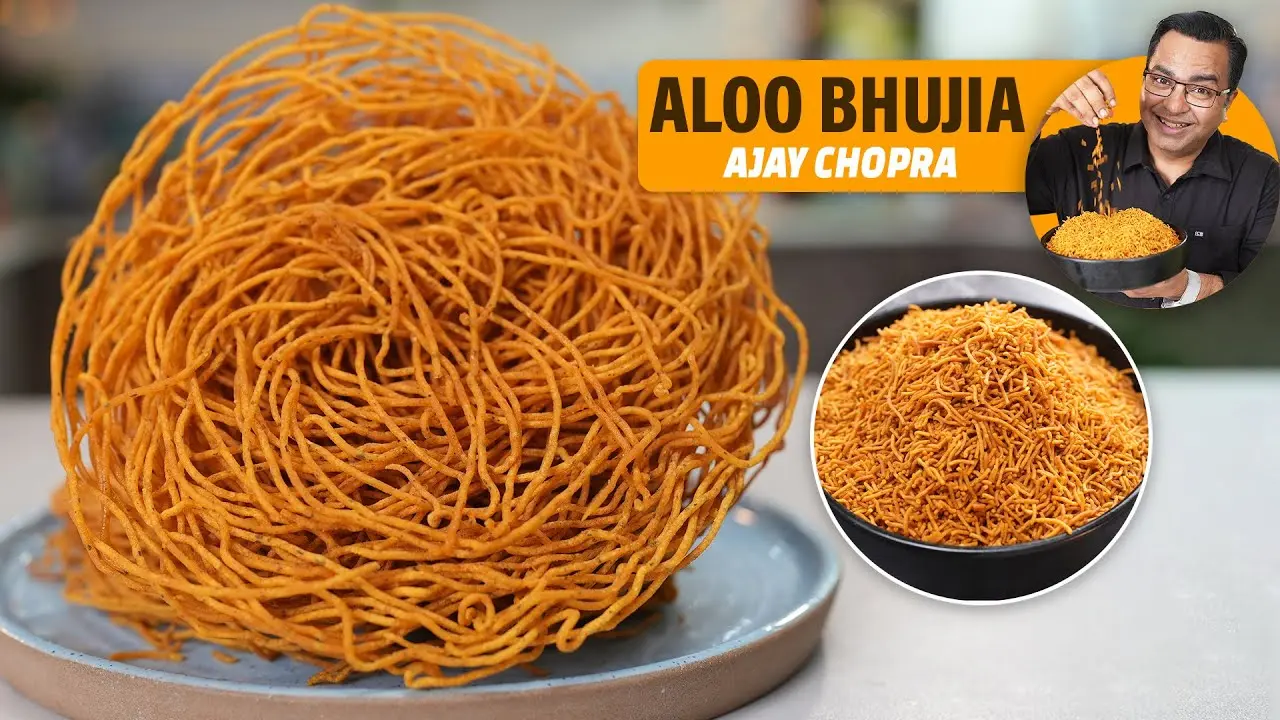 Aalu bhujia

40 Mins

4-5 People

15 Mins
How to make aalu bhujia like a professional chef, with Chef Ajay Chopra 
Are you looking to make the perfect Aalu Bhujia recipe?
Look no further! Chef Ajay Chopra is here to help, with his easy-to-follow recipes for delicious Indian-style snacks. With the perfect blend of spices and flavors, Chef Ajay's Aalu Bhujia will be a hit in your home. 
Grab all the ingredients needed and follow along as he shows you step by step how to make this classic dish from scratch. You'll impress family and friends when you serve up your very own homemade Alu Bhujia. Plus, it's an authentic taste that can't be beat! 
Don't miss out – Check out Chef Ajay Chopra's amazing aalu bhujai recipe now!
Portion servings: 4-5 pax
Preparation time: 15 mins
Cooking time: 40 mins
Calories: 292 kcal per portion 
---
Ingredients:
Potato boiled 4 pcs
Amchur powder 1 tbsp
Chaat masala 1 tsp
Dry mint 1 tbsp
Turmeric powder 1 tsp
Red chilli powder 1 tsp
Coriander powder 1 tsp
Garam masala powder ½ tsp
Roasted jeera powder ½ tsp
Salt 1 tsp
Besan 2 cups
Rice flour ½ cup
Oil 2 tbsp
Oil for frying
Method:
Grating and Preparing the Potatoes:
Begin by taking a plate and finely grating the boiled potatoes. This will form the base of your Aloo Bhujia.
To achieve a smooth mixture, use the palm of your hand to gently massage and shape the grated potatoes.
Sieve the Spices:
In a sieve, combine chaat masala, amchur powder, dry mint, turmeric powder, red chilli powder, coriander powder, garam masala, and roasted jeera powder.
Sieve all these spice powders into the bowl containing the grated potatoes.
Don't forget to add salt to enhance the flavours.
Adding Besan and Rice Flour:
Sieve besan (gram flour) and rice flour into the potato mixture.
Knead the mixture thoroughly without adding any water. The goal is to create a dough-like consistency that holds its shape.
Incorporating Oil:
To further enhance the texture and flavour of your Aloo Bhujia, add a small amount of oil to the mixture. Knead it well to ensure the oil is evenly distributed throughout.
Resting the Dough:
Cover the dough with a cloth and set it aside to rest for about 15-20 minutes. This resting period allows the flavours to meld and the mixture to settle.
Moulding and Frying:
After resting, take a mould with a fine sev attachment.
Fill the mould with some of the prepared dough.
Heating the Oil:
Heat oil in a frying pan. Make sure the oil is hot and ready for frying.
Frying the Aloo Bhujia:
Using the mould, press the dough directly into the hot oil. The dough will form into thin, noodle-like strands.
Deep-fry the strands until they turn crispy and take on a light golden brown hue. This should only take a few minutes.
Draining and Serving:
Once done, carefully remove the fried Aloo Bhujia from the oil and place them on a tissue paper to allow excess oil to drain.
Aloo Bhujia - Ready to Enjoy:
Your homemade Aloo Bhujia is now ready to be served. The perfect blend of spices, crispy texture, and potato goodness awaits your taste buds.
Storage:
You can store any extra Aloo Bhujia in an airtight container once it has cooled. This allows you to enjoy this delightful snack at your leisure.
Incorporating Chef Ajay Chopra's Aalu Bhujia into your culinary repertoire was a flavorful solution to satisfy your snack cravings with an authentic Indian twist. Now, you can indulge in this delectable treat whenever you please. Explore Chef Ajay's other delightful recipes to elevate your cooking skills further.
But that's not all! Discover the culinary wisdom of Chef Ajay Chopra by exploring his courses and books. Dive deeper into the world of Indian cuisine, refine your cooking skills, and create restaurant-quality dishes in your own kitchen. Don't miss out on this opportunity to enhance your culinary journey.
So, what are you waiting for? Get cooking, explore, and elevate your culinary skills with Chef Ajay Chopra today!
---
FAQs (Frequently Asked Questions):
Q1: What is the main ingredient in Aalu Bhujia?
A1: The primary ingredient in Aalu Bhujia is boiled potatoes.
Q2: Can I adjust the spiciness of Aalu Bhujia to my preference?
A2: Yes, you can customize the spice level by varying the amount of red chili powder and other spices.
Q3: Is Aalu Bhujia a healthy snack option?
A3: While Aalu Bhujia is undoubtedly delicious, it's a deep-fried snack and should be enjoyed in moderation.
Q4: How can I store Aalu Bhujia to keep it fresh?
A4: You can store Aalu Bhujia in an airtight container once it has cooled to maintain its freshness.
Q5: Can I make variations of Aalu Bhujia with different spices?
A5: Certainly! You can experiment with various spices to create unique flavors and variations of Aalu Bhujia.
Q6: What are the key elements in achieving the perfect Aalu Bhujia texture?
A6: Achieving the ideal texture requires proper grating of potatoes, thorough kneading, and achieving the right oil temperature for frying.
Q7: How can I access Chef Ajay Chopra's courses and books?
A7: You can explore Chef Ajay Chopra's courses and books on his official website or through various online platforms.
Q8: Are there any tips for beginners attempting to make Aalu Bhujia?
A8: Beginners should focus on evenly grating the potatoes, following the recipe steps precisely, and maintaining oil temperature for crispy results.