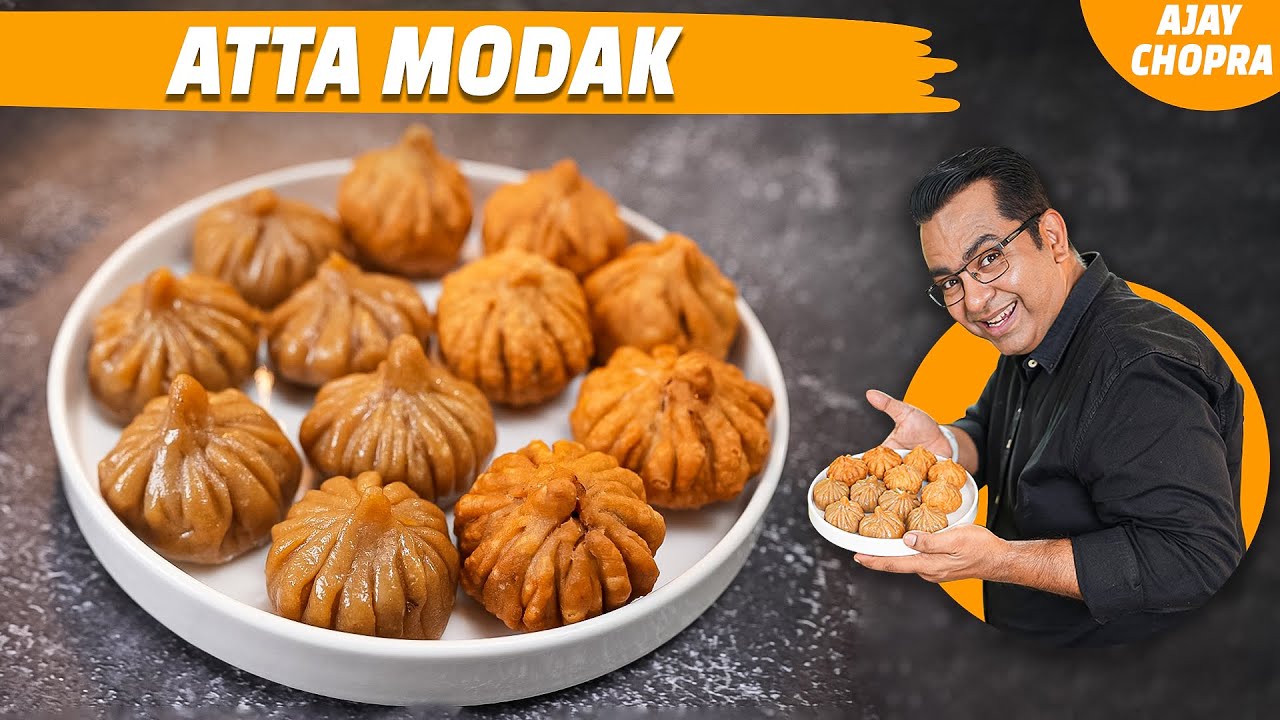 Atta Modak Steamed & Fried Recipe

50 Mins

5-6 People

10 Mins
Atta Modak Steamed & Fried
Ingredients: 
For dough:
Wheat flour 2 cups
Ghee 2 tsp
Salt a pinch 
Water as required
For stuffing:
Ghee 1 tbsp
Cashew chopped 1 tbsp
Raisins 1 tbsp
Poppy seeds 1 tsp
Grated fresh coconut 2 cups
Jaggery 1 cup
Cardamom powder a pinch
Oil for frying
Method:
Preparing the Dough:
Begin by taking a bowl and adding wheat flour, a pinch of salt, and ghee. 
Combine these ingredients by gently rubbing the ghee into the flour until it reaches a consistency akin to breadcrumbs. 
Gradually, introduce water into the mix, kneading it meticulously until a smooth, tight dough forms. 
Cover the dough with a damp cloth, allowing it to rest for 5-10 minutes. 
This resting period ensures the dough becomes pliable and easy to work with.
Creating the Sweet Stuffing:
In a heated pan, add ghee, and toss in the chopped cashews and raisins. 
Sauté them lightly until they turn a rich golden brown, releasing their nutty aroma. 
Next, introduce the fresh scraped coconut, sautéing for a few seconds to enhance its flavour. 
Add poppy seeds and sauté them for a minute until they exude their characteristic fragrance. 
Lastly, incorporate the chopped jaggery, stirring until it melts and melds with the other ingredients.
Delectable stuffing for the modak is now ready. 
Allow it to cool while you proceed with the next steps.
Shaping the Modak:
Take a small portion of the rested dough and roll it out into a semi-thick, flat sheet. 
Using a round cutter, fashion the dough into small circles, which will serve as the base for your modak. 
Now, take one of these circular sheets and place a generous amount of the prepared stuffing in the centre. 
The artistry begins as you delicately use your index finger and thumb to lift the edges, pinching them together with your thumb and middle finger to create elegant pleats. 
Continue this process, forming a circle of pleats that gradually come together to seal the modak. 
For a finishing touch, you can use a fork to enhance and refine the pleats further, making your modak a true work of art.
Cooking the Modak:
Your modak is now ready to be either steamed or fried, depending on your preference and dietary considerations. 
For the indulgent fried version, heat oil to medium temperature, and deep-fry the modak until they achieve a crispy, golden-brown perfection. 
Drain any excess oil and allow them to cool slightly. 
For the healthier steamed option, preheat a steamer, gently place the modak inside, and steam them for 10-12 minutes. 
Once they've steamed to a soft, translucent consistency, remove them and brush the modak with ghee while they're still warm to impart a glossy finish.
Modak, whether fried to golden perfection or steamed to a delectable softness, are now ready to be served. These divine delights are not just a treat for the palate but also a symbol of devotion, making them an ideal addition to your festive celebrations.