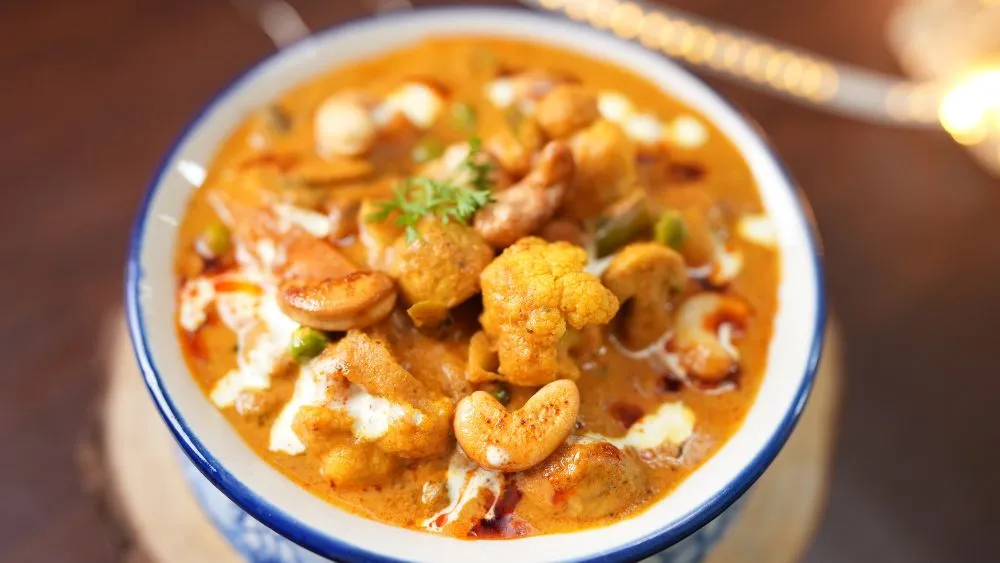 Veg Diwani Handi Recipe

25 mins

2-3 people

15 mins

Ingredients 
Oil                                     3 tbsp
Broken cashew                 ¼ cup                           
Cashew nuts                     2 tbsp
Onion sliced                      1 ½ cup
Ghee                                 2 tbsp 
Bayleaf                              2 pcs 
Cinnamon                          ½ inch
Mace                                  2 pcs
Green cardamom               4-5 pcs
Black cardamom                2 pcs
Cloves                                6-7 pcs                                        
Ginger & garlic paste          2 tbsp
Curd                                    ½ cup
Tomato puree                      1 cup
Turmeric powder                  ½ tbsp
Red chilli powder                 1 tbsp
Coriander powder                1 tbsp
Mushroom                            1 cup
Cauliflower florets                1 cup
Green peas                          ⅓ cup
Carrot diamond cut              1 cup
French beans diamond cut   ½ cup
Coriander chopped               1 tbsp
Fresh cream                          2 tbsp
Secret masala ingredients
Fennel seeds               1 tbsp
Cinnamon                     ½ inch
Green cardamom         4 pcs
Black pepper                6-8 pcs
Cloves                          4-5 pcs
Kasoori methi               1 tbsp
Dry ginger powder        ½ tbsp
Mace                            1 pc
 
Method: 
Secret masala blend:
In a mixer jar, add fennel seeds, cinnamon, green cardamom, mace, black pepper, cloves, kasoori methi, dry ginger powder and grind them to a fine powder. Keep this blended masala aside.
Heat a pan, add oil and let it get hot.
Add broken cashew and fry until it gets light golden brown. Then transfer it to water.
Do the same with whole cashews, fry until golden brown, strain it and keep it aside.
Heat water in a pot, add salt, cauliflower florets, green peas, diamond shaped carrot, french beans and blanch them. Transfer it to cold water and set aside.
In the same pan, fry onion slices and remove them once it gets light golden in colour.
In a mixer jar, make a paste of fried onion slices & fried broken cashew and set aside.
Use the same pan, add some ghee, add bayleaf, cinnamon, mace, green cardamom, black cardamom, cloves and let it crackle.
Then add ginger-garlic paste, yellow chilli powder and saute.
Add brown onion paste and cook for 1-2 mins. Now transfer this mixture to a handi.
Later add curd and cook until it releases oil.
Then add tomato puree and cook it for 5-6 mins.
Add turmeric powder, coriander powder, red chilli powder, salt and mix it.
Add some hot water and stir. Add fried cashew nut paste.
Then add mushroom and blanched vegetables. Give a quick stir and cook for 3-4 mins.
Finally add blended masala, chopped coriander, fresh cream and mix it.
Our Diwani handi is ready to serve.
---