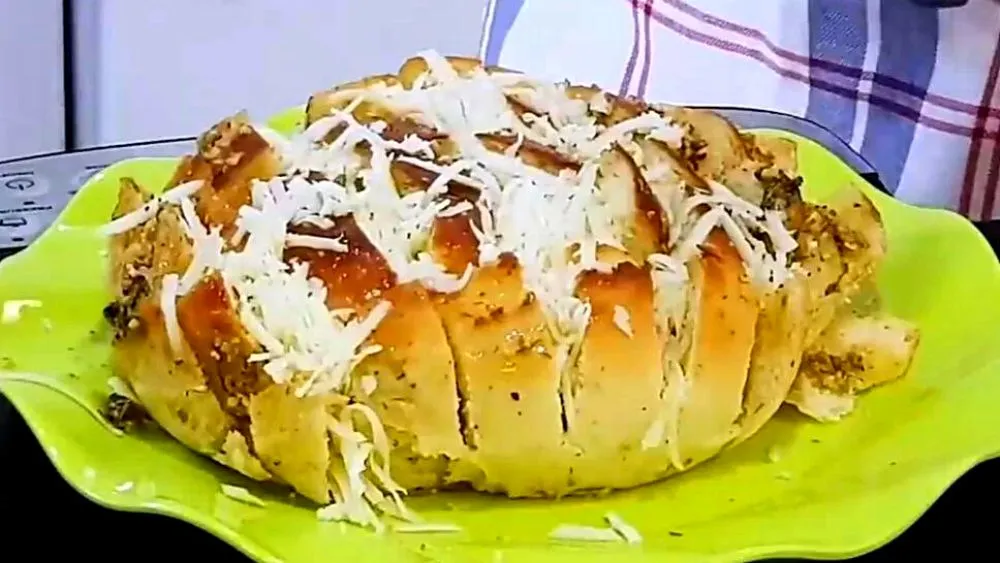 Cheese Garlic Bread Recipe

25 min

2-3 People

75 mins
Cheese Garlic Bread
---
Ingredients
 For Making Bread 
100 ml Boiled Water
1 tsp Sugar
1/2 tsp Yeast
11/2 Maida
1 tsp Salt
1 tsp Garlic Flakes
1 tsp Oregano
100 ml Milk
15 gms Butter 
For Garlic Butter
20 – 25 gms Butter
3 – 4 tsp Olive Oil
1/4 cup chopped Garlic
1 tsp Mixed Herbs
Basil Leaves
Method
Recipe in Cooker

Take Boiled water in a Mixing bowl, add sugar, yeast and give it a stir so that the sugar and yeast helps in blooming. Keep the mixture aside for 10 minutes to activate the yeast.
After 10 minutes add some maida, salt, Garlic Flakes, Oregano and kneed a smooth and soft dough with milk and water. Make sure you add equal amounts of water and milk while kneading the dough.
Now take the dough on a clean platform or a chopping board and then add butter and continue to knead the dough till it becomes a super soft dough. Now cover the dough with moist cloth and let it rest for 1-hour.
After 1 hour the dough will double, indicating it is well proofed. Now again knead the dough slightly to remove air incorporated then again keep the dough to rest for 1 – hour but this time keep the dough in the tray or container in which we will bake it / cook it.
Grease the baking tray with oil, place the dough in it and again cover it with moist cloth. Check after 1 hour.
Again after 1 hour dough will double then gently apply milk on top. Applying milk will help to give good color to the bread.
Preat heat the cooker for 15 min minute then place the tray and close the cooker lid without whistle and casket. Let the bread bake for 16 to 18 minutes and bread will be ready.
Remove the tray from the cooker and let it cool.
For Making Garlic Butter

Heat a pan and add some butter and Olive Oil, garlic, mixed herbs, basil leaves and let it cook for a couple of minutes.
For Assembling

Cut the bread diagonally  but do not cut all the way through the bread.
Note:-  Do cut the bread if it is hot.
Feel garlic butter in between the cracks and stuff in cheese. This might take effort and is time consuming but definitely it is worth it.
Now once again place garlic and cheese loaded bread in the tray. Once place the tray in the cooker and let it cook for 5 to 7 minutes without whistle and casket.
After 5 to 7 minutes open the cooker lid, remove the tray and cheesy pull apart garlic bread is ready to serve.

---