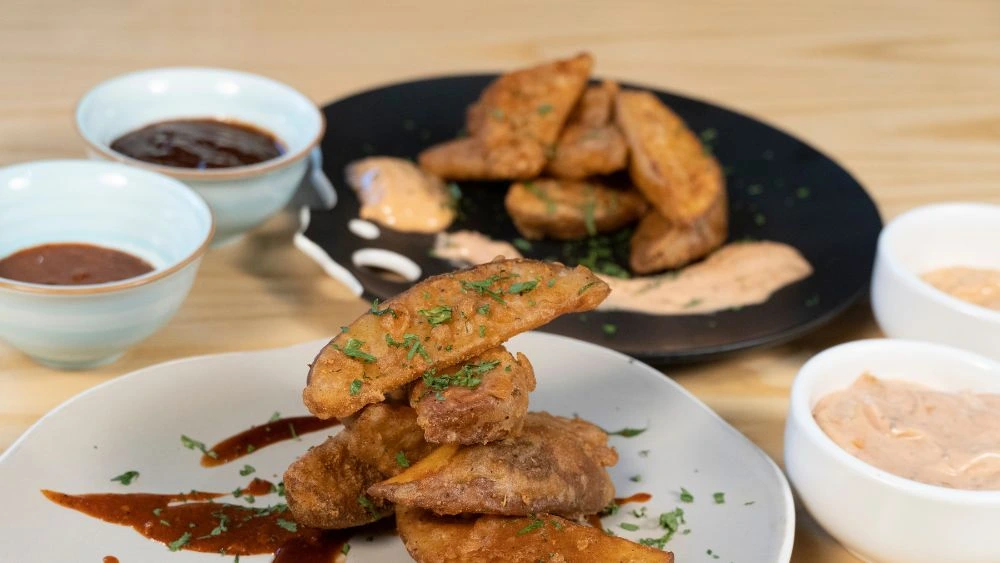 Crispy Potato Wedges Recipe

25 mins

2-3 people

15 mins
---
Ingredients

Potatoes
Salt
Paprika
4 tbsp Maida
4 tbsp Rice Flour
4 tbsp Corn Flour
Salt
Crushed Black Pepper
Club Soda
Cajun Spice
Oil for frying
Method
●For Coating
-In a bowl add equal amounts of maida, rice flour and corn flour. Then add salt, paprika, black crushed pepper and mix together. Remove the little quantity of seasoned flour we made and keep it aside.
-Add club soda to the remaining flour and make a lump free batter for your wedges.
●Tip - First add little soda and make thick batter, remove all the lumps. Once the batter is lump free add more soda and adjust the consistency. Make sure the tempura batter is in coating consistency.
●For Wedges
-Select some good big sizes of Potatoes and wash them properly as we will be using it with skin.
-Cut each potato in half lengthwise. Cut each half lengthwise again. If the wedges are too wide, cut them in half lengthwise one more time. (Approx. 8 pieces from 1 potato
-Half boil the wedges in water with a pinch of salt. Once the wedges are half done strain the water and keep potatoes aside. 
-Take half cooked wedges in a pan and season it with some salt, paprika, crushed Black Pepper. Gently toss the wedges so it gets coated from all sides. Add seasoned flour to the wedges and toss them again.
-Dip the coated wedges in the batter and then put it in hot oil for frying. Fry the wedges till it becomes golden brown in colour.
-Remove the wedges from the oil once it is done and sprinkle seasoning of your choice. You can use Amchur powder, salt, pepper powder, Cajun masala, Peri -peri Masala.
-Serve it Hot with a dip of your choice.
 
---