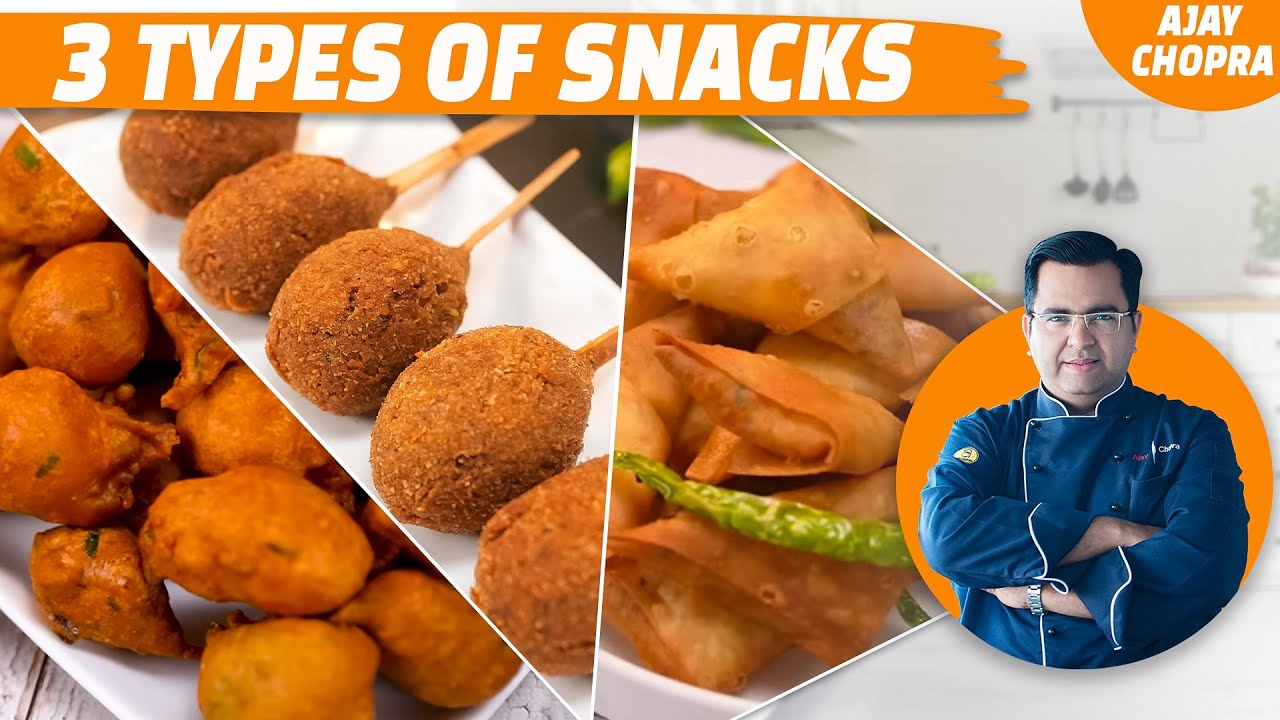 3 Types of Fried Snacks Recipe

40 Mins

4-5 People

10 Mins
3 Types of Fried Snacks Recipe
 
Indulge in a delectable journey with our 3 Types of Fried Snacks that promise a symphony of flavors and textures to tantalize your taste buds. Whether you're craving the crispy perfection of Street Style Onion Patti Samosa, the tangy and spicy twist of Goli Bhajji, or the irresistible allure of Veg Lollipop, these snacks are sure to be a hit at any gathering. From the tantalizing aroma of spices to the satisfying crunch, these snacks are the epitome of culinary delight.
Our Street Style Onion Patti Samosa boasts a crispy outer layer, generously stuffed with a tantalizing mixture of onions, spices, and poha. It's a perfect representation of Indian street food, marrying the classic flavors of ajwain, garam masala, and the fiery kick of green chilies. For something even more unique, the Goli Bhajji offers a crispy and fluffy bite. Dipped in a delightful red chutney, these fritters will transport your taste buds to the bustling streets of India. Lastly, the Veg Lollipop combines a medley of finely chopped vegetables, aromatic spices, and a golden breadcrumb coating, delivering a savory and satisfying experience on a stick. These snacks are perfect for a casual get-together, an evening snack, or as an appetizer at your next dinner party.
Street Style Onion Patti Samosa
Ingredients: 
Refined flour 2 cups 
Salt ½ tbsp
Warm water as required 
Oil 1 tbsp
Onion sliced 2 cups
Salt 1 tsp
Red chilli powder ½ tbsp
Jeera powder 1 tsp
Garam masala powder ½ tsp
Ajwain ½ tsp
Ginger chopped ½ tbsp
Green chilli chopped ½ tbsp
Coriander chopped 2 tbsp
Poha ¾ cup
Oil for frying
Green chilli 7-8 pcs
Method:
Prepare Dough:
Combine flour and a pinch of salt.
Gradually add warm water and knead into soft dough.
Mix in a bit of oil, knead for 1 minute, and let it rest for 10-15 minutes.
Divide Dough:
Divide the rested dough into small portions.
Roll Out Rotis:
Roll each portion into a thick circular roti.
Layer and Roll:
Dust one roti with flour and stack 3-4 rotis.
Roll them into a larger flat roti.
Pan Roasting:
Heat a pan, roast the stacked roti until slightly crispy.
Separate layers and keep covered.
Cut into Rectangles:
Cut the rotis into 2-inch tall rectangles, keep covered.
Prepare Slurry:
Mix flour and water to make a thick paste.
Prepare Stuffing:
Mix sliced onions, spices, ginger, chilies, coriander, and poha in a bowl.
Assemble Samosas:
Place stuffing on a roti sheet corner, fold into a triangle.
Seal with slurry.
Frying Samosas:
Heat oil, deep fry samosas until golden brown and crispy.
Fried Green Chillies:
Optionally, deep fry green chilies for extra spice.
Serve hot samosas with fried green chilies on the side.
Enjoy your homemade street-style onion samosas!
Goli bhajji 
Ingredients:
Goli bhajji: 
Dahi 1 cup
Baking powder 1 tsp
Refined flour 1 ½ cup
Salt 1 tsp
Black pepper powder a pinch
Jeera 1 tsp
Ginger chopped 1 tsp
Green chilli chopped 1 tsp
Curry leaves 1 tsp
Water as required
Oil for deep frying 
Chutney:
Onion 2 pcs
Boiled red chillies 7-8 pcs
Jaggery 1 tbsp
Imli 1 tbsp
Salt 1 tsp
Garlic 5-6 cloves
Water as required
Tempering:
Oil 1 tbsp
Urad dal 1 tsp
Mustard seeds 1 tsp
Dry red chilli 1 pc
Curry leaves 8-10 pcs
Method:
For red chutney:
Take a mixer jar, add peeled onions, boiled red chilli, jaggery, imli, salt, garlic, some water and grind it.  
Heat a pan, add oil, urad dal and saute.
Then add mustard seeds, dry red chilli, curry leaves and let them crackle.
Now add grinded paste and cook it for 2-3 mins.
Red chutney is ready to serve. 
Goli bhajji :
In a bowl, take dahi, baking powder and mix them.
Then add refined flour and whisk it with curd and form a smooth batter.
Then add salt, black pepper powder, jeera, ginger chopped, green chilli chopped, curry leaves chopped, water and mix them.
Form a very thick consistency batter and set aside.
Meanwhile, heat oil to medium high heat.
Drop the batter with the help of a tablespoon or wet your hands with water, take a small portion of batter with the help of your finger and smoothly slide down to the hot oil.
Turn the flame from high to medium heat and deep fry until it gets golden brown.
Remove them on kitchen tissue and let the excess oil drain.
Goli bhajji is ready to serve.
Veg lollipop 
Ingredients 
Cauliflower ½ cup
Carrot ½ cup
French beans ½ cup
Corn kernels ½ cup
Green peas ½ cup
Oil 1 ½ tbsp
Jeera 1 tsp
Ginger chopped 1 tbsp
Green chilli chopped 2 tsp
Salt 1 tsp
Red chilli powder 1 tsp
Turmeric powder ½ tsp
Coriander powder 1 tbsp
Garam masala ½ tsp
Water as required
Potato boiled & peeled 3 pcs
Coriander chopped 1 tbsp
Chaat masala 1 tsp
Bread crumbs 2 tbsp
For slurry:
Refined flour ½ cup
Salt a pinch
Red chilli powder a pinch
Turmeric powder a pinch
Water as required 
Bread crumbs 1 cup
Ice-cream sticks 9-10 pcs
Oil for deep frying
Tomato ketchup 
Method:
Chop Vegetables:
Finely chop all vegetables into small pieces.
Saute Aromatics:
Heat oil in a pan, add cumin seeds, ginger, and green chilli.
Sauté until fragrant.
Add Chopped Vegetables:
Add finely chopped vegetables and sauté until tender and slightly caramelised.
Season and Spice:
Season with salt, red chilli powder, turmeric powder, coriander powder, and garam masala.
Mix well and cook for 5-8 minutes. Allow to cool.
Prepare Lollipop Mixture:
Combine grated boiled potatoes, cooled vegetable mixture, chaat masala, chopped coriander, and bread crumbs.
Mix well.
Prepare Slurry:
Mix refined flour, pinch of salt, red chilli powder, turmeric powder, and water to make a coating consistency slurry.
Shape Lollipops:
Take a portion of the mixture, flatten it, and insert an ice-cream stick.
Shape into a lollipop.
Coat Lollipops:
Dip each lollipop in the slurry, then coat with bread crumbs.
Deep Fry:
Heat oil in a pan.
Deep fry lollipops until golden brown and crispy.
Avoid overcrowding the pan.
Place fried lollipops on a paper towel to remove excess oil.
Serve hot with tomato ketchup.

 
FAQ (Frequently Asked Questions)
Q1: What makes Street Style Onion Patti Samosa so irresistible?
A1: The Street Style Onion Patti Samosa is a delightful combination of crispy, flaky layers enveloping a mouthwatering filling of sliced onions, spices, and poha. The use of aromatic spices like garam masala and ajwain adds an authentic, street food flavor that's hard to resist.
Q2: Can I adjust the spiciness of the Goli Bhajji to suit my taste?
A2: Absolutely! You can control the level of spiciness in Goli Bhajji by adjusting the quantity of green chilies and black pepper. Reduce the amount if you prefer a milder flavor or increase for an extra kick.
Q3: Are there any variations for the Veg Lollipop filling?
A3: Certainly, the Veg Lollipop filling can be customized to your liking. You can experiment with different vegetables or add a hint of your favorite spices to make it uniquely yours.
Q4: Can I prepare these snacks in advance for a party?
A4: Yes, you can prepare the components of these snacks ahead of time and assemble or fry them just before serving. The result will still be scrumptious, and it'll save you time during your gathering.
Q5: Are there any alternative dipping sauces for the Veg Lollipop?
A5: While tomato ketchup is a classic choice, you can get creative with your dipping sauces. Try mint chutney, tamarind chutney, or a spicy garlic aioli for a different flavor experience.
Q6: How do I store leftovers of these fried snacks?
A6: Leftovers can be stored in an airtight container in the refrigerator. When reheating, use an oven or an air fryer to maintain their crispiness.
Q7: Can these snacks be made without gluten?
A7: Yes, you can make gluten-free versions of these snacks by using gluten-free flour and breadcrumbs or alternatives like rice flour and cornstarch.
Q8: Can I make a vegan version of these snacks?
A8: Absolutely! For a vegan option, replace dairy products like yogurt or ghee with plant-based alternatives, and ensure that the breadcrumbs and other ingredients are vegan-friendly.