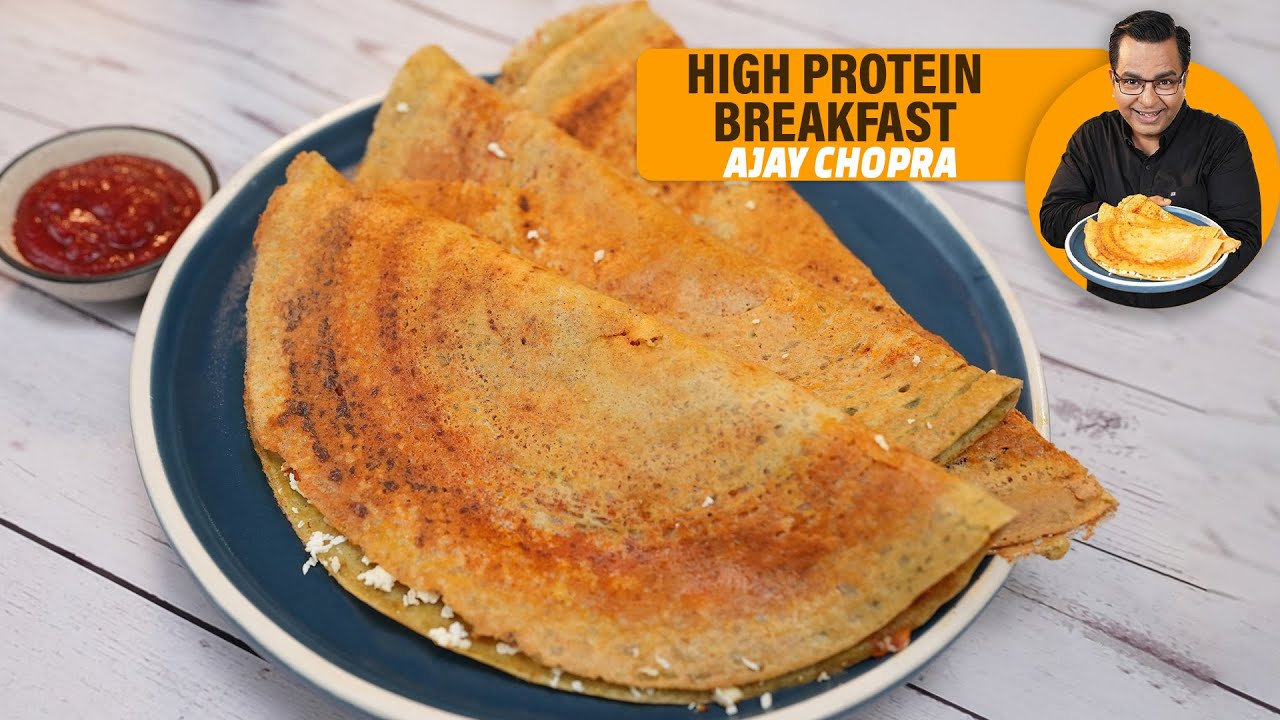 High Protein Chilla Recipe

30 Mins

6-7 People

7 Hours
High Protein Chilla Recipe
Portion Servings: 6-7 servings
Preparation Time: 7 hours
Cooking Time: 30 minutes
Calories: 193 kcal per portion
Introduction
Discover the perfect morning boost with High Protein Chilla, a healthy and quick breakfast option ready in just 10 minutes. This nutritious delicacy curated by Chef Ajay Chopra is not only a delightful treat but also a high-protein solution for a wholesome start to your day. Loaded with various pulse-based ingredients, this chilla recipe balances taste and health in every bite.
Embrace the goodness of pulses rich in protein with the High Protein Chilla, an ideal breakfast choice that caters to taste and nutritional needs. Chef Ajay Chopra's recipe promises a fulfilling breakfast experience without compromising on flavour, making it the perfect addition to your daily routine.
Ingredients:
Chana dal, soaked: ¼ cup
Masoor dal, soaked: ¼ cup
Moong dal, soaked: ¼ cup
Urad dal, soaked: ¼ cup
Green moong, soaked: ¼ cup
Rice, soaked: ¼ cup
Peanuts: 2 tbsp
Green chilli: 2 pcs
Coriander, chopped: 2 tbsp
Hing (Asafoetida): ½ tsp
Ginger, chopped: ½ tbsp
Salt: 1 tsp
Water: as required
Ghee: 1 tbsp
Paneer: 100 gms
Garlic: 3-4 cloves
Salt: ½ tsp
Red chilli powder: 1 tsp
Oil: 1 tbsp
Method:
Step 1: Soaking the Dals
Thoroughly wash and soak all dals overnight to soften them for grinding.
Step 2: Preparing the Chilla Batter
In a mixer jar, combine soaked dals, rice, peanuts, green chillies, chopped coriander, hing, chopped ginger, and a pinch of salt. Add water for grinding.
Grind to create a thick batter suitable for spreading on a griddle.
Step 3: Preparing Garlic and Chili Spread
Grate garlic and mix with salt, red chilli powder, and oil to create a flavorful spread for the chilla.
Step 4: Making the Mixed Dal Chilla
Heat a non-stick pan, pour a ladleful of batter, spread it into a thin circle.
Apply ghee and the prepared garlic-chilli mixture on the chilla.
Cook until crispy and golden brown on a medium-low flame.
Step 5: Adding Paneer and Serving
Grate fresh paneer over half of the cooked chilla.
Fold the chilla in half to cover the paneer.
Transfer to a serving plate.
Step 6: Serving with Accompaniments
Serve hot with mint chutney and ketchup for a flavorful experience.
In conclusion, the High Protein Chilla serves as a nutritious yet delicious breakfast solution, seamlessly blending the richness of pulses and the ease of a quick morning meal. Explore Chef Ajay Chopra's other innovative recipes and elevate your breakfast game with more healthy, protein-packed options to kick-start your day on a nutritious note.
FAQs (Frequently Asked Questions)
Question 1: What makes the High Protein Chilla a nutritious breakfast?
Answer 1: The High Protein Chilla contains pulses rich in protein, providing a wholesome and filling breakfast option.
Question 2: Can I customize the High Protein Chilla recipe?
Answer 2: Absolutely! You can tailor the recipe by adding various pulse varieties to suit your taste preferences.
Question 3: Is the High Protein Chilla suitable for a vegan diet?
Answer 3: Yes, this recipe is entirely plant-based, making it suitable for vegans.
Question 4: How can I make the High Protein Chilla more flavorful?
Answer 4: Enhance the flavour by adding herbs, spices, or vegetables to the chilla batter.
Question 5: Can I prepare the batter for High Protein Chilla in advance?
Answer 5: Yes, you can prepare the batter ahead of time and refrigerate it for convenience in the morning.
Question 6: What are the benefits of incorporating pulses into breakfast?
Answer 6: Pulses are rich in protein, fiber, and various nutrients, making them an excellent addition to a healthy breakfast.

Question 7: Can I pair the High Protein Chilla with any specific side dishes?
Answer 7: The Chilla pairs well with yogurt, chutney, or a side salad to complement its flavors and add variety to the meal.
Question 8: Is the High Protein Chilla suitable for people with dietary restrictions?
Answer 8: Yes, it's versatile and can be adjusted to accommodate various dietary needs.