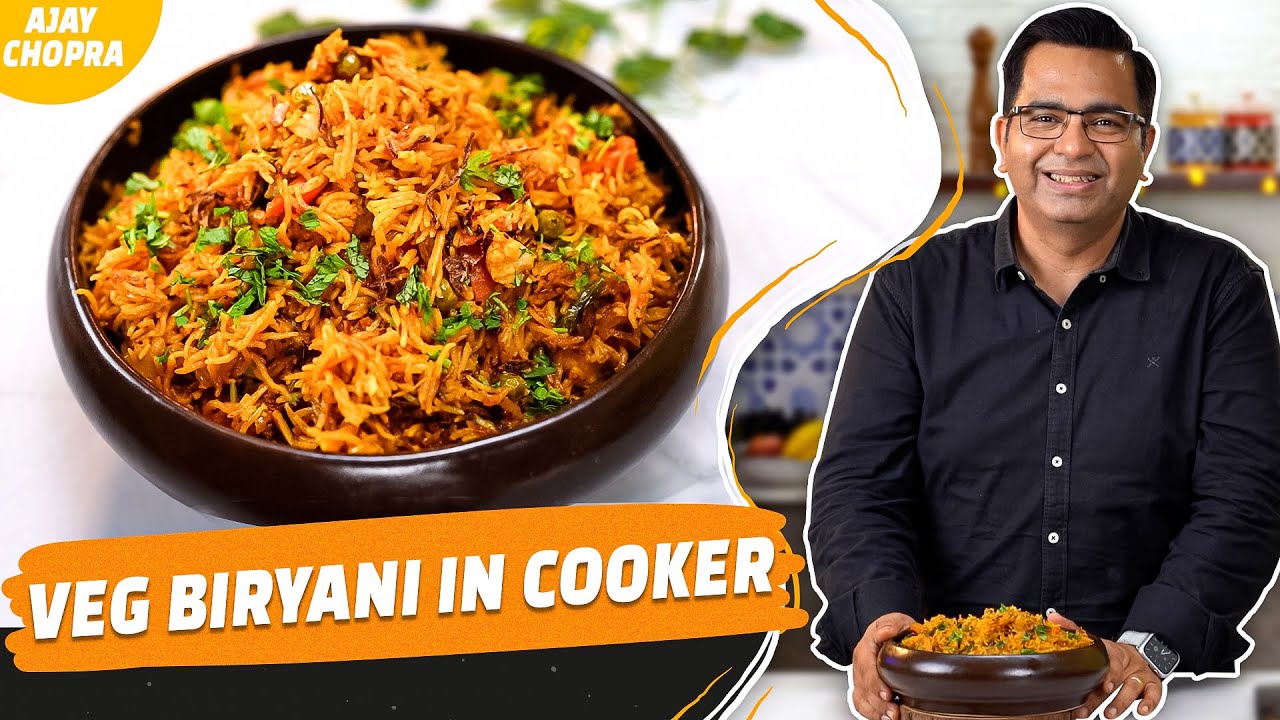 Veg Cooker Biryani Recipe

50 Mins

6-7 People

10 Mins
Veg Cooker Biryani
Ingredients 
Oil 3 tbsp
Ghee 1 tbsp
Cloves 4-5 pcs
Bayleaf 2 pcs
Black pepper 8-10 pcs
Mace 1 pc
Cinnamon 1 inch
Black cardamom 1 pc
Green cardamom 5-6 pcs
Shahi jeera 1 tsp
Onion slice 1 cup
Ginger & garlic paste 1 tbsp
Green chilli paste ½ tbsp
Cauliflower 1 cup
Carrot ½ cup
French beans ½ cup
Potato dices 1 cup
Green peas ½ cup
Salt ½ tbsp
Turmeric powder ¾ tbsp
Kashmiri chilli powder 1 tbsp
Coriander powder 1 tbsp
Curd 1 cup
Biryani masala 1 tbsp
Basmati rice washed 2 cups 
Water 3 ½ cups
Coriander chopped 1 tbsp
Mint chopped 1 tbsp
Ginger juliennes 
Barista 1 tbsp
Ghee 1 tbsp
Salt 1 tsp
Method:
Preparing the Spices and Aromatics: Begin by heating a pressure cooker and adding a mixture of oil and ghee. As it heats up, toss in whole spices like cloves, bay leaves, black pepper, mace, cinnamon, black cardamom, green cardamom, and shahi jeera. Allow these spices to splutter and release their aromatic oils, creating a fragrant base for your biryani.
Sautéing the Onions: Add thinly sliced onions to the pressure cooker and cook them until they turn a lovely golden brown colour. This caramelization of onions will infuse the dish with a natural sweetness and add depth to its flavour.
Incorporating the Aromatics: Now, introduce ginger and garlic paste, along with green chilli paste, to the onions. Sauté these until the raw aroma dissipates, and they become aromatic.
Adding the Vegetables: It's time to bring in the star attractions of your veg cooker biryani—cauliflower, carrots, French beans, potatoes, and green peas. Mix these vegetables thoroughly with the sautéed spices and onions.
Seasoning the Vegetables: Season the vegetable medley with salt, turmeric powder, red chilli powder, and coriander powder. Continue to sauté, ensuring the spices evenly coat the vegetables.
Introducing curd: Pour in curd, which will impart creaminess and a hint of tanginess to the biryani. Cook it for a while to allow the flavours to meld.
The Biryani Masala Magic: Add biryani masala to the mix and blend it well. This spice blend adds a burst of flavours that elevate the dish.
Adding Water: Pour in water and let it simmer for a minute, allowing the ingredients to meld and the biryani's flavours to develop.
Layering the Biryani: Divide the mixture in the pressure cooker in half. Remove one portion and set it aside in a separate bowl.
Layering the Ingredients: Begin by adding a layer of soaked basmati rice over the vegetables in the cooker. Sprinkle chopped coriander, mint leaves, barista (crispy fried onions), and ginger julienne over the rice.
Repeating the Layers: Repeat the layering process by adding the reserved vegetable mixture, more rice, and the same aromatic toppings. Drizzle some ghee over the top for added richness and flavour.
Pressure Cooking: Cover the pressure cooker with a lid and cook for 2-3 whistles, allowing the biryani to cook to perfection.
Resting and Garnishing: Once the cooker has cooled down, open it and garnish your veg cooker biryani with additional chopped coriander, mint leaves, and a generous drizzle of ghee. Keep it covered for a minute to let the flavours meld.
Veg cooker biryani is now ready to serve! 
This delectable dish combines the warmth of aromatic spices, the richness of ghee, and the wholesomeness of vegetables, all layered with fragrant basmati rice. Serve it with a side of raita, pickle, or salad for a complete and satisfying meal that will delight your taste buds.