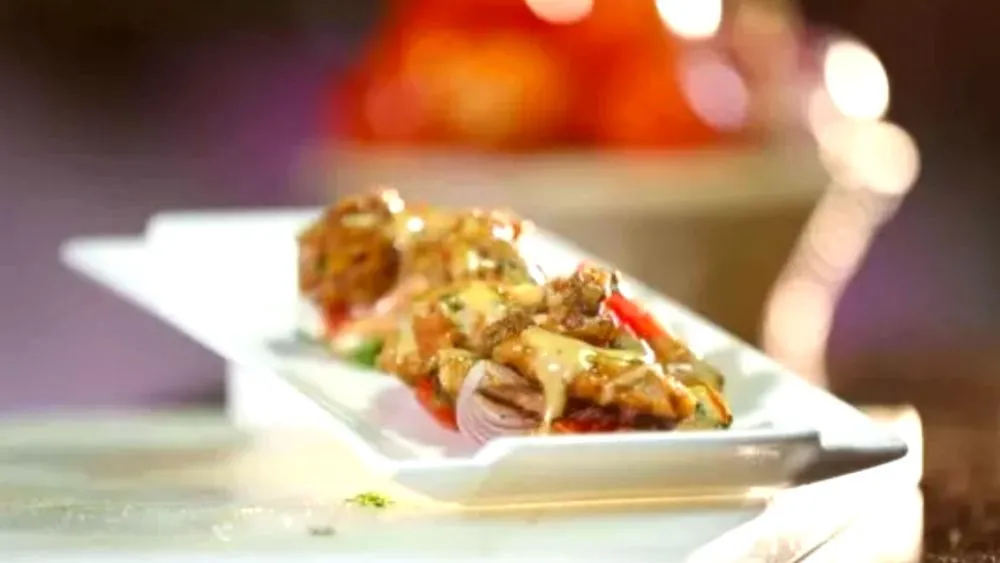 Chicken Wings Recipe

15 min

2-3 People

15 min
Chicken Wings
---
Portions serving: 4-5 pax
Preparation time: 15 mins
Cooking time: 40 mins
Calories: 230 cal per portion
Ingredients
1st Marinade:
- Chicken wings - 10 nos
- Lemon - 1 nos
- Salt - 3 gms
- Garlic paste - 5 gms
2nd Marinade:
- BBQ sauce - 30 ml
- Mustard sauce - 30 ml
- Tomato ketchup - 30 ml
- Tabasco sauce - 10 ml
- Salt - 5 gms
- Oregano - 2 gms
- Black pepper - 2 gms
- Oil - 30 ml
Dip:
- Honey - 10 ml
- Mustard - 10 gms
- Mayonnaise - 10 gms
- Lemon juice - 1 nos
- Salt - 2 gms
- Pepper - 1 gm
Method
1. Preparation:
   - Cut the chicken wings into two pieces.
   - Make small gashes on the chicken wings to allow the marinade to penetrate the meat.
   - In a bowl, add salt, lemon juice, and garlic paste to the chicken wings. Mix well, ensuring the chicken is coated evenly. Let it marinate for 2 hours.
2. Second Marinade:
   - In another bowl, prepare the second marinade by mixing BBQ sauce, mustard sauce, tomato ketchup, Tabasco sauce, salt, oregano, black pepper, and oil. Stir well until all the ingredients are combined.
3. Marinating the Chicken:
   - After 2 hours of the first marinade, pour the second marinade over the marinated chicken wings. Coat the chicken wings thoroughly with the second marinade.
   - Cover the bowl and marinate the chicken for an additional 2 hours to allow the flavours to infuse.
4. Preparing the Foil:
   - Tear a piece of silver foil large enough to wrap the chicken wings. Drizzle some oil on the foil to prevent sticking.
   - Place the marinated chicken wings on the oiled foil and wrap it using a book fold method, ensuring it is sealed properly.
5. Cooking the Chicken Wings:
   - Preheat the grill or barbecue to medium-high heat.
   - Place the wrapped chicken wings on the grill and cook for approximately 25 minutes. The foil will help the chicken cook evenly and retain its moisture.
6. Chargrilling:
   - After 25 minutes, carefully open the silver foil, exposing the chicken wings.
   - Place the wings directly on the grill grates and chargrill them over an open flame until they become crispy and juicy. This step will add a smoky and charred flavour to the wings.
7. Preparing the Dip:
   - While the chicken wings are cooking, prepare the dip. In a small bowl, mix honey, mustard, lemon juice, mayonnaise, salt, and pepper. Stir until the dip is well combined.
8. Serving the Crispy Chicken Wings:
   - Once the chicken wings are done, remove them from the grill and place them on a serving platter.
   - Serve the hot and crispy chicken wings with the prepared dip on the side.
   - Enjoy the restaurant-style crispy chicken wings as a flavorful and appetising starter before dinner.
These homemade Crispy Chicken Wings with their tantalising flavours and perfect crispiness are bound to be a hit with your family and guests. The two-step marinade process ensures that the wings are well-seasoned and infused with a delightful combination of sauces and spices. The grilling and chargrilling steps add a smoky and charred touch, elevating the taste of the chicken wings to a whole new level.
---