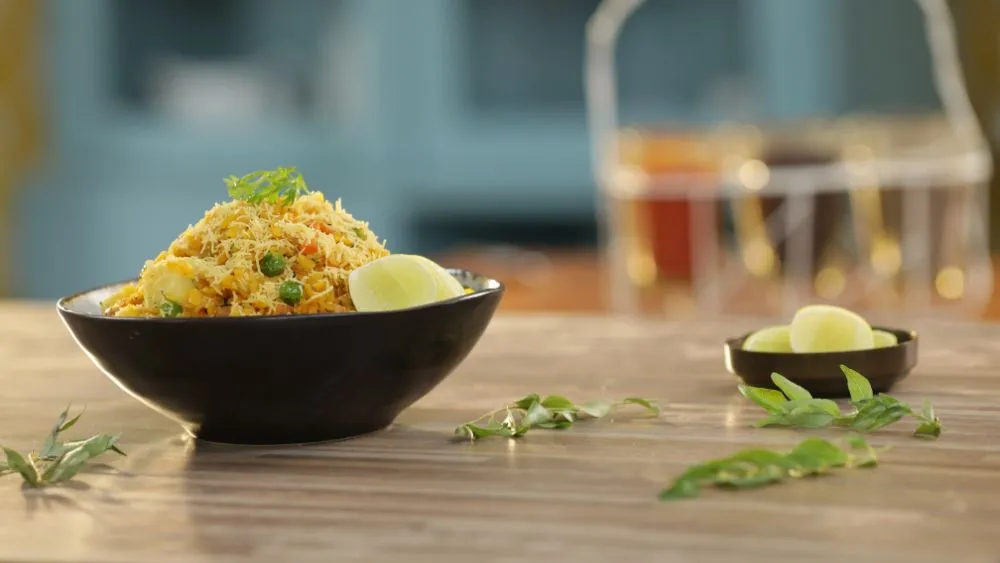 Kanda Poha Recipe

10 mins

2-3 people

10 mins
Kanda Poha
---
Kanda Poha, a popular Maharashtrian breakfast dish, is a delightful blend of flattened rice, vegetables, and spices. It offers a burst of flavors and textures that awaken your taste buds and energize you for the day ahead. This easy-to-follow recipe provides step-by-step instructions to recreate this savory dish in the comfort of your own kitchen.
Portions serving: 2-3 pax
Preparation time: 10 mins
Cooking time: 10 mins
Calories: 165 cal per portion
Ingredients:
2 Cups Of Flattened Rice
1/2 Cup Of Namkeen Sev
1/3 Cup Of Roasted Peanuts
1 To 2 Tablespoons Of Finely Chopped Coriander Leaves
15 To 20 Curry Leaves
1 Lemon
Less Than 1/4 Teaspoon Of Turmeric Powder
Less Than 1/4 Teaspoon Of Red Chili Powder
1/2 Teaspoon Of Coriander Powder
1 Teaspoon Of Vegetable Oil
2 Teaspoons Of Sugar
More Than 1/2 Teaspoon Of Salt
2 Green Chilies (Finely Chopped)
1/2 Teaspoon Of Black Mustard Seeds
1 Onion
1 Small Carrot (Chopped)
1/2 Inch Piece Of Ginger (Chopped)
1/4 Cup Of Green Peas
1 Medium-Sized Boiled Potato (Diced)
METHOD
Begin by heating the vegetable oil in a cooking pot over medium heat. As the oil heats up, add the roasted peanuts and roast them until they start to change color. Once roasted, remove the peanuts from the pot and set them aside.
In the same pot, add the black mustard seeds. Once they start to splutter, add the finely chopped green chilies, curry leaves, and chopped onions. Sauté until the onions turn translucent and golden.
Introduce the chopped carrots and ginger to the pot. Stir and cook for a couple of minutes until the carrots begin to soften.
Add the green peas to the mixture and continue to stir. Sprinkle in the turmeric powder, coriander powder, red chili powder, and salt according to your taste preferences. Mix well to coat the vegetables with the aromatic spices.
Pour in a little water and stir to create a flavorful base. Allow the mixture to simmer for a few minutes, letting the vegetables absorb the spices.
While the mixture simmers, take the flattened rice and soak it in water briefly. Drain the excess water and set the soaked flattened rice aside.
Squeeze the juice of one lemon into the pot and add the sugar. Stir to balance the flavors and enhance the taste of the dish.
Gently fold in the soaked flattened rice, ensuring it's well incorporated with the spiced vegetable mixture. Continue stirring gently to avoid breaking the flattened rice.
Add the diced boiled potatoes to the pot and stir for about half a minute to heat them through.
As a final touch, garnish the Kanda Poha with the roasted peanuts, finely chopped coriander leaves, and a generous sprinkle of namkeen sev for that delightful crunch.
Give the dish a final toss to combine all the ingredients, and your flavorful Kanda Poha is ready to be served.
Kanda Poha is a versatile dish that can be enjoyed as a breakfast, brunch, or snack option. Its balance of flavors, vibrant colors, and contrasting textures make it a favorite among both kids and adults. Prepare this recipe for a taste of authentic Maharashtrian cuisine, and savor every spoonful of this comforting and delicious dish.
---