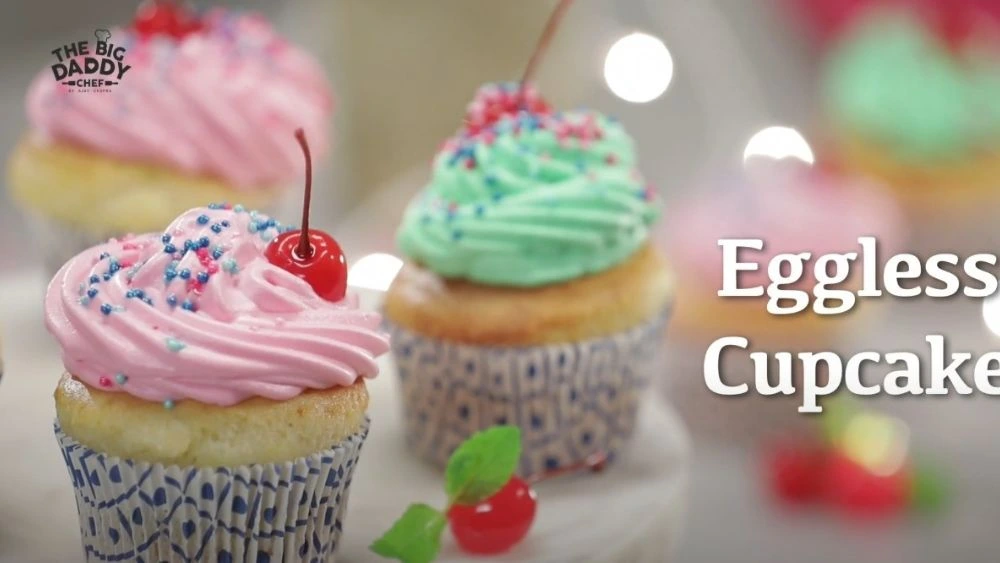 Eggless Cupcake Recipe

40 mins

2-3 people

15 mins
---
Step into a world of delightful confectionery with our irresistible eggless cupcake recipe. This symphony of flavors and textures is a testament to the culinary artistry that transforms simple ingredients into a treat that warms hearts and brings smiles. Crafted with precision, care, and the perfect blend of maida, baking powder, baking soda, curd, milkmaid, and more, these cupcakes are a celebration of joy and indulgence.
Portions serving: 2-3 pax
Preparation time: 15 mins
Cooking time: 20 mins
Calories: 215 cal per portion
Ingredients:
1 Cup Maida
1 Tsp Baking Powder
1/2 Tsp Baking Soda
1/2 Cup Whisked Curd (Yogurt)
2 Tbsp Milkmaid (Sweetened Condensed Milk)
1 Tsp Vanilla Essence
1/2 Cup Castor Sugar
1 Tbsp Oil
Method:
Begin your culinary masterpiece by gathering the dry ingredients. In a mixing bowl, combine 1 cup of maida, 1 tsp of baking powder, and 1/2 tsp of baking soda. Gently mix these elements to ensure a uniform distribution of leavening agents.
In another bowl, assemble the wet ingredients that form the heart of your cupcakes. Combine 1/2 cup of whisked curd, 2 tbsp of milkmaid, 1 tsp of vanilla essence, and 1/2 cup of castor sugar. Stir this mixture with care until the castor sugar dissolves, revealing a creamy and sweet fusion.
The true magic happens when the dry and wet worlds collide. Gradually incorporate the wet mixture into the dry, gently stirring to create a cohesive and luscious batter. The transformation from ingredients to batter is a testament to your culinary prowess.
Set the stage for baking perfection by preparing cupcake molds. Line them with charming cupcake liners, creating a welcoming canvas for your batter.
With finesse, pour the blended batter into the awaiting cupcake molds, ensuring you fill each mold up to about 3/4th of its capacity. This allows for the cupcakes to rise elegantly while baking, forming the signature domed top.
Slide the molds into a preheated oven set at 180 degrees celsius (356 degrees fahrenheit). Allow your cupcakes to bake gracefully for approximately 15-20 minutes, the sweet aroma filling your space as they transform.
As the timer chimes, carefully remove the baked cupcakes from the oven. Allow them to cool, embracing the culmination of flavors and textures that define your creation.
Elevate your cupcakes' visual appeal by adorning them with swirls of whipped cream, the bright pop of cherries, and the joyful sparkle of sprinkles. This final touch transforms each cupcake into an edible masterpiece.
With each delectable bite of these eggless cupcakes, you're invited to indulge in the symphony of flavors and the delicate dance of textures. Relish the softness, celebrate the sweetness, and embrace the joy that these cupcakes bring.
In each cupcake, there's a story of creativity and passion, a journey that begins with humble ingredients and ends with a delectable creation that enchants palates and uplifts spirits. These eggless cupcakes are more than a dessert; they're a testament to the magic that happens when love, skill, and ingredients intertwine.
---