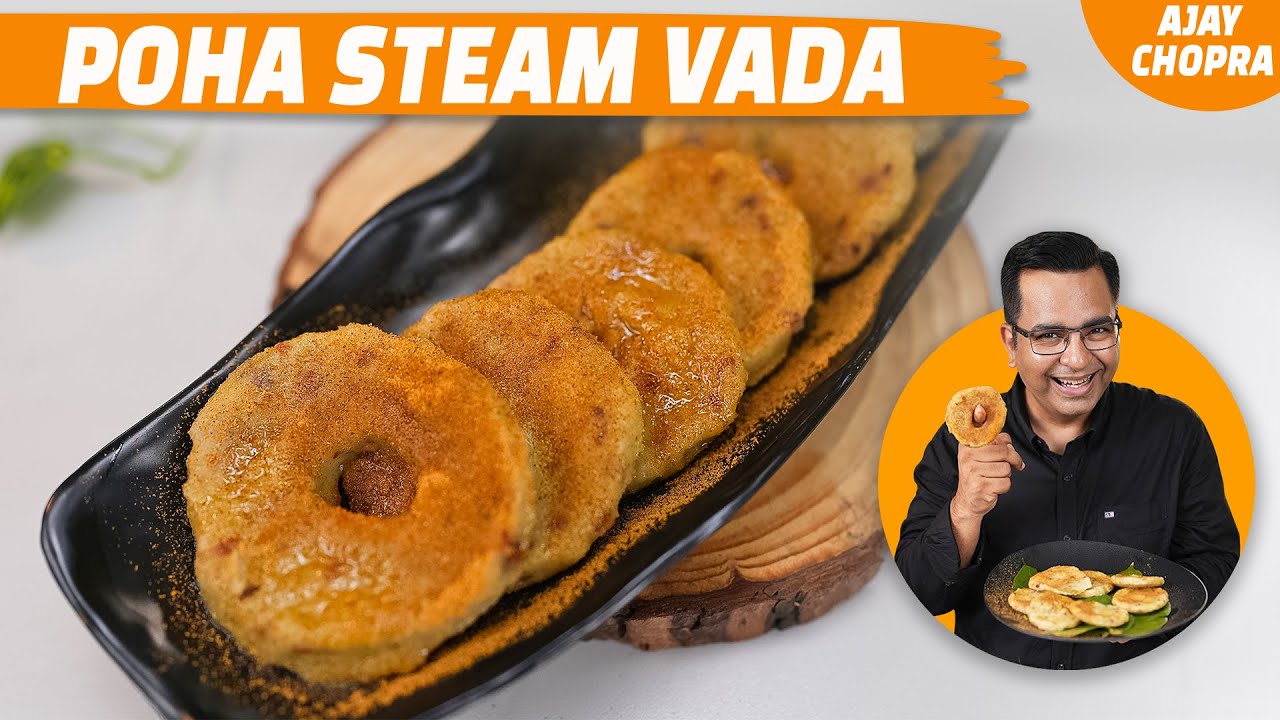 Poha Steamed Wade Recipe

50 Mins

4-5 People

10 Mins
Poha Steamed Wade Recipe
Indulge in the aromatic symphony of Poha Steamed Wade - a South Indian delicacy that's both wholesome and delicious. This recipe combines the irresistible allure of poha (flattened rice) with a medley of spices and seasonings to create a snack that's not just easy to prepare but also incredibly flavorsome. Whether you're in search of a new nasta recipe or looking to savor healthy nasta options, these steamed wade will tantalize your taste buds with their unique textures and tastes.
These delightful treats, also known as poha vade, offer a perfect harmony of flavors, balancing the earthy richness of poha with the fragrant kick of podi powder. The process begins with creating the versatile podi powder, a spice blend that adds depth and zest to various South Indian dishes. This aromatic powder, enriched with a blend of spices and seasonings, sets the stage for the main event - the Steam Wade. These savory snacks are a showcase of artful preparation, utilizing poha, suji, and an array of flavor enhancers to create a culinary masterpiece that's not just a feast for your palate but also a healthy addition to your menu.
Ingredients:
Poha 2 cups
Suji ½ cup
Curd ¼ cup
Curry 9-10 leaves
Coriander a handful
Green chilli chopped ½ tbsp
Green chilli 1 pc
Ginger 1 inch
Water very little 
Salt 1 tsp
Jeera ½ tsp
Ginger chopped ½ tbsp
Chilli flakes ½ tbsp
Ghee 1 tbsp
Oil 1 tbsp
Chana dal 1 tsp
Udad dal 1 tsp
Cashew 1 tsp
Jeera 1 tsp
Curry leaves 9-10 leaves
For Podi Powder:
Chana dal 1 tbsp
Urad dal 1 tbsp
Rice 1 tbsp
Coriander seeds 1 tbsp
Methi seeds ½ tsp
Black pepper ½ tbsp
Mustard seeds ½ tbsp
Hing ½ tsp
Sesame seeds 2 tbsp
Dry red chilli 8-10 pcs
Curry leaves 8-10 pcs
Salt 1 tsp
Method:
Podi Powder:
Podi powder is a versatile spice blend that adds depth and zest to various South Indian dishes. To make this aromatic powder, you'll need the following ingredients and steps:
1. Prepare the Pan: Begin by heating a pan over medium heat. No oil is needed for this process; we're dry roasting the ingredients.
2. Roasting Dal and Rice: Add chana dal, urad dal, and rice to the pan. Toast them until they turn golden brown. This step imparts a nutty flavour and adds crunch to the powder.
3. Add Spices: Introduce a medley of spices into the pan, including coriander seeds, methi seeds, black pepper, and mustard seeds. Continue to toast these until they release their aromatic fragrance.
4. Flavour Enhancers: Incorporate hing, sesame seeds, dry red chilies, and curry leaves into the mix. Roast them for a while to intensify their flavours.
5. Cool and Blend: Allow the roasted mixture to cool completely, then transfer it to a mixer jar. Grind the ingredients into a fine powder.
6. Final Touch: Add salt to the ground mixture and mix it thoroughly. Your podi powder is now ready to elevate your dishes with its spicy and savoury goodness.
Steam Wade:
Steam wade, also known as poha vade, are delicious and healthy snacks made from flattened rice. Here's how you can prepare them:
1. Preparing Poha: Take a bowl, add poha (flattened rice), and wash it thoroughly by rinsing it with water two or three times. Strain the washed poha and let it sit for 5-10 minutes to remove excess moisture.
2. Grind the Mixture: In a mixer jar, combine the soaked poha, suji (semolina), curd, curry leaves, coriander, green chilli, ginger, and salt. Add just a little water and coarsely grind the mixture. Transfer this to a mixing bowl.
3. Seasoning: In a pan, heat some oil. Add chana dal, urad dal, and cashews. Sauté them until they turn golden brown. Then, add jeera (cumin) and curry leaves, letting them splutter. Pour this aromatic tadka into the poha mixture and mix it well.
4. Shaping the Wade: Take pieces of banana leaves, apply a touch of oil to prevent sticking, and place a portion of the poha mixture on each leaf. Spread it evenly into a circular shape, creating a hole in the centre.
5. Steaming: Arrange the prepared wade on a steamer tray. Heat the steamer and steam the wade for approximately 10-12 minutes until they are cooked through and firm.
6. Final Touch: Once the wade are steamed, drizzle some ghee on them and generously sprinkle the homemade podi powder for an extra layer of flavour.
Your steam wade, adorned with fragrant podi powder, are now ready to be savoured. These savoury treats showcase the perfect balance of textures and tastes, making them a delightful addition to your South Indian culinary repertoire. Enjoy!
FAQs (Frequently Asked Questions):
1. What is podi powder, and how is it used in South Indian cuisine? Podi powder is a versatile spice blend made from various ingredients like chana dal, urad dal, spices, and seasonings. It's used to add flavor and depth to South Indian dishes like dosas, idlis, and even these Poha Steamed Wade.
2. Are Poha Steamed Wade healthy? Yes, Poha Steamed Wade are a healthier snack option. They are steamed, which means they are not deep-fried, and poha is a low-calorie and gluten-free ingredient.
3. Can I adjust the level of spiciness in these snacks? Absolutely! You can control the spiciness by adjusting the quantity of green chilies and the podi powder you use. You can make them mild or fiery to suit your taste.
4. Can I use pre-made podi powder instead of making it from scratch? Yes, you can use store-bought podi powder if you're short on time. However, making it fresh at home imparts a distinct, authentic flavor.
5. Can I store the podi powder for future use? Certainly! Store your homemade podi powder in an airtight container in a cool, dry place. It can be used for several weeks to enhance various dishes.
6. How long does it take to steam the Poha Steamed Wade? The wade typically take about 10-12 minutes to steam until they are fully cooked and firm. Be sure to keep an eye on them to prevent overcooking.
7. Can I customize the filling of the wade to my liking? Yes, you can experiment with different fillings or add ingredients like grated vegetables for a unique twist on the recipe.
8. What can I serve with Poha Steamed Wade for a complete meal? These wade go wonderfully with a side of coconut chutney or sambar, making for a satisfying and wholesome meal.