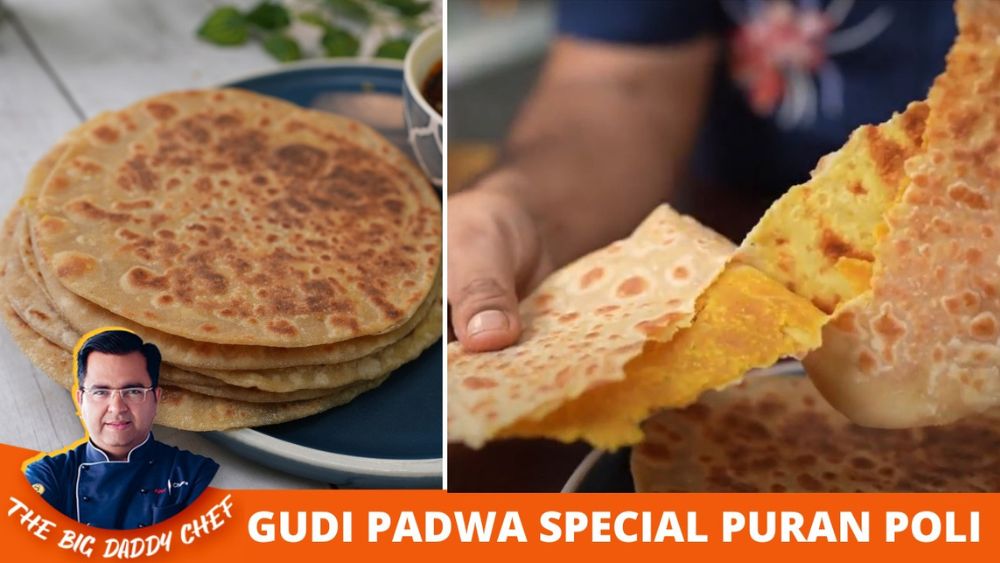 Gudi Padwa Special Puran Poli Recipe

50 mins

5-6 people

15 mins
Gudi Padwa Special Puran Poli Recipe
Ingredients 
| | |
| --- | --- |
| Chana dal soaked | 2 cups  |
| Water | as required |
| Salt | 1 tbsp  |
| Turmeric powder | ½ tbsp |
| Oil | ½ cup |
| Refined flour | 1 cup |
| Wheat flour | 1 cup |
| Rice flour | ¼ cup |
| Jaggery | 1 cup |
| Cardamom powder | 1 tsp |
| Ghee | 1 tbsp |
| Garlic & ginger roasted | 2 tbsp |
| Coconut roasted | ¼ cup |
| Green chillies | 2 pcs |
| Onion roasted | ½ cup |
| Coriander | a handful |
| Tamarind | 1 tbsp |
| Bayleaf | 1 pc |
| Black cardamom | 1 pc |
| Cinnamon | 1 inch |
| Cloves | 5-6 pcs |
| Black pepper | 10-12 pcs |
| Dagad phool | 1 tbsp |
| Red chilli powder | 1 tbsp |
| Garam masala | ½ tbsp |
Method 
Dough
On a plate take refined flour, wheat flour, salt, some oil, water and knead it to a soft dough.
Once done, transfer it to a bowl, add more oil on top and set aside for 30 mins to 1 hour.
Later squeeze out the oil and divide it into small portions.
Katachi amti
Take a pressure cooker, add soaked chana dal, salt, water, turmeric powder, oil and cook it for 3-4 whistles.
Once done, drain out the excess dal stock and keep aside until further use.
In a mixer jar, add roasted ginger-garlic-onion-cocount, coriander, green chilli, water and make a fine paste.
Heat a pan, add oil, bayleaf, black cardamom, cinnamon, cloves, black pepper, dagad phool and let it crackle.
Then add the grinded paste and saute it.
Add red chilli powder, salt, turmeric powder and cook it.
Now add the dal stock, the leftover course dal and boil it for 5-10 mins.
Add jaggery, tamarind and cook it for 5 mins. 
Lastly add chopped coriander and garam masala.
Katachi amti is ready.
Puran poli 
Now add jaggery, and cook it until it melts. At same time with the help of masher, mash the dal and bring it to a very dry and thick consistency. 
Then add cardamom powder, mix it well.
While it is hot, strain the mixture through the strainer to ensure it has no dal granules. Use the leftover coarse dal for making katavni. 
Cool it down and puran is ready to be used.
Now, take one portion of a dough, add a good amount of purun mixture and seal it.
On the rolling surface, dust some rice flour and roll it into a flat circle.
Heat a pan, add rolled puran poli and cook it from both the sides.
Then apply ghee on it and puran poli is ready. 
Serve hot puran poli with katachi amti.
---