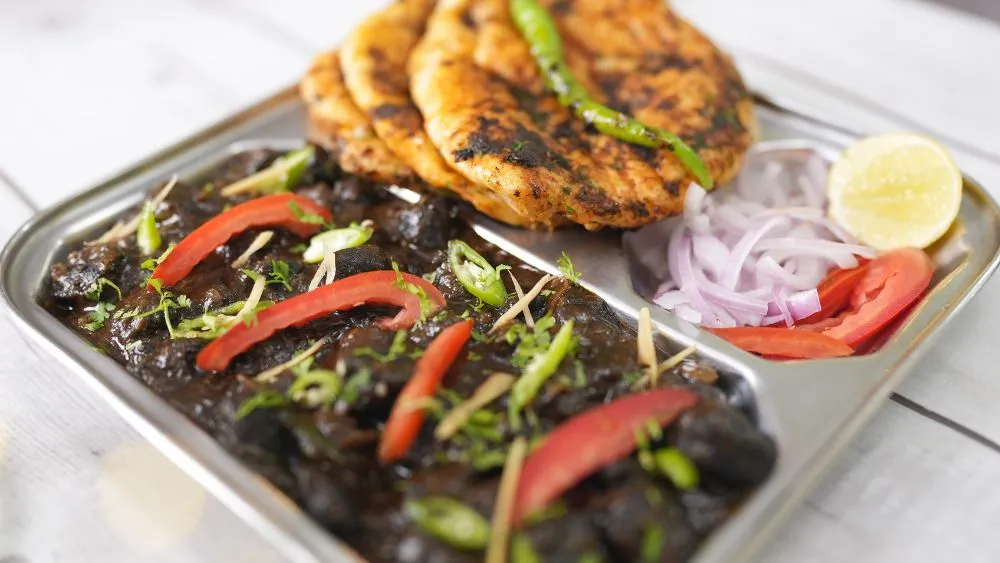 Amritsari Nutri Kulcha Recipe

30 min

4 people

20 min
Ingredients 
---
Tea powder                       1 tbsp
Black pepper                     1 tbsp
Cloves                               ½ tbsp
Soya chunks                     2 cups
Oil                                     2 tbsp
Butter                               2 tbsp
Onion chopped                 ½ cup
Onion sliced                     1 cup
Palak boiled                     3 tbsp
Tomatoes                         2 pcs
Green chillies                   2 pcs
Ghee                                1 tbsp
Cinnamon                        ½ inch
Bayleaf                            1-2 pcs
Black cardamom               1 pc
Green cardamom              1 pc
Mace                                 1 pcs
Ginger-garlic paste           1 tbsp
Salt                                   as required
Red chilli powder               ½ tbsp
Garam masala                    ½ tsp
Meat masala                       1 tsp
Kitchen king masala      1 tsp
Soya sauce                    1 tbsp
Capsicum juliennes         ½ cup
Carrot juliennes               ½ cup
Ginger juliennes              1 tbsp
Coriander chopped          2 tbsp 
Kulchas                           4 pcs
Method: 
Make a potli of tea powder, black pepper, cloves and tie them into potli.
In a pan, heat some water, add potli, soya chunks to it and boil them for 10 mins.
Strain them and let it cool down, discard the potli and keep strained water for further use.
Remove excess water by squeezing them and set aside.
---