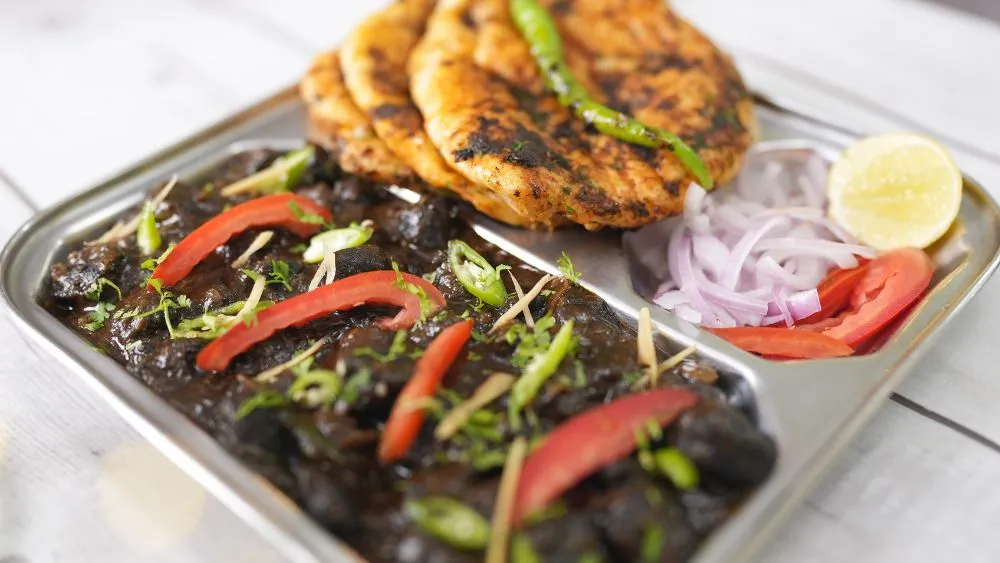 Amritsari Nutri Kulcha Recipe

30 min

4 people

20 min
Ingredients 
---
Amritsari Nutri Kulcha is a mouthwatering vegetarian dish from the vibrant streets of Amritsar, Punjab, India. Nutri, also known as Soya Chunks, adds a protein-packed punch to this flavorful recipe. The dish is a delightful combination of soft and fluffy Kulchas (Indian flatbreads) paired with spicy and tangy Nutri (Soya Chunks) curry.
Portions serving: 5-6 pax
Preparation time: 20 mins
Cooking time: 40 mins
Calories: 161 cal per portion
Ingredients:
1 tablespoon Tea Powder
1 tablespoon Black Pepper
1/2 tablespoon Cloves
2 cups Soya Chunks
2 tablespoons Oil
2 tablespoons Butter
1/2 cup chopped Onion
1 cup sliced Onion
3 tablespoons boiled Palak
2 Tomatoes
2 Green Chillies
1 tablespoon Ghee
1/2-inch Cinnamon Stick
1-2 Bay Leaves
1 Black Cardamom
1 Green Cardamom
1 Mace
1 tablespoon Ginger-Garlic Paste
Salt as required
1/2 tablespoon Red Chilli Powder
1/2 teaspoon Garam Masala
1 teaspoon Meat Masala
1 teaspoon Kitchen King Masala
1 tablespoon Soya Sauce
1/2 cup Capsicum
1/2 cup Carrot (julienned)
1 tablespoon Ginger
2 tablespoons chopped Coriander
4 Kulchas
Method:
Take tea powder, black pepper, and cloves, and tie them into a potli to create a spice bag.
In a pan, heat some water and add the spice potli along with the soya chunks. Boil them for about 10 minutes. Once boiled, strain the soya chunks and keep the strained water for later use. Allow the soya chunks to cool down and then gently squeeze out excess water. Set aside the boiled and drained soya chunks.
In a pan, heat oil and add sliced onions. Sauté the onions until they turn golden brown and add boiled palak, tomatoes, and green chillies. Cook the mixture until the tomatoes become soft and mushy. Remove the mixture from the pan and let it cool down.
Once the mixture has cooled down, transfer it to a blender and grind it into a smooth paste.
In the same pan, add ghee and heat it. Then, add cinnamon stick, bay leaves, black cardamom, green cardamom, and mace. Let the spices release their aroma and flavours.
Add ginger-garlic paste to the pan and sauté until the raw smell disappears. Then, add the ground paste to the pan and mix it well with the spices.
To enhance the taste, add salt, red chilli powder, garam masala, meat masala, and kitchen king masala. Adjust the spices according to your preference and stir the mixture until the spices are well incorporated.
Now, add the boiled and drained soya chunks to the pan, ensuring they are coated evenly with the spice mixture.
To elevate the flavours, add soya sauce to the pan and mix well. The soya sauce will infuse the Nutri curry with a delightful umami taste.
Add Vegetable Juliennes: Toss in the julienned capsicum, carrot, and ginger to add a refreshing crunch to the Nutri curry.
Sprinkle chopped coriander on top to enhance the aroma and presentation of the Nutri curry.
Enjoy this delectable vegetarian delight with your family and friends, and let the rich flavours of Punjab tantalise your taste buds. The combination of soft Kulchas and spicy Nutri curry is sure to leave you craving for more. So, go ahead, indulge in the flavours of Amritsar, and relish this classic Indian street food right at home! Happy cooking!
---