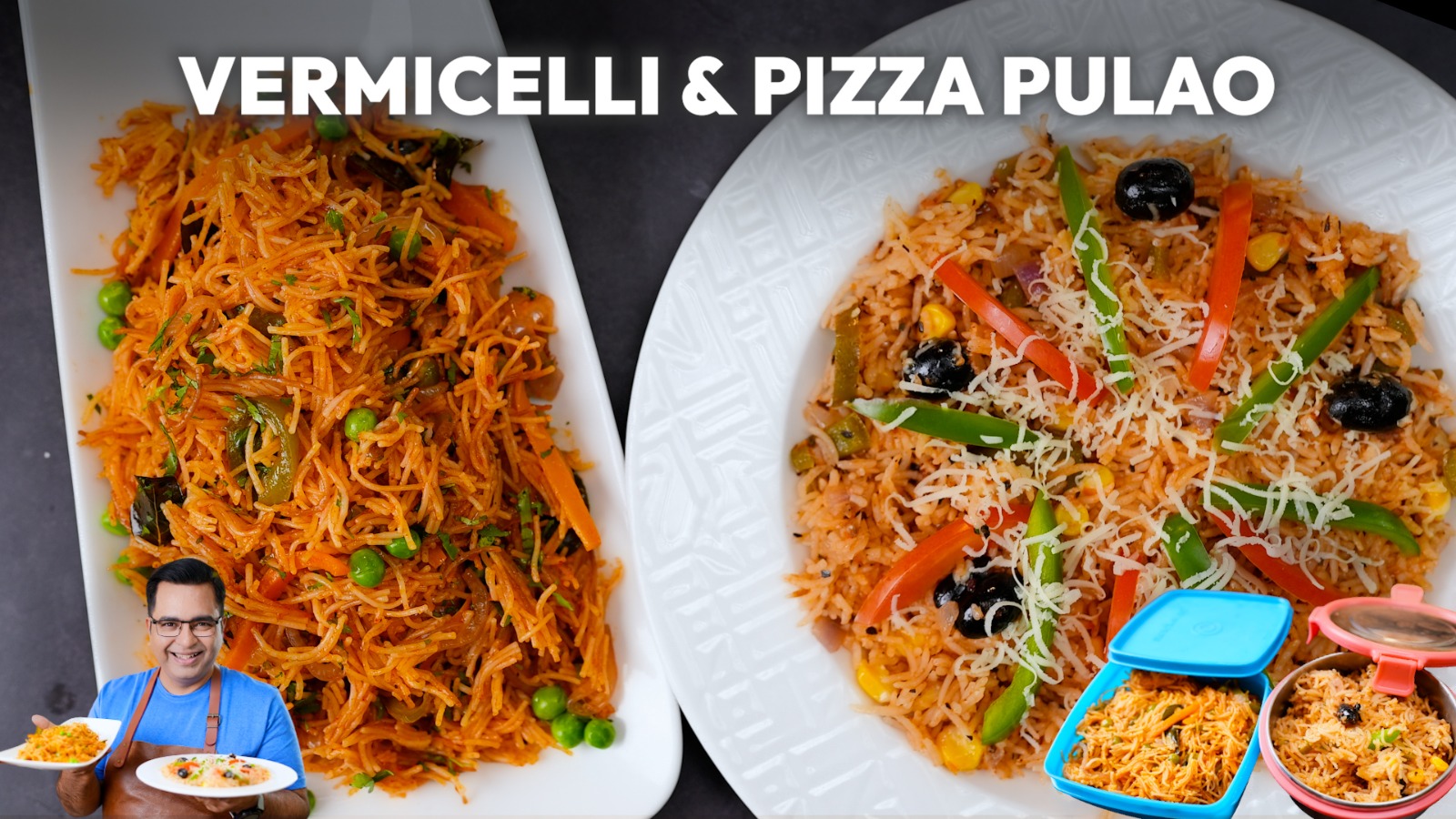 Pizza Pulao Recipe

20 Mins

3-4 People

5 Mins
Pizza Pulao 
INGREDIENTS
Oil                                1 tbsp
Garlic chopped            1 tbsp
Oregano                      1 tsp
Chilli flakes                  1 tsp
Onion diced                  ½ cup
Capsicum diced           ½ cup
Corn kernels                ½ cup
Salt                              ½ tbsp
Black pepper powder  ½ tsp
Fresh tomato puree    ½ cup
Black olives                 8-9 pcs
Jalapeno                     4-6 pcs
Rice soaked                1 cup
Water                          1 ½ cup
Cheese grated             ½ cup
METHOD
To prepare a delicious Pizza Pulav, start by heating oil in a pan. 
Add minced garlic, oregano, and chilli flakes, and sauté until aromatic. 
Next, add diced onions and saute.
Now, toss in capsicum dices, sweet corn kernels, salt, and black pepper, and sauté them for a few minutes.
Pour in fresh tomato puree and cook it for 2-3 minutes to let the flavours meld. 
Then, introduce olives and jalapenos to the mixture and sauté for an additional minute. 
Now, add pre-soaked rice, along with water, and gently mix everything together.
Cover the pan with a lid and let it cook on a medium flame for 8-10 minutes, allowing the rice to absorb the flavours and become perfectly tender.
Once the Pizza Pulav is cooked, add grated cheese on top, letting it melt and create a mouthwatering topping. 
Serve this hot and delightful dish, and enjoy the fusion of pizza and pulav flavours in every bite. 
Vermicelli pulav 
INGREDIENTS
Vermicelli                     1 cup
Oil                                1 tbsp
Curry leaves                10-12 pcs
Capsicum juliennes      ½ cup
Carrot juliennes            ½ cup
Onion juliennes            ½ cup
Green peas                  ¼ cup
Salt                               ½ tbsp
Red chilli powder          ½ tbsp
Ginger garlic paste       1 tbsp
Schezwan chutney       1 tbsp
Water                            as required  
METHOD
To prepare Vermicelli Pulav, begin by heating a pan and roasting the vermicelli on medium flame for 2-3 minutes until it turns lightly golden. 
Remove the roasted vermicelli from the pan and set it aside.
In the same pan, add oil and allow it to heat. 
Toss in curry leaves, and once they sputter, add capsicum juliennes, carrot juliennes, onion juliennes, green peas, and a pinch of salt. 
Stir-fry the vegetables until they become slightly tender.
Next, add red chilli powder and ginger-garlic paste to the vegetables and sauté for a minute to enhance the flavours. 
Then, incorporate the schezwan chutney, along with the roasted vermicelli, and mix everything together thoroughly.
Pour in water, cover the pan with a lid, and let the pulav cook on medium flame for 5-6 minutes.
The vermicelli will absorb the flavours and become tender as it cooks.
Once the Vermicelli Pulav is ready, serve it hot and enjoy this delightful and spicy dish. 
The combination of flavours and textures in this dish will surely tantalise your taste buds!