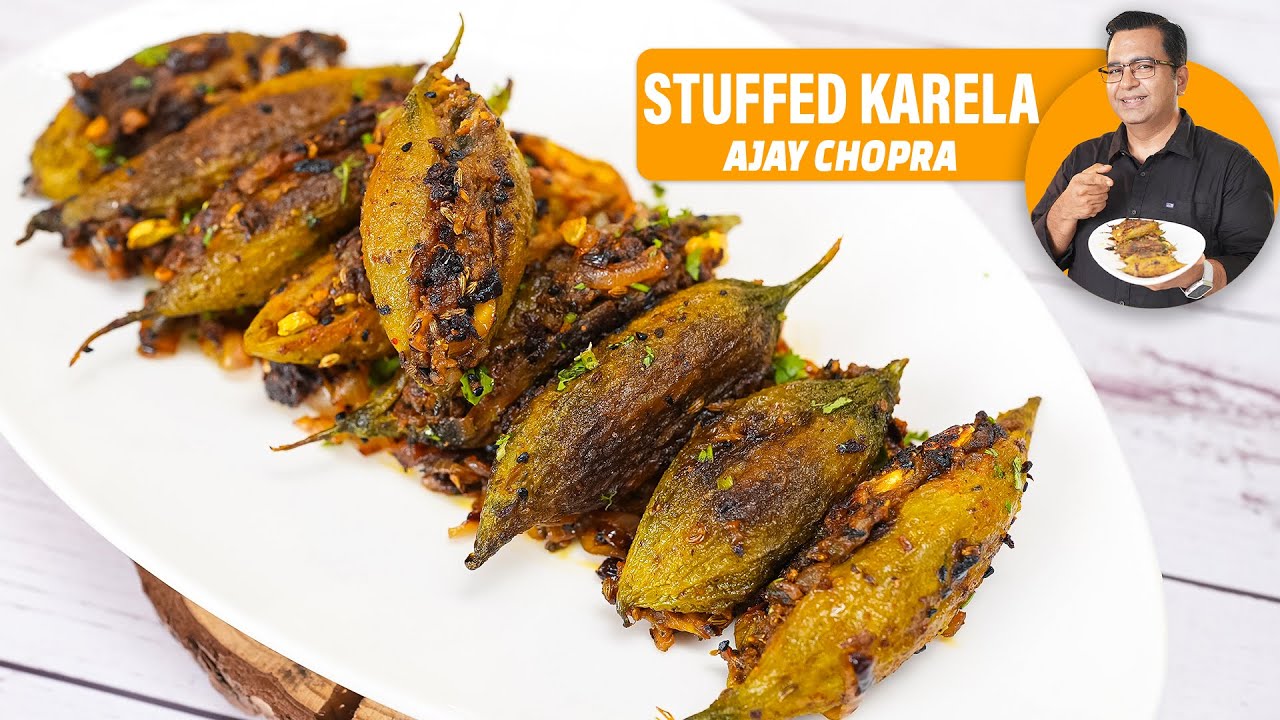 Bharva Karela Recipe

60 Mins

7-8 People

10 Mins
Bharva Karela Recipe
Welcome to my Bharwa Karela Recipe! Bharwa Karela, otherwise known as Stuffed Bitter Gourd is an immensely satisfying and delectable Indian cuisine dish that will add bitter flavors into their meals in delicious new ways! 
Bharwa Karela is created by stuffing bitter gourds with an aromatic mix of spices, herbs, and other ingredients for an irresistibly flavorful dish. This helps balance out its tart bitterness for an irresistibly enjoyable combination of tastes.
"Bharwa" refers to stuffed and "karela" refers to bitter gourd. Bitter gourd is well known for its medicinal properties and often used to create karela juice which has numerous health advantages. Not only can this dish satisfy tastebuds but it may also bring multiple health advantages.
Through this recipe, I will demonstrate step-by-step how to prepare bharwa karela. Additionally, there will be video instructions in Hindi for those who prefer cooking in their native tongue. Finally, there will be images which showcase its vibrant appearance to help visualize each step in the cooking process.
So let's embark on this flavorful journey and discover how to craft an irresistibly delectable bharwa karela dish that will tantalize our palates!
Portion servings: 7-8 pax
Preparation time: 10 mins
Cooking time: 60 mins
Calories: 129 kcal per portion 
Ingredients:
Karela 8-9 pcs
Salt 1 tsp
Turmeric powder 1 tsp
Mustard oil 1 tbsp
For stuffing:
Mustard oil 1 tbsp
Jeera 1 tsp
Saunf 1 tsp
Kalonji ½ tsp
Garlic chopped 1 tsp
Onion chopped 1 cup
Salt ½ tsp
Red chilli powder 1 tsp
Turmeric powder ½ tsp
Coriander powder 1 tsp
Saunf powder 1 tbsp
Amchur powder 2 tsp
Raisins 6-7 pcs
Cashew 1 tbsp
Sugar 1 tsp
Coriander chopped 1 tbsp 1 tbsp
Potato boiled 2 pcs
For Tadka:
Mustard oil 1 tbsp
Saunf 1 tsp
Kalonji 1 tsp
Onion thick sliced ½ cup
Salt a pinch 
Red chilli powder a pinch
Method:
To start, wash and clean the bitter gourd. Then, using a peeler, remove the skin to make it smooth, exposing the vibrant green flesh inside. Carefully cut a vertical gash in the centre of the bitter gourd and scoop out the seeds, setting aside the peeled skin and seeds for later use.
The next step is to marinate the peeled bitter gourd. Sprinkle some salt and turmeric powder over the gourd, allowing it to sit for 10-15 minutes. 
This step helps reduce the bitterness of the vegetable.
In a pan, heat some mustard oil and add the marinated bitter gourd. 
Sauté it for 3-4 minutes until it becomes slightly tender. 
Remove the sautéed bitter gourd from the pan and set it aside.
Now, let's prepare the stuffing for the bitter gourd. 
Take the previously removed peels of the bitter gourd and season them with salt and turmeric powder. 
After 4-5 minutes, squeeze out any excess moisture. In the same pan, heat some more mustard oil and add jeera, saunf, and kalonji seeds. 
Let them crackle, and then add chopped garlic, sautéing until it turns golden brown. Now, add the prepared bitter gourd peels and continue sautéing.
Next, incorporate chopped onions into the mixture and continue to sauté until they become translucent. 
Season the mixture with salt, red chilli powder, coriander powder, saunf powder, and amchur powder for a burst of flavours. 
To enhance the richness, add cashew nuts and raisins, and cook them for a while until they turn fragrant and slightly golden. 
Once done, transfer the stuffing to a plate and allow it to cool.
While the stuffing cools, grate boiled potatoes and chop fresh coriander, then mix them with the prepared stuffing. 
This mixture will serve as the flavorful and aromatic filling for the bitter gourd.
Take the semi-cooked bitter gourd and carefully stuff them with the delicious stuffing mixture.
In a fresh pan, heat mustard oil and add kalonji and saunf seeds, allowing them to crackle. Place the stuffed karela (bitter gourd) in the pan and cook them. 
Cover with a lid and let them cook for 8-10 minutes, ensuring the bitter gourd becomes tender and absorbs the flavours from the stuffing.
To add an extra dimension of flavour, add thickly sliced onions, some salt, and red chilli powder, gently sautéing for an additional 4-5 minutes.
Now, your Stuffed Karela is ready to serve. This dish perfectly combines the bitter and savoury notes of the bitter gourd with the rich and aromatic stuffing, creating a delightful and unique culinary experience that's sure to please your taste buds. 
Enjoy this delectable Indian recipe as a side dish or even as the main course, served with roti or rice.
FAQ (Frequently Asked Questions) for Bharwa Karela Recipe.
Q1: What Is Bharwa Karela (Stuffed Bitter Gourd)?
A1: Bharwa Karela, also referred to as Stuffed Bitter Gourds in India, is an exquisite culinary experience in which bitter gourds are filled with an aromatic blend of spices and herbs, helping reduce bitterness while providing an exquisite experience in flavorful dining.
Q2: Are There Any Health Benefits Associated with Consuming Bitter Gourd (Karela)?
A2: Yes. Bitter gourd has long been recognized for its medicinal qualities and can be used to make karela juice with many health advantages including blood sugar control and enhanced digestion.
Q3: Can I prepare Bharwa Karela without its bitter taste?
A3: While bitterness is part of its character, stuffing and cooking process help lessen its intensity to make this dish more palatable.
Q4: How Can I Enjoy Bharwa Karela?
A4: Bharwa Karela can be enjoyed both as an accompaniment with roti or rice dishes or as the main course due to its distinctive flavors that pair so perfectly with various Indian bread and rice dishes.
Q5: How long does it take to prepare Bharwa Karela?
A5: This recipe requires approximately 10 minutes for preparation, while cooking time averages 60 minutes.
Q6: Can I easily locate ingredients for Bharwa Karela?
A6: Most ingredients for this dish can be easily found at Indian grocery stores or some supermarkets, allowing you to prepare it without issue.
Q7: Can I prepare Bharwa Karela ahead of time?
A7: Yes, you can prepare the stuffing and store it for up to three days prior to stuffing bitter gourds for freshest results.
Q8: Can Bharwa Karela differ in different Indian regions?
A8: Yes, variations can be found throughout Indian regions with each adding its own signature flavour to this classic dish and reflecting the great diversity found within its cuisine.