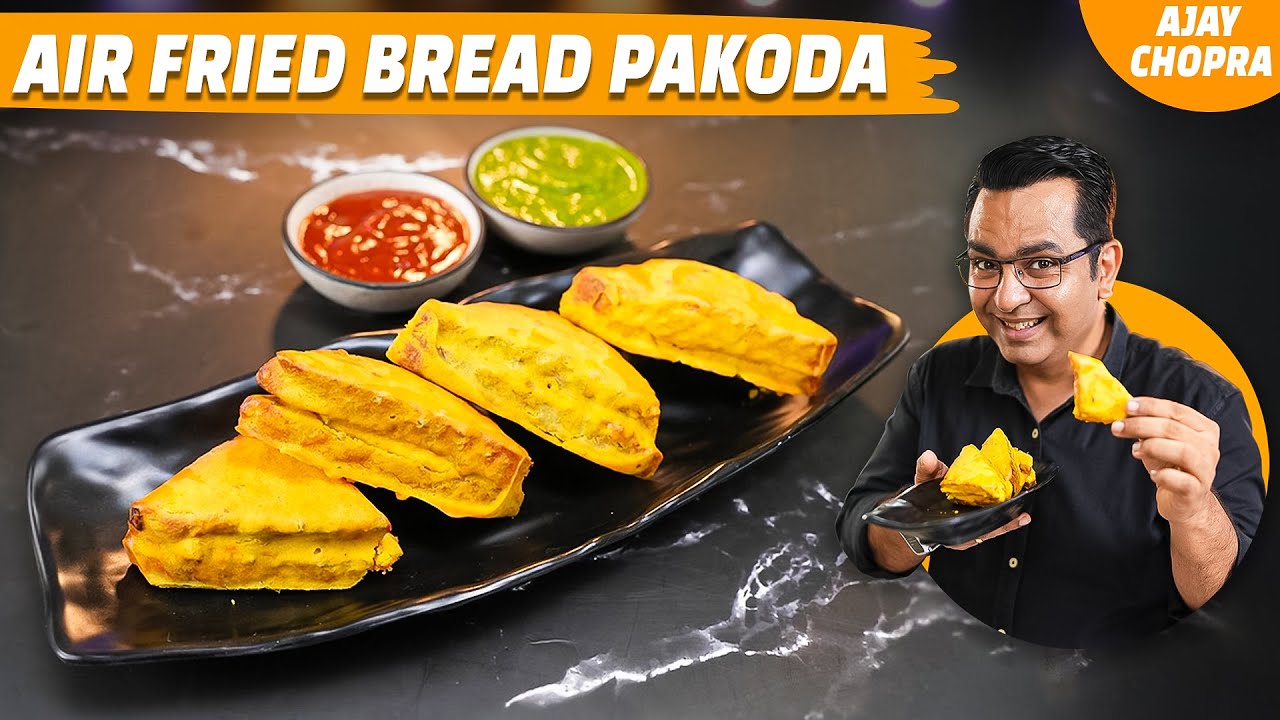 Air Fried Bread Pakoda Recipe

40 Mins

5-6 People

10 Mins
Air Fried Bread Pakoda Recipe
Indulge in the delectable flavours of Bread Pakoda prepared in the air fryer, a healthier twist on a classic Indian snack. This recipe guarantees crispy and flavorful pakodas with minimal oil usage, perfect for a guilt-free treat.
Ingredients: 
For pounded masala: 
Jeera 1 tsp
Coriander 1 tsp
Black pepper ½ tsp
Saunf 1 tsp
Salt ½ tsp
For Stuffing:
Oil 1 tbsp
Cashew 1 tbsp
Raisins 1 tbsp
Ajwain ½ tsp
Pounded masala 2 tbsp
Hing ½ tsp
Ginger chopped 1 tbsp
Green chilli chopped ½ tbsp
Green peas ¼ cup
Salt ½ tsp
Red chilli powder 1 tsp
Water as required 
Citric acid/ Tartari a pinch
Amchur powder 1 tsp
Potato boiled & peeled 3 pcs
For batter:
Besan 1 cup
Ajwain ½ tsp
Red chilli powder ½ tsp
Salt ½ tsp
Turmeric powder ½ tsp
Water as required 
For bread pakoda:
Bread slices 10-12 pcs
Paneer cut into slices 200 gms
Stuffing
Oil 
Method:
Take a mortar and pestle to coarsely pound a mixture of jeera, coriander seeds, black pepper, saunf, and salt. 
This spice blend will infuse your dish with a depth of flavour that's truly delightful.
Next, heat some oil in a pan, add ajwain, and then the pounded masala, and sauté them to release their aromas. 
Follow this with the addition of hing, chopped ginger, and chopped green chilli, and sauté until they become fragrant.
Now, introduce the green peas into the mix and let them cook. 
Add more salt, red chilli powder, and a bit of water to create a flavorful base for your stuffing. 
Enhance the tangy notes with citric acid and amchur powder.
The star of this dish, mashed potato, joins the party along with fried cashews and raisins. Incorporate them beautifully into the masala to create a filling that's both creamy and texturally interesting.
With your stuffing ready, it's time to assemble the bharwa bread pakoda. 
Cut the paneer into thick slices and set them aside. 
In a bowl, create a thick besan (gram flour) batter by mixing besan, turmeric powder, salt, red chilli powder, ajwain, and water. 
This batter will give your pakodas that signature crispy coating.
To assemble the pakodas, take bread slices and apply a generous portion of the potato stuffing. 
Place a slice of paneer on top and complete the sandwich with another bread slice. 
Gently press the sandwiches with your palm to ensure they hold together.
Now, cut these sandwiches into your desired shapes and dip them into the besan batter, coating them evenly.
Preheat your air fryer and lightly brush the tray with oil. 
Place the bharwa bread pakodas on the tray, brush a bit more oil on top, and air fry them at 180 degrees Celsius for approximately 12 minutes. 
This method ensures a healthier, less-oily outcome without compromising on taste.
Once they're golden brown and crispy, Bharwa Bread Pakodas are ready to be served. 
Pair them with some tangy tomato ketchup and zesty green chutney for a complete snack experience.