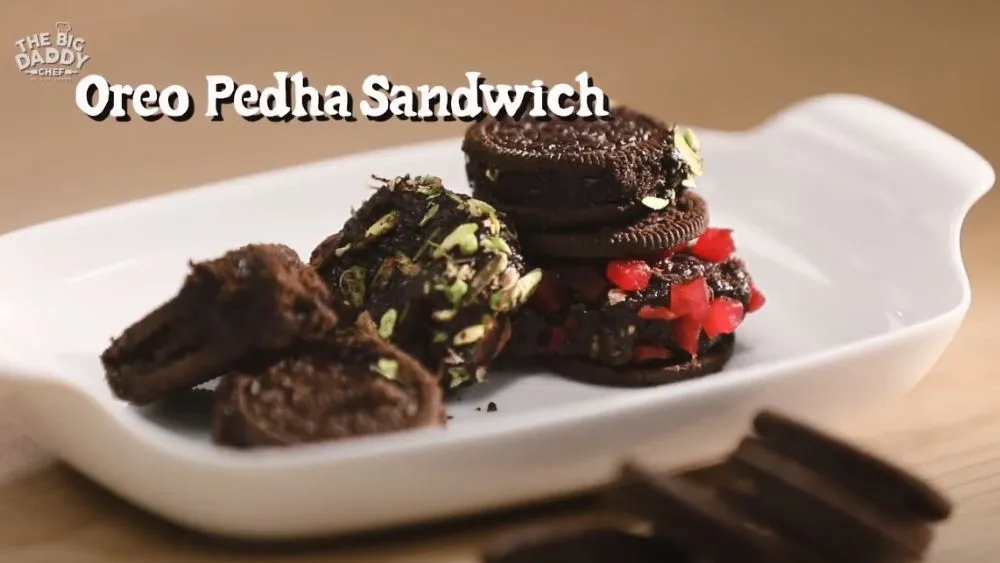 Oreo Pedha Sandwich Recipe

20 mins

2-3 people

15 mins
Oreo Pedha Sandwich
---

Method
1.In an oven plate, or a pan add some khoya and melt it until it's nice and bubbly.
2. Till the khoya melts take another bowl and add some melted chocolate or melt the Oreo cream filling and then some pistachios, some tutti frutti and mix it well.
3.Now add the hot and sizzling khoya into the bowl of melted chocolate and mix it well.
4.Then take some Oreo biscuits and fill it with the stuffing we prepared and cover it with the top layer of the biscuit and then dip a side of the stuffed biscuit in the melted chocolate and then dip in crushed Oreo powder and put it in a plate.
5. To make Oreo Pedha add some more Oreo crushed powder into the bowl of khoya and cholate mixture and then take a small portion of it and roll it on your palms and flatten it a bit.
6.Then garnish the pedhas with some pistachios and viola your sandwich pedha is ready.
7. You can top it up with some tutti frutti or chocolate chip or colour full sprinklers
---