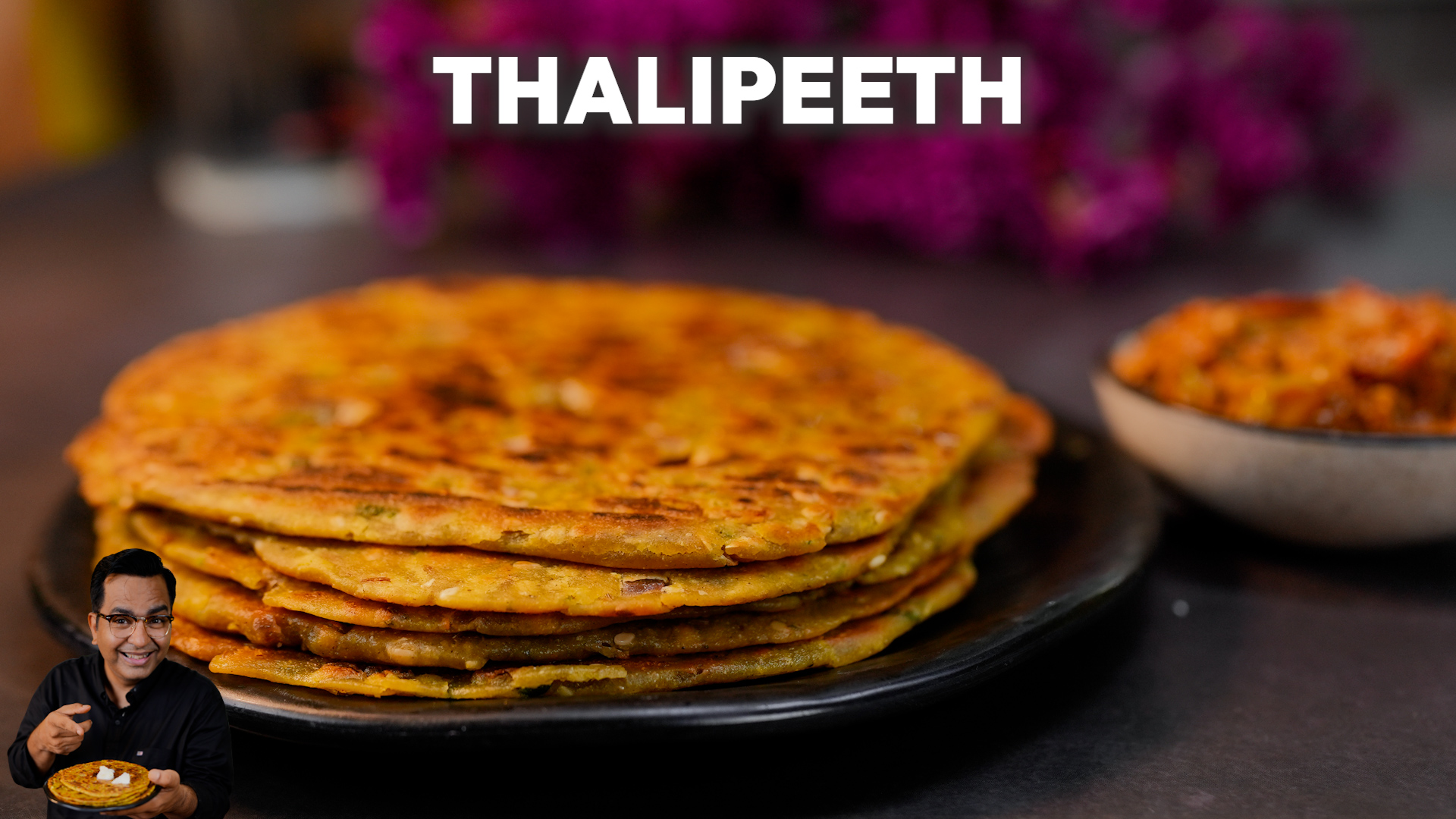 Thalipeeth Recipe

30 Mins

9-10 People

10 Mins
Thalipeeth
Thalipeeth is a traditional Maharashtrian flatbread that is packed with flavours and nutrients. It is made using a combination of different flours, spices, and vegetables, making it not only delicious but also wholesome. Let's dive into the details of the ingredients and the method to prepare this delightful dish.
 
Ingredients:
For Thalipeeth:
- Coriander seeds: 1 tbsp
- Black pepper: 10-12 pcs
- Jeera (cumin seeds): ½ tbsp
- Green chilli: 2 pcs
- Garlic: 4-5 cloves
- Wheat flour: 1 cup
- Jowar atta (sorghum flour): 1 cup
- Bajra atta (pearl millet flour): 1 cup
- Rice flour: ½ cup
- Besan (gram flour): ½ cup
- Salt: ½ tbsp
- Ajwain (carom seeds): 1 tsp
- Hing (asafoetida): a pinch
- White sesame seeds: 2 tsp
- Chopped onion: ½ cup
- Chopped spring onion: ¼ cup
- Chopped coriander: 1 tbsp
- Turmeric powder: a pinch
- Oil: 1 tbsp
- Water: as required
For Tomato Thecha:
- Oil: 1 tsp
- Tomato (diced): ½ cup
- Green chilli: 7-8 pcs
- Garlic: 7-8 cloves
- Jeera (cumin seeds): ½ tsp
- Peanuts: 1 tbsp
- Salt: a pinch
For serving:
- White butter/Loni: 1 tbsp
Method:
For Tomato Thecha:
1. Heat a pan over high flame and add tomatoes, oil, green chillies, and garlic. Roast them until the tomatoes are slightly charred and soft.
2. Add peanuts, jeera, and a pinch of salt to the pan. Roast them for a minute until the peanuts turn lightly golden.
3. Transfer the roasted ingredients to a mortar and pestle and pound them into a coarse paste.
4. Tomato Thecha is now ready to be served.
For Thalipeeth:
1. Using a mortar and pestle, coarsely pound the coriander seeds, black pepper, and jeera. Set this mixture aside for later use.
2. Pound the green chillies and garlic in the mortar and pestle as well.
3. In a large plate, combine wheat flour, jowar atta, bajra atta, rice flour, and besan. Mix the flours well to ensure even distribution.
4. Add salt, ajwain, hing, the pounded spice mix, pounded green chilli & garlic, turmeric powder, white sesame seeds, chopped onions, spring onions, and chopped coriander to the flour mixture. Mix all the ingredients thoroughly.
5. Add the oil to the mixture and rub it into the flour with your hands. This step ensures that the oil is evenly distributed in the dough.
6. Gradually add water and knead the mixture to form a tight and smooth dough.
7. Cover the dough with a damp cloth and let it rest for 5-10 minutes to allow the flavors to meld.
8. Meanwhile, place a damp muslin cloth over a flat surface to prevent sticking.
9. Take a portion of the dough and place it on the muslin cloth. Dip your fingers in water and gently flatten the dough to form a thick, round circle.
10. Carefully transfer the thalipeeth onto a hot pan, ensuring that the muslin cloth is on top. Peel off the muslin cloth and cook the thalipeeth on medium flame for 1-2 minutes.
11. Apply some oil on the top side of the thalipeeth, flip it, and cook the other side until it develops a golden-brown crust.
12. Once the thalipeeth is cooked, remove it from the pan and transfer it to a plate.
13. Serve the hot thalipeeth with a scoop of white butter and tomato thecha on the side.