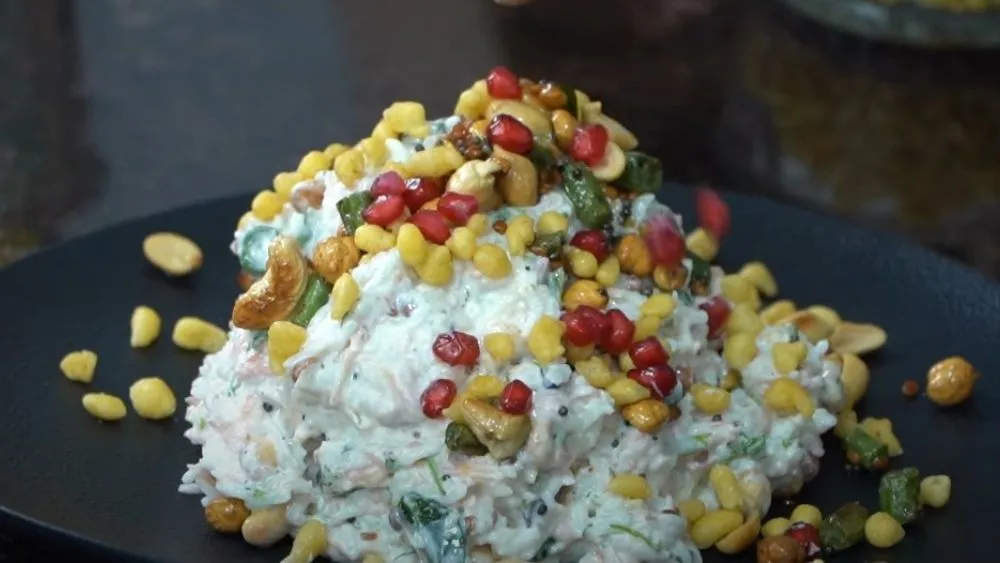 Mamie Yova Yogurt Rice

20 mins

2-3 people

15 mins
Mamie Yova Yogurt Rice
---
INGREDIENTS
1 BOWL COOKED RICE
1 CUP SHREDDED CARROTS
½ TSP SALT
¼ TSP CRUSHED PEPPER
1 ½ PACKET MAMIE YOVA YOGURT
1 TBSP GHEE
1 TSP MUSTARD SEEDS
2 NOS DRIED RED CHILLIES BROKEN
1 TSP WHITE URAD DAL
1 TSP CHANA DAL
10 NOS CASHEW NUTS
1 TBSP PEANUTS
1 TBSP ROASTED CHANA DAL
1 SMALL BUNCH CHOPPED CORIANDER
6 NOS FRENCH BEANS DICED
1 TBSP CURRY LEAVES
½ TSP SALT
1 NOS CHOPPED GREEN CHILLIES
1 TSP CHOPPED GINGER
1 TBSP KARA BOONDI
1 TBSP POMEGRANATE ARILS
METHOD
1. IN A BOWL ADD COOKED RICE
2. MIX SHREDDED CARROTS, SALT, CRUSHED PEPPER AND MAMIE YOVA YOGURT
3. IN A PAN HEAT GHEE ADD MUSTARD SEEDS TO CRACKLE
4. PUT RED CHILLIES, URAD DAL, CHANA DAL, CASHEW NUTS, PEANUTS, CHANA DAL AND ALLOW IT TO CRISP IN THE PAN
5. CHOP SOME CORIANDER AND SET ASIDE.
6. ADD FRENCH BEANS AND CURRY LEAVES AND COOK TILL BOTH ARE CRISP
7. ADD SALT AND TRANSFER HALF OF THE TEMPERING TO RICE YOGURT MIXTURE
8. FINISH THE YOGURT RICE WITH CHOPPED CORIANDER, FRESH CHOPPED GREEN CHILLIES, FRESH CHOPPED GINGER, POMEGRANATE, CRISPY BOONDI AND REMAINING TEMPERING.
---