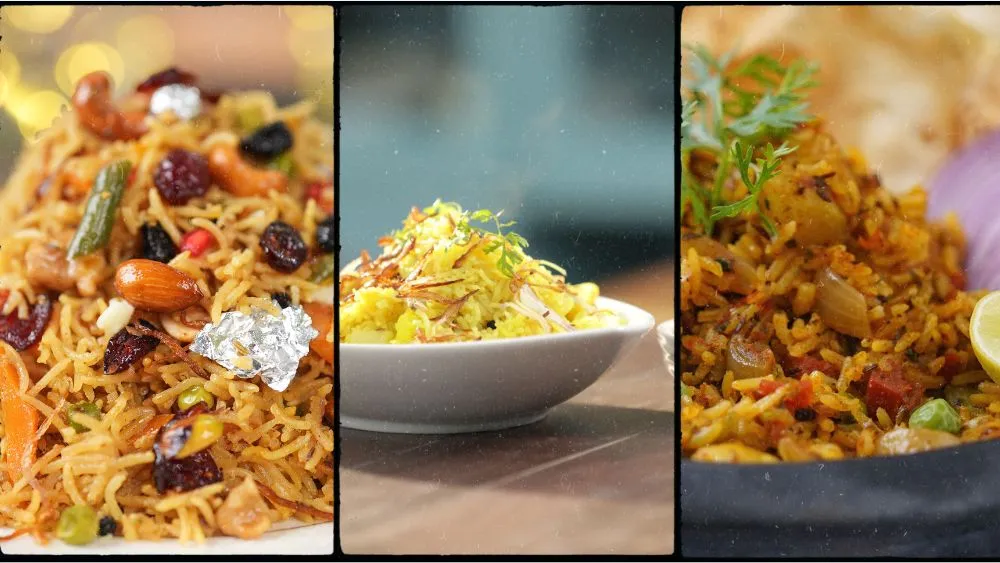 3 types of Rice Pulao Recipe

45

2-3 people

30
Navratan pulav 
---
Ingredients & Method
Soaked rice                          1 cup
Oil                                         2 tbsp 
Ghee                                    2 tbsp
Onion sliced                         1 cup
Cloves                                  5-6 pcs
Black cardamom                   2-3 pcs
Shahi jeera                           1 tsp
Bayleaf                                 2-3 pcs
Black pepper                        ½ tsp
Ginger & garlic paste            1 tbsp
Saunf pwd                              ½ tbsp
Sabji masala                         1 tsp
Salt                                        1 tbsp
Turmeric pwd                         ½ tsp
Cauliflower florets                  ½ cup
Carrot diced                           ½ cup
French beans                        ½ cup
Green peas                           ½ cup
Milk                                        1 cup
Water                                     1 cup
Kesar                                     9-10 strands
Pomegranate                         2 tbsp
Khoya                                    1 tbsp
Silver warq                             for garnish
Almonds                                 3-4 pcs
Walnuts                                  2-3 pcs
Pistachos                               8-9 pcs     
Cashew nuts                          7-6 pcs
Black raisins                           8-9 pcs             
Dry cherries                            4-5 pcs          
Heat a pan, add ghee, oil, cashew nuts, black raisins, almonds, walnuts, pistachios and dry cherries. Shallow fry and keep aside for garnishing.
In the same pan, add sliced onion.
Cook until it gets light brown, take out some brown onion and keep aside for further use.
Later, in the same pan add cloves, black cardamom, bay leaf, shahi jeera, black pepper and crackle it. Add some water to avoid over-cooking the onions.
Then add some ginger & garlic paste, saute it.
Then add sabji masala, saunf pwd and stir.
Add some salt and turmeric pwd.
Add cauliflower florets, diced carrots, french beans, green peas and saute them.
Later add milk, water and kesar.
Then add soaked rice and keep it on dum for 12-15 mins on medium flame.
Once it's ready, garnish with fried dry fruits, khoya, fried onion and silver vark.
Serve hot with anardana raita.
Tawa Pulao
Ingredients
2 Tbsp Oil
2 Tbsp Butter
1 Tsp Jeera
½ Tsp Heeng
1 Tbsp Ginger Garlic Paste
½ Tsp Turmeric Powder
1 Tbsp Red Chili Paste
1 Tsp Kashmiri Chili Powder
1 Nos Tomato Chopped
1 Tsp Amchoor Powder
1 Tsp Pav Bhaji Masala Powder
1 Tsp Garam Masala Powder
1 Tsp Kasoori Methi
1 Tsp Jeera Powder
1 Tbsp Butter
1 Tsp Salt
1 Nos Capsicum Diced
1 Nos Onion Diced
½ Cup Green Beans Blanched
½ Cup Carrot Blanched
½ Cup Green Peas Blanched
½ Cup Boiled And Diced Potato
¼ Cup Chopped Coriander
3 Cups Boiled Rice ( Using Drainage Method)
2 Tbsp Butter
Method
Heat Oil And Butter In A Pan And Add Jeera And Allow It To Crackle
Add Heeng To Bloom
Add Ginger Garlic Paste And Cook A Little Bit, Add Turmeric Powder And Red Chilly Paste And Cook Further.
Add Kashmiri Chilli Powder, You Maye Sprinkle Some Water If Your Spices Are Burning.
Add Chopped Tomato And Cook Till It Is Mashed.
Add Amchoor Powder, Pav Bhaji Masala And Garam Masala And Cook A Bit.
Add Kasuri Methi And Garam Masala With Some Chopped Coriander
Add Butter Now Add All The Vegetables And Cook For A While
Add Rice And Mix It Thoroughly Adding Splash Of Water
Add Chopped Coriander And Butter And Give A Quick Dum 
Serve Hot.
Aloo Gobhi Ki Tehri
Ingredients
For Tehri:
1 tbsp Ghee / Clarified Butter
 1 tsp Black Peppercorns
1 tsp Cumin Seeds
2/3 Bay Leaves
1 cup sliced Onions
1 tbsp Ginger – Garlic Paste
1 tsp Turmeric Powder
1 tbsp Water
1 bowl diced Potatoes
1 bowl Cauliflower Florets
Salt to taste
1 glass Rice – soaked for 1 hr
1 & 1/2glass Water
For Chutney:
½ cup chopped Onions
½ cup Blanched and deskinned Tomatoes
Some chopped Green Chillis
Handful chopped Coriander Leaves
1 tbsp Lemon Juice
1 tsp Red Chilli Powder
 Salt to taste
For Barista:
2 tbsp Ghee
1/2 cup sliced Onions
Method
 • Take a pan, put some ghee.
 •  Then add the whole spices and stir a bit. 
 • Then add onions and fry till it is slightly brown. 
 • Now take a small bowl put some ginger-garlic paste, some turmeric powder, and water and make a nice paste. 
 • Once the onions turn light brown, put this paste and let it cook for a while. 
 • Cook the mixture until the strong fragrance of ginger and garlic goes away.
 •  Now add potatoes, cauliflower, and salt. Stir everything well.
 •  Now put the soaked rice and mix everything.
 •  Add some water and then cover the lid to boil everything well on low flame.
 • After a few minutes, open the lid and check the tehri.
 •  Once the water is absorbed and the rice is cooked turn off the flame.
 •  Add the barista and some ghee from the top and cover the lid.
 •  Now take a serving plate, Put the Tehri, garnish with some more barista and serve it along with the chutney. Enjoy!
 • For Chutney:
 • Mix  ½ cup chopped Onions, ½ cup blanched and deskinned Tomatoes, some chopped Green Chillies, handful chopped Coriander Leaves, 1 tbsp Lemon Juice,1 tsp red chilli powder and mash it with the backside of a spoon. 
 • Your chutney is ready.
 • For Barista :
 • Take a pan. 
 • Put some ghee and then add the onions. 
 • Fry it till it turns golden brown. 
 • Once the onions are brown take them out from the pan and keep them aside.
---