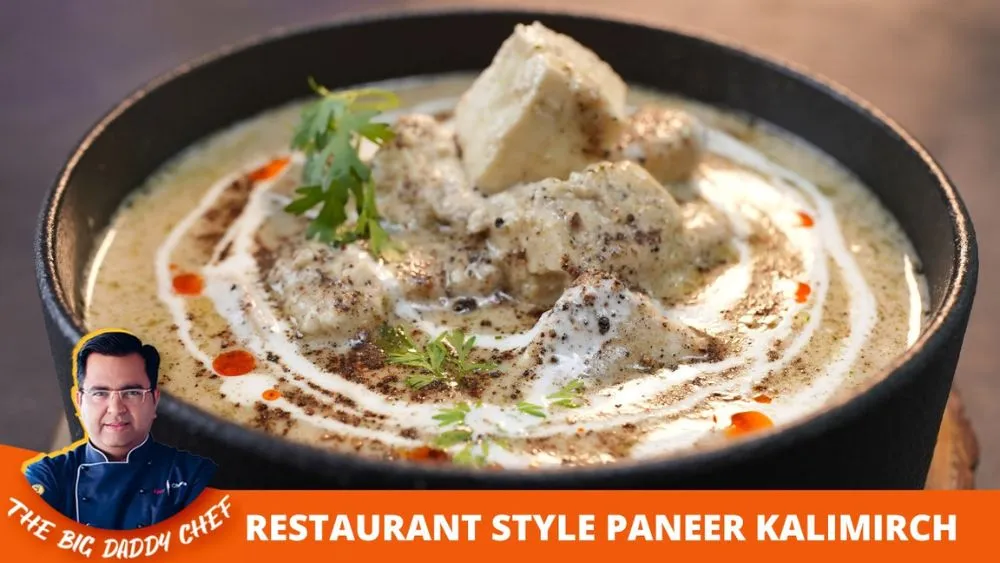 Restaurant style Paneer kalimirch

50 mins

5-6 people

10 mins
The Ultimate Recipe for Paneer Kalimirch Like Your Favorite Restaurant
Are you a fan of creamy, flavorful Indian dishes? If so, you're in for a treat with our exquisite Paneer Kalimirch recipe. This dish is a culinary masterpiece, designed to transport you to your favorite restaurant's dining experience right in the comfort of your own kitchen. Bursting with rich and bold flavors, this creamy paneer delight is a celebration of the senses, making it perfect for special gatherings, memorable evenings, or when you simply crave a restaurant-quality meal at home.
Our Paneer Kalimirch combines the lusciousness of paneer cubes with the spicy kick of black pepper, all enveloped in a creamy, aromatic sauce. The blend of aromatic spices, including black cardamom, cinnamon, bay leaf, and mace, creates a symphony of flavors that will leave your taste buds craving for more. Whether you're a spice enthusiast or just looking to add a flavorful twist to your meal, this dish is a delightful choice. The creamy finish and rich flavors make it a standout option for special occasions and memorable dinners. With this recipe, you can elevate your dinner game with a touch of Indian culinary excellence.
So, without further ado, let's dive into the steps to create this delectable Paneer Kalimirch and savor the flavors of a restaurant-quality dish that's sure to leave a lasting impression on your palate.
Ingredients 
| | |
| --- | --- |
| Paneer cubes | 200 gms |
| Onion | 2 pcs |
| Water | as required |
| Cinnamon | 2 inches |
| Bayleaf | 5 pcs |
| Mace | 1 pc |
| Green cardamom | 6 pcs |
| Cloves | 8-9 pcs |
| Black pepper | 12-15 pcs |
| Salt | 1 tbsp |
| | |
| --- | --- |
| Oil | 2 tbsp |
| Ghee | 1 tbsp |
| Black cardamom | 1 pc |
| Shahi jeera | 1 tbsp |
| Ginger-garlic-green chilli paste | 1 tbsp |
| Curd | 1 cup |
| Cashew paste | ¼ cup |
| Milk | ½ cup |
| Black pepper powder | 1 tbsp |
| Fresh cream | ¼ cup |
| Kasoori methi powder | ½ tsp |
| Sugar | 1 tsp |
Method
Heat a pan, add water, onion, cinnamon, bayleaf, mace, cloves, green cardamom, black pepper, cloves, salt and let it boil.
Cook it until the onion gets whitish in colour or translucent.
Once done, cool it down, remove in a bowl, discard all the whole spices and transfer it to a mix jar.
Blend it to a fine paste, add water as required. Keep it aside until in use.
Heat a pan, add oil, ghee, cinnamon, bayleaf, black pepper, green cardamom, black cardamom, cloves and let it crackle.
Then add ginger-green chilli-garlic paste and saute them.
Later add onion paste and cook until it releases oil.
Then add curd and cook on a medium flame until it releases oil.
Then add cashew paste, milk and cook it for a while.
Add some water, salt and give it a boil.
Once it gets to proper consistency, turn off the flame and strain it.
Now, heat a pan, add oil, black pepper powder and let it crackle.
Add the strained gravy to the pan and stir it.
Lastly add cream, paneer cubes, kasoori methi powder, sugar and cook it for 2-3 minutes. 
Paneer kalimirch is ready to serve.
We hope you've enjoyed preparing and savoring our restaurant-style Paneer Kalimirch. This dish is a testament to the richness and depth of Indian cuisine, offering a delightful blend of spices and a creamy finish that elevates any meal. Now that you've experienced this culinary masterpiece, we invite you to explore more of our recipes that promise to tantalize your taste buds. Don't miss the chance to check out our cooking courses and books, where you can learn to master the art of Indian cooking and create a wide array of flavorful dishes in your own kitchen.
We're passionate about bringing the authentic taste of India to your home, and we're confident that our recipes and resources will empower you to become a skilled home chef. Thank you for choosing our recipe, and we look forward to serving your culinary journey with more mouthwatering delights. Try more of our recipes and unlock the world of Indian flavors in your kitchen.
Explore, Cook, and Enjoy!
Frequently Asked Questions (FAQ)
Question 1: What is Paneer Kalimirch?
Answer 1: Paneer Kalimirch is a rich and creamy Indian dish featuring cottage cheese (paneer) cooked in a delectable sauce infused with black pepper and a medley of aromatic spices.
Question 2: How spicy is Paneer Kalimirch?
Answer 2: Paneer Kalimirch has a moderate level of spiciness, thanks to the use of black pepper. You can adjust the spice level to your preference.
Question 3: Can I use store-bought paneer for this recipe?
Answer 3: Yes, you can use store-bought paneer, but homemade paneer often offers a fresher and creamier taste.
Question 4: What side dishes pair well with Paneer Kalimirch?
Answer 4: Paneer Kalimirch goes perfectly with naan, roti, or steamed rice. You can also serve it with a side of salad or raita for a complete meal.
Question 5: Can I make Paneer Kalimirch in advance?
Answer 5: Yes, you can prepare the gravy in advance and store it in the refrigerator. Add paneer and cook just before serving to maintain its freshness.
Question 6: Is this dish suitable for vegetarians?
Answer 6: Yes, Paneer Kalimirch is a vegetarian dish and a fantastic choice for those following a vegetarian diet.
Question 7: What makes Paneer Kalimirch stand out from other paneer recipes?
Answer 7: Paneer Kalimirch is distinguished by its unique blend of black pepper and a medley of Indian spices, creating a creamy and spiced paneer delicacy that's both flavorful and unforgettable.
Question 8: Is it possible to adjust the spice level to suit my taste?
Answer 8: Absolutely! You can control the level of spiciness in Paneer Kalimirch by adjusting the amount of black pepper and green chilies to meet your preferences.
---