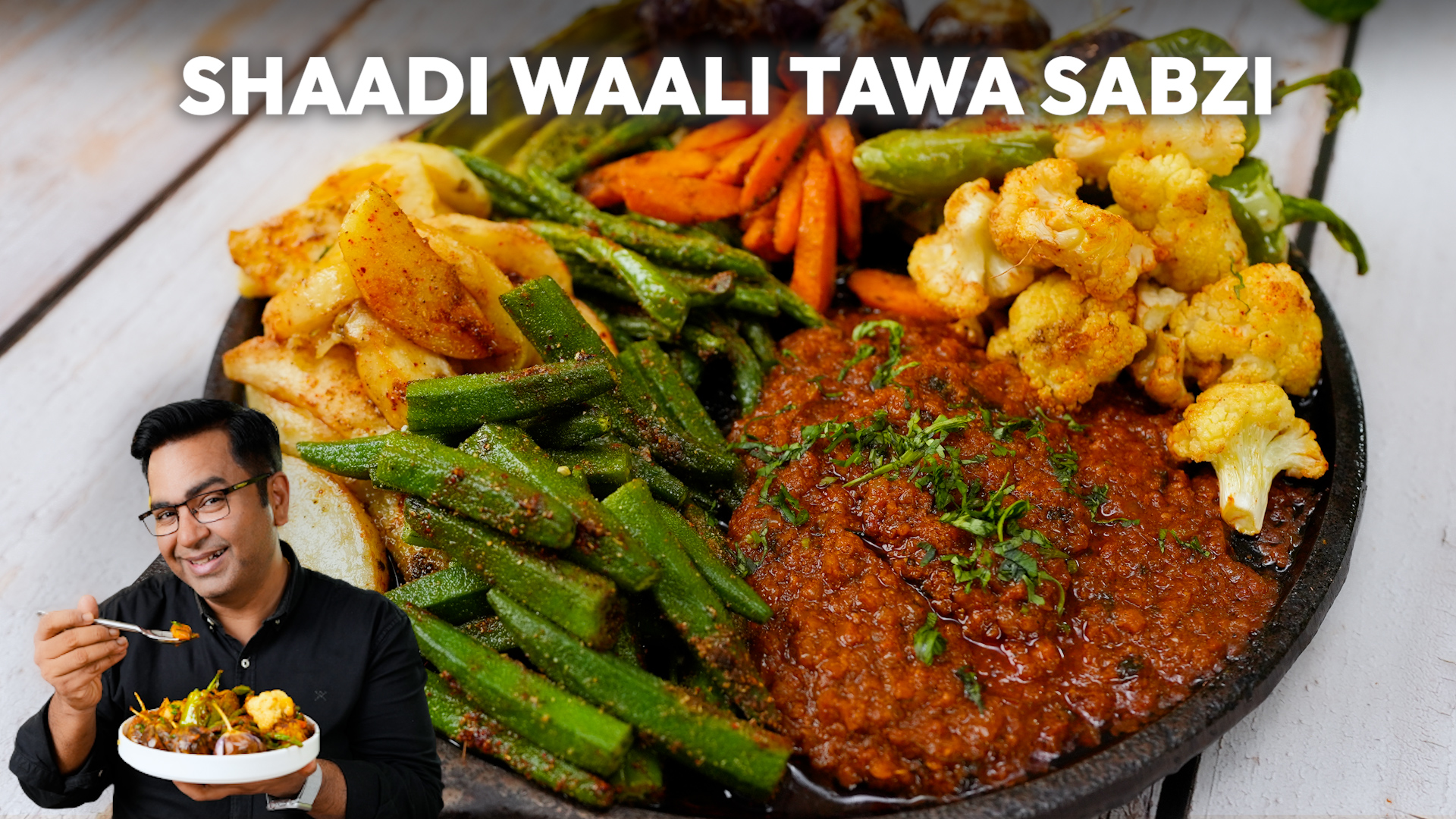 Tawa Masala Recipe

40 Mins

6-7 People

20 Mins
Tawa Masala Recipe
Tawa Masala is a delightful dish that combines a medley of vegetables with a flavorful masala gravy.
 
Ingredients:
Tawa masala (powdered):
Coriander seeds 4 tsp
Jeera 2 tsp 
Black pepper 1 tsp 
Fennel seeds 2 tsp 
Cloves ½ tsp
Black cardamom 3 pcs 
Mace 1 small pcs
Stone flower 1 tbsp  
Tawa Masala Gravy: 
Oil 2 tbsp 
Bay leaves 3 pcs 
Onion chopped 4 pcs
Ginger & garlic paste 2 tsp 
Green chilli paste 1 tsp 
Salt 1 tsp 
Red chilli powder 2 tsp 
Turmeric powder   1 tsp
Coriander powder 1 tsp 
Garam masala 1 tsp 
Tomato puree 1 cup 
Kasuri methi 1 tbsp 
Bhindi cut  1 cup 
Carrot cut  1 cup 
Cauliflower cut 1 cup 
French beans 1 cup 
Baingan 5-6 pcs 
Karela 2-3 pcs 
Bhavnagri chilli 2 pcs
Potatoes wedges 1 cup  
Amchur 1 tbsp 
Tawa masala 1 tbsp 
Red chilli 1 tsp 
Method:
To prepare the Powdered Tawa Masala:
Start by dry roasting coriander seeds, jeera, black pepper, fennel seeds, cloves, black cardamom, mace, and stone flower in a heated pan. 
Allow the spices to release their aromas.
Once roasted, transfer them to a mixer jar and grind them into a fine powder and set it aside.
For making the Tawa Masala Veggies:
Now, let's prepare the vegetables. Take fresh bhindi (okra) and make a longitudinal slit in each one. 
Cut a carrot into large pieces, cauliflower into big florets and French beans into sizable segments. 
Make slits in the baingan (eggplant).
Remove the seeds and skin from the karela (bitter gourd). 
Give slits to the Bhavnagri chillies as well. Peel the potatoes and cut them into vegetable-sized wedges.
In a pan, heat oil and add the potato wedges and Bhavnagri chillies first. 
Fry them until they turn golden brown and crisp. 
Next, add the cauliflower and carrot pieces and continue frying until they are cooked and slightly tender. 
Follow this by adding the baingan and bhindi, cooking them until they become soft and well-roasted. 
Lastly, fry the karela & french beans until it is cooked through. 
To enhance the flavours, sprinkle some amchur powder (dried mango powder), tawa powdered masala and red chilli powder over the fried vegetables and mix them well.
Now, let's move on to preparing the Tawa gravy:
Heat oil in a hot pan and add bay leaves, chopped onions, ginger & garlic paste, and green chilli paste. 
Cook them until the onions turn golden brown and the raw smell of the ginger-garlic paste disappears.
Add salt, red chilli powder, turmeric powder, coriander powder and garam masala powder. 
Stir and cook the mixture for about 4-5 minutes to allow the flavours to meld together.
Next, add water to the pan and let it simmer for 2-3 minutes. 
Then, add tomato puree, cook the gravy until it thickens and the flavours meld together.
Now, it's time to incorporate the Tawa Masala (powdered) spice mix into the gravy. 
Add the freshly ground masala and cook for an additional 2-3 minutes, allowing the flavours to infuse the gravy. 
To elevate the taste, add kasuri methi (dried fenugreek leaves) and let it simmer, enhancing the aroma of the dish.
To finish the dish:
Take a thick-bottomed tawa (griddle) and heat it. 
Add oil to the tawa and carefully place all the fried vegetables on it, arranging them evenly. On the side of the tawa, pour the prepared Tawa gravy. 
Allow the gravy to mix with the fried vegetables as they continue to cook together, ensuring the flavours meld beautifully.
Once the dish is cooked, gently mix the Tawa gravy with the fried veggies, ensuring they are coated evenly. 
The Mix Veg Tawa Sabzi is now ready to be served. 
Its vibrant colours, aromatic spices, and delightful blend of vegetables make it a perfect accompaniment to roti or rice, and it promises to be a flavorful treat for your taste buds.