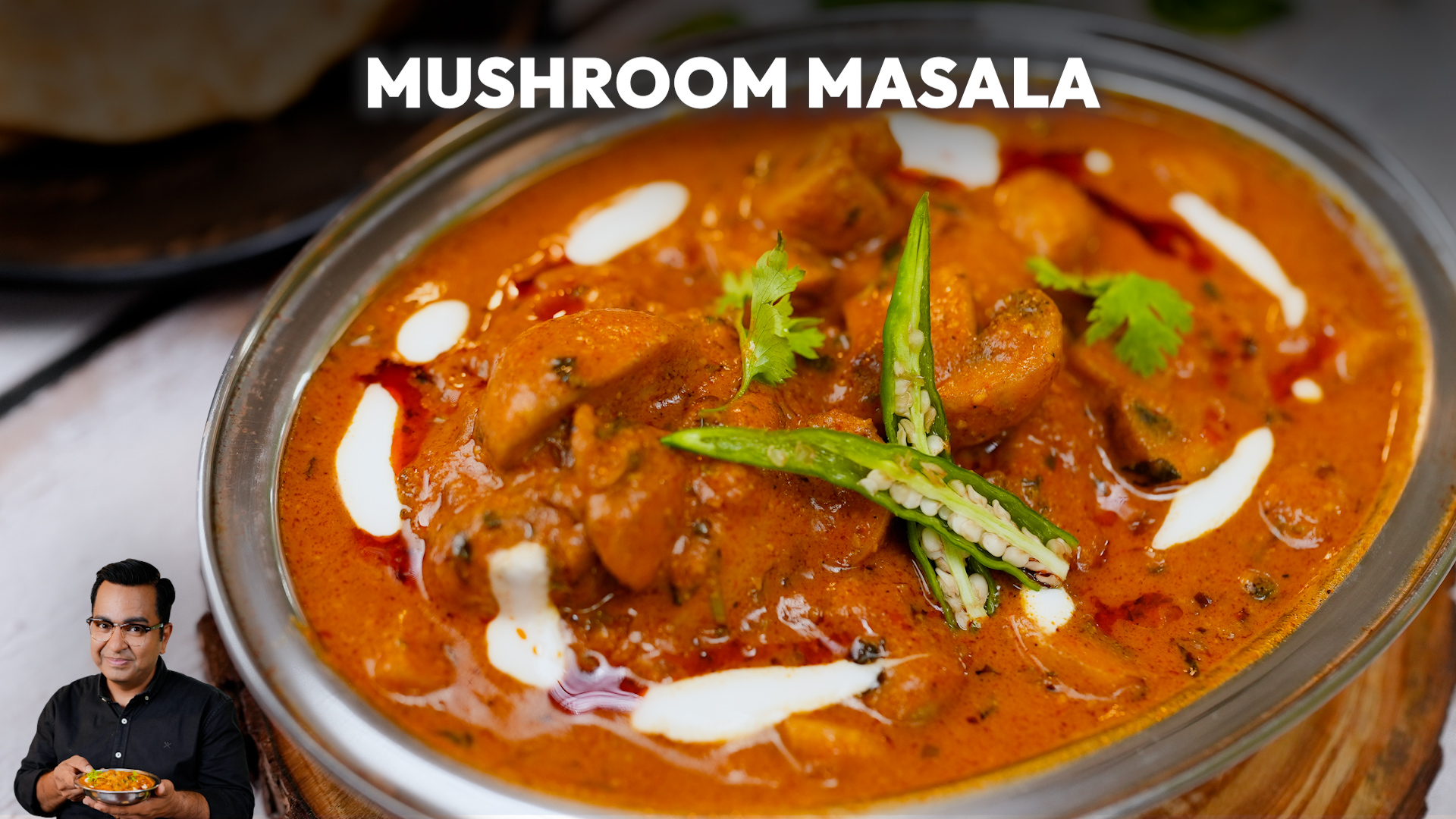 Mushroom Masala Recipe

30 Mins

4-5 people

10 Mins
Mushroom Masala Recipe
Delicious, aromatic mushroom masala with creamy gravy, flavorful spices, and tender mushrooms. 
Ingredients: 
Mushroom 2 cups
Oil 1 tbsp
Bayleaf 2 pcs
Clove 5-7 pcs
Black cardamom 1 pc
Green cardamom 3-4 pcs
Black pepper 8-10 pcs
Cinnamon 1 inch
Jeera 1 tsp
Onion chopped 1 cup
Green chilli chopped ½ tbsp
Besan 1 tbsp
Ginger & garlic paste 1 tbsp
Turmeric powder ½ tbsp
Deggi mirch powder 1 tbsp
Coriander powder 1 tbsp
Jeera powder ½ tbsp
Garam masala 1 tsp
Salt ½ tbsp
Curd ½ cup
Sabzi masala 1 tbsp
Tomato puree 2 tbsp
Cashew paste 2 tbsp
Water as required 
Sugar ½ tsp
Kasoori methi 1 tbsp
Coriander chopped 1 tbsp
Fresh cream ½ tbsp
Method 
Heat a pan and add oil. Once the oil is hot, add cumin seeds, bay leaves, cloves, black cardamom, green cardamom, black pepper, and cinnamon. Let the whole spices crackle and release their aroma.
Add chopped onions to the pan and sauté them for a minute or until they turn translucent.
Now, add the chopped green chilli and continue sautéing with the onions.
Sprinkle besan (gram flour) over the sautéed onions and cook until the besan becomes fragrant and slightly changes colour.
Incorporate ginger & garlic paste into the pan and cook it along with the onions and besan.
Add turmeric powder, deggi mirch powder (Kashmiri red chilli powder), coriander powder, cumin powder, garam masala, and salt. Mix the spices well and cook them for a minute to develop their flavours.
Pour in the whisked curd (yoghurt) and continue cooking until the mixture releases oil. This indicates that the spices are well cooked.
Add some water to adjust the consistency of the gravy and mix all the ingredients thoroughly.
Now, add the diced mushrooms to the pan and let them cook in the flavorful gravy.
Stir in the tomato puree and let it blend with the rest of the ingredients, adding a tangy twist to the dish.
Incorporate the boiled cashew paste, which adds creaminess and richness to the gravy. Mix well and cook the curry for 3-4 minutes.
Finally, add sugar, kasoori methi (dried fenugreek leaves), chopped coriander leaves, and fresh cream to enhance the taste and aroma of the mushroom masala.
Gently mix all the ingredients and cook for another 30 seconds to allow the flavours to meld together.
Mushroom masala is now ready to serve!
Mushroom masala is a flavoursome and aromatic dish that pairs perfectly with steamed rice, roti, naan, or any bread of your choice. Its rich and creamy gravy, combined with the earthy flavours of mushrooms and the aromatic spices, makes it a favourite among vegetarians and mushroom enthusiasts alike. Whether served as a main course for a family dinner or prepared for a special occasion, this delightful dish is sure to impress your taste buds and leave you craving for more. Enjoy the delectable goodness of mushroom masala and savour the delightful medley of flavours it has to offer!