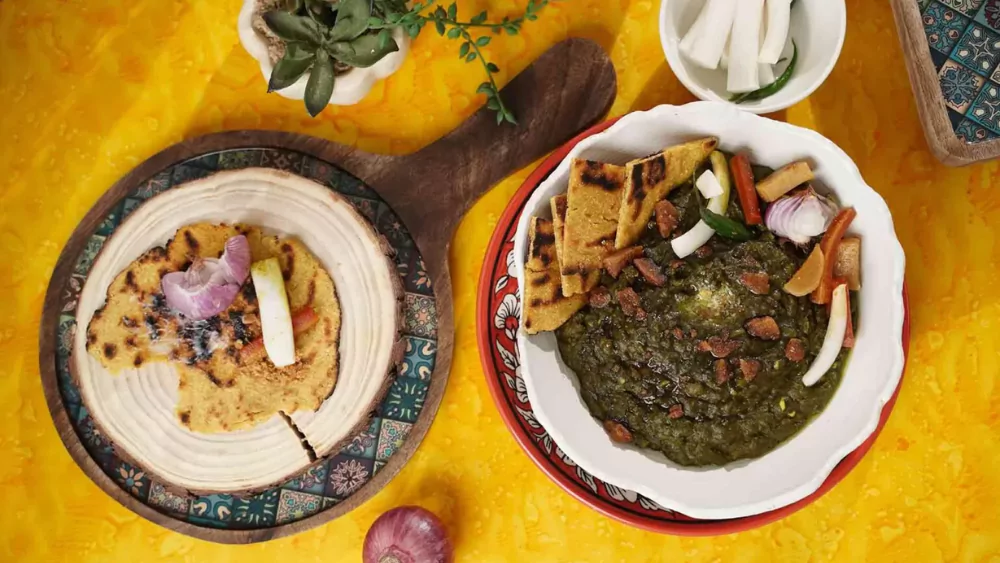 Home Style Sarson Ka Saag Recipe

10 min

2-3 People

10 min
Sarso ka saag
---
Ingredients
½ bunch Sarso
½ bunch Fresh Fenugreek leaves
½ bunch Bathuva
½ bunch Spinach
2-3 tbsp Mustard Oil
1 tsp Cumin Seeds
1 tsp Carom Seed
3-4 tsp Chopped Garlic
2-3 tsp Chopped Ginger
2-3  tsp Chopped Green Chili
1 cup Chopped Onions
1/2 cup Makki ka Atta
1 big bowl Saag ki puree
Salt to taste
1 tsp Turmeric Powder
1 tsp Red Chilli Powder
1 cup Chopped Tomato
2-3 tsp White Butter 
Method
Chop and blanch all green vegetables and make a smooth puree.
Heat kadhai, add oil and cumin seeds, carom seeds, chopped garlic, ginger and green chili.
3. Add chopped onions and cook it till it becomes golden brown in color and add Makki ka atta.
4. Add saag paste, muli, chopped tomato, all dry masala powder and let it cook for a while.
5. Add White butter and ready to serve with Makki ki roti.
---