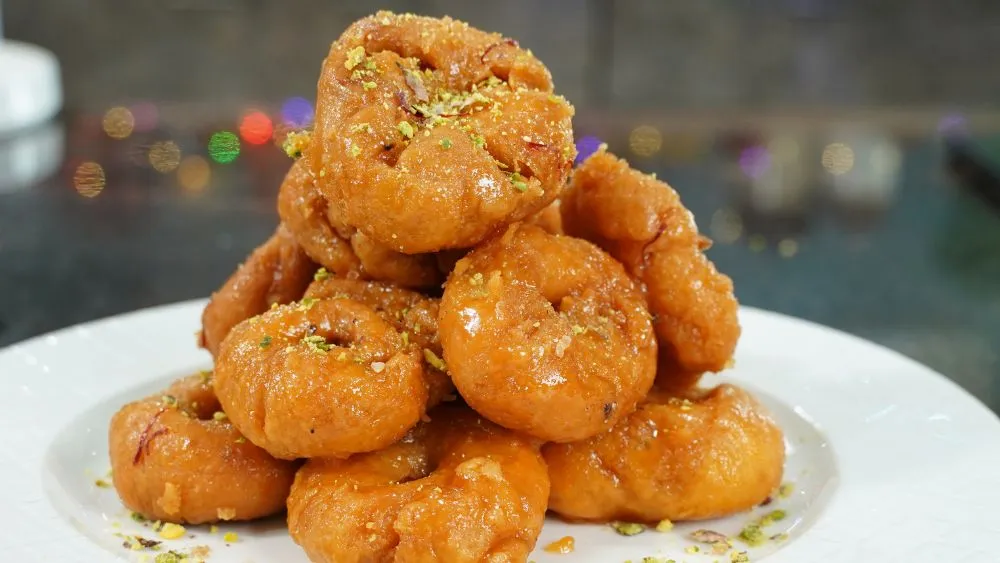 Halwai Style Balushahi Recipe

30 mins

2-3 people

10 mins
---

INGREDIENTS
2 cups maida
1/2 cup ghee
1 TSP baking powder
1 cup sugar
1 pinch saffron
1 cardamom
A few drops of orange colour
Oil or ghee for deep frying
Pistachio for garnishing
Method
● Mix flour with baking powder and ghee to achieve sand consistency.
● Add sprinkle of water to make a tight dough
● For sugar syrup boil one cup of sugar with 1/2 cup of water
● Add saffron, cardamom and orange colour to make 1 string sugar syrup
● Divide the dough into equal portions
● And stack the dough into layers
● Again divide the dough into equal portions and make a round shape
● With the help of finger or thumb make a dent and
● Deep fry balushahi in medium hot oil
● Lower the flame and deep fry for 10- 12 min till crispy golden brown
● Remove balushahi from the kadahi
● And dip the balushahi in sugar syrup for 15 min.
● Garnish the balushahi with pistachio.
---