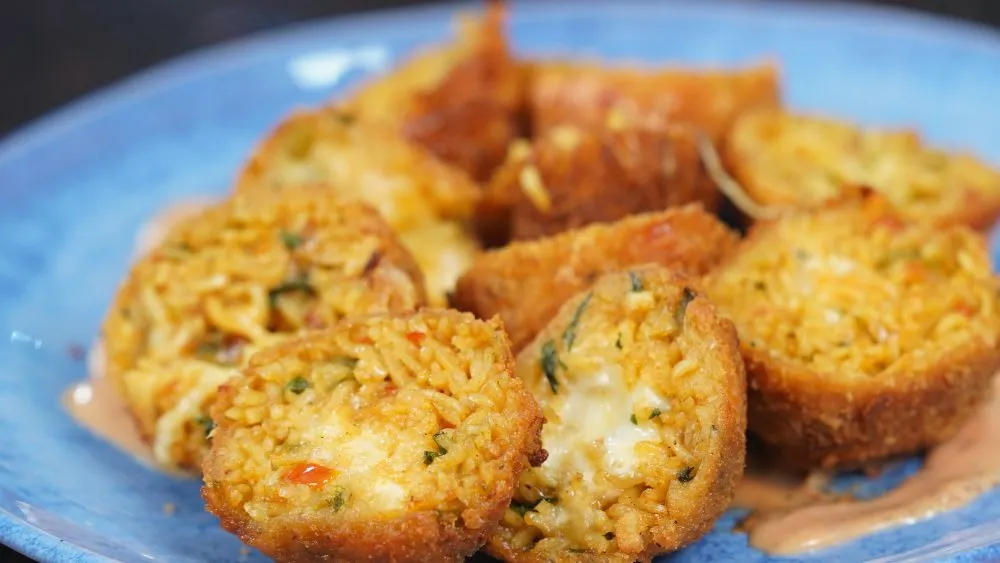 Maggie Cheese Poppers Recipe

20 mins

2-3 people

10 mins

INGREDIENTS
1 TBSP OIL
1 NOS ONION CHOPPED
1 CAPSICUM CHOPPED
½ NOS CHOPPED RED CHILLY
1 TSP SALT
1 CHOPPED TOMATO
1 TBSP TOMATO KETCHUP
2 SACHET MAGGI MASALA
2 NOS.MAGGI NOODLES
1 TBSP CHOPPED CORIANDER
1 CUP CORN FLOUR
1 CUP MAIDA
2 CUP BREAD CRUMB
1 CUP MOZZARELLA GRATED CHEESE
OIL FOR DEEP FRYING
2 TBSP MAYONNAISE
2 PINCH OREGANO
1 PINCH CHILLI FLAKES
2 TBSP MAYONNAISE
METHOD
In a pan heat oil and add onion and capsicum
Add chopped chilly and cook for a while on medium heat.
And salt and chopped tomato and cook further for 5 min.
Add water and maggie masala
Add maggie noodles and allow it to boil
Add chopped coriander.
Transfer the maggie to a plate and allow it to cool.
Portion maggie into small ball size with the help of your hands and stuff grated mozzarella cheese
Store these balls in a chiller so that maggie poppers hold their shape.
Make a slurry of corn flour water and maida.
Dip these poppers in corn flour slurry and coat it with panko crumb
Deep fry these poppers till crispy brown on medium heat.
Drain it on a kitchen towel
For dipping mix together mayonnaise, ketchup,  oregano, chilly flakes and black pepper.
Serve hot poppers with yummy dip.
---